"The finale is finally a chance to show who I am on the plate without having any boundaries," says Camilo Lapointe-Nascimento in the first few moments of the Top Chef Canada Season X Finale.
Next, is Deseree Lo: "I will fight with every ounce that I have!"
"I want this win as bad as I want to breathe," says Tre Sanderson before it cuts to Eden reminding us all what the remaining chefs are battling it out for.
The grand prize is especially sizable this year, as the winning chef will receive a 2022 Lexus NX Hybrid Electric, a "brand new KitchenAid kitchen", $10,000 from DoorDash, a "farm-to-table adventure" from Glad and $100,000 courtesy of Royale Tiger Towel.
All three of the finalists have already won some cold hard cash, so regardless of what happens, they will at least head home to Canada with some money in their pockets.
High Stakes Quickfire Challenge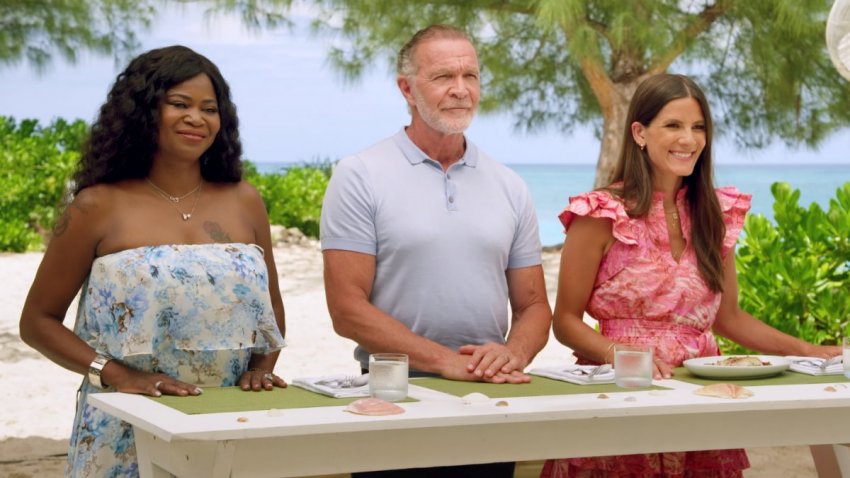 It's another lovely day in the Cayman Islands and the final three chefs once again find themselves oceanside for the second-last challenge of the season.
As is typical with any Top Chef Canada season finale, things start off with a High Stakes Quickfire. One competitor will be sent home, leaving two to develop and serve their finale dinner menus to the judges the next day.
Greeted by Mark McEwan, Eden and guest judge Kerryann Burnett of the Cayman Islands' most well known seafood eatery The Lobster Pot, the chefs are each assigned a local fish to create a dish with.
The twist? Everything must be prepared over wood-fired grills.
Camilo draws red snapper, Dez winds up with blackfin tuna and Tre gets triggerfish. They've got a 45 minute time limit to make magic happen.
"I started cooking when these guys were still in diapers," says Dez. I have loved her commentary all season, so I'm rooting for her to make it through this challenge, and given her time working at CinCin in Vancouver, it feels like a wood-fired grill is right up her alley.
The most calm, cool and collected chef appears to be Camilo, while Tre is struggling with the triggerfish initially due its wildly thick skin. He winds up ditching his knife for kitchen shears to cut his way through to the flesh before portioning out some fillets.
Once the timer stops, all chefs have a complete dish and look content with their creations. Dez is especially peppy, doing the floss for the camera.
Camilo presents his dish of seared snapper, mango "carpaccio" and sauce vierge (essentially the Italian cousin of a pico de gallo). Mark seems impressed, but the chef is clocked by Eden for an abundance of mango and Kerryann wishes he had utilized the grill more for his dish components.
Tre's dish of grilled triggerfish and grilled tropical salad in coconut milk seems to fare a bit better than Camilo's, aside from some slight acidic unbalance (Mark's note). Eden praises it for its sweetness and brightness and Kerryann says he has handled the triggerfish perfectly, which was no easy task.
Last, but not least, Dez delivers her blackfin tuna creation. Her cumin, five spice and paprika crusted and lightly-seared tuna is served with cabbage rolls stuffed with grilled corn, grilled shiitake mushrooms and peppers.
"There's a party in my mouth," says Eden.
Kerryann announces Dez as the Quickfire winner and the chef is beyond ecstatic.
Following a cliffhanger commercial break, Eden breaks it to Camilo that he has been eliminated. Tre looks relieved to have made it through and Dez wipes a tear from her eye as Camilo walks away.
Elimination Challenge
Aside from winning a season, this is the pinnacle moment in a season of a Top Chef Canada contestant. A five-course finale dinner menu is the perfect (and last) opportunity for a chef to show the judges a true point of view and add further argument to why they should be named "Canada's Top Chef".
Tre and Dez will be serving their progressive menus at the luxe Blue by Eric Ripert at the Ritz-Carlton Grand Cayman with help of two familiar-faced sous chefs (i.e. former competitors): Camilo and Chris.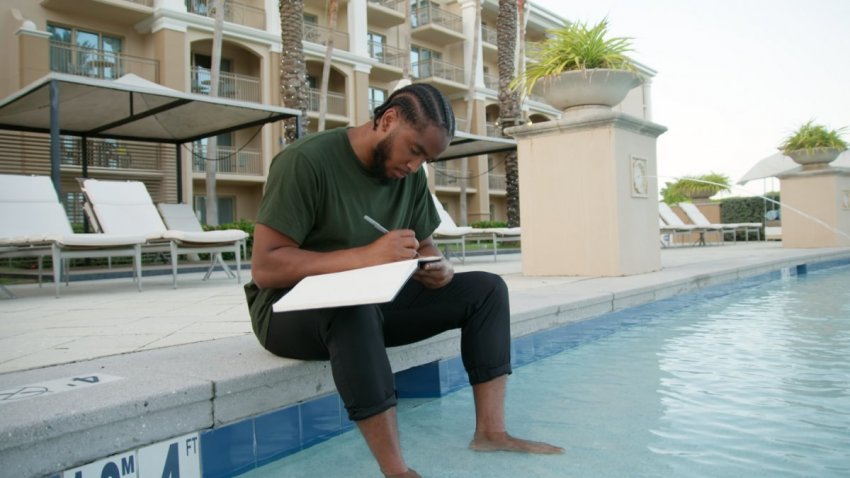 "Take us on an adventure with your own culinary story," says Mark.
To get some further inspiration for their menu creation, each finalist has a virtual call with David Zilber. He reinforces to Dez that she should continue to lean into her Asian influences and encourages Tre to maintain the soul of his Caribbean cooking while striving to elevate his final dishes.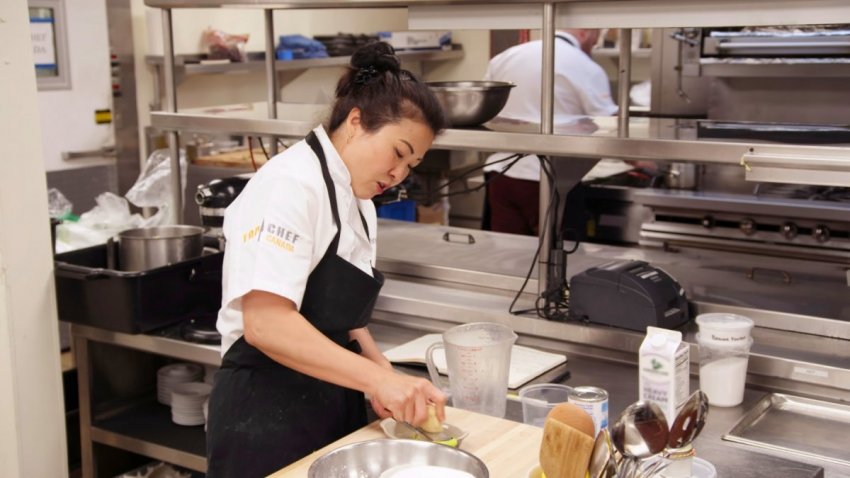 The chefs get to prepping and Dez is aiming to take the judges on a trip through her life and around the world with a variety of influences peppered throughout her menu.
She's starting to assemble a first course of a scallion pancake and banh mi hybrid that is topped with chicken liver mousse, seared duck breast and pickled papaya. To me, it looks a little clunky for an amuse bouche, and the judges seem to feel similarly.
Chris Nuttall-Smith notes that she's combined two iconic Asian dishes and by doing that, things have become muddled.
Tre is taking inspiration from a mix of his childhood memories and is starting things off with a hibiscus tea and compressed watermelon amuse.
It's a wildly vibrant dish and as it hits the table, it feels like a perfect beginning as well as a perfect match for the judges tropical fashion colour palette.
The judges consider it a home run for a great balance of sweetness and herbaceousness. Janet seems especially excited by it and exclaims that she "can't wait to eat more".
Tre clearly wins this course.
Dez soldiers on with big, bold flavours in her second course of Chinese-Korean bossam with hoisin molasses glaze, cabbage and cucumber salad, and jalapeno. This dish is inspired by her college years and spending time with friends at Korean restaurants.
The elements seem to compliment one another and her pork belly appears to have been cooked impeccably.
Course two for Tre is presented as a coconut jerk broth with a generous amount of lobster and shrimp. It's topped with a coconut crumble, lime zest and scallion oil. Based on the judges' noses in their bowls, the aroma appears captivating.
"There is so much flavour and restraint. To me, it's a 10 out of 10 dish," says Janet. "It's spectacular."
While Dez had a good showing, I'd say Tre takes another win on course two.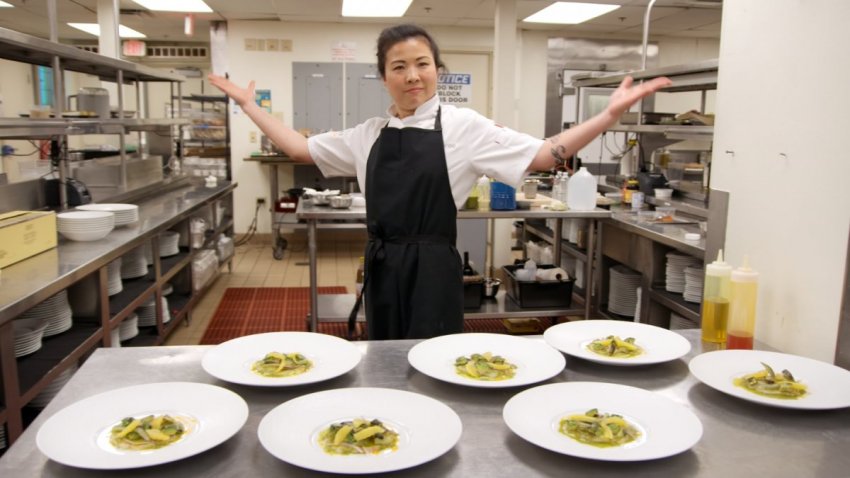 Onto course three and Dez is offering up a hispanic-inspired dish of black grouper ceviche with aquachile as an ode to kitchen colleagues of decades past. The dish is topped with torched avocado and tomatillos with red onion and citrus.
It's gorgeous in colour and impresses everyone at the table.
"This could be a star of the day for me," says Eden.
Tre's third plate is an elevated version of a post-church meal of red snapper escovitch with roasted red pepper sauce and onion soubise.
"I am absolutely exhilarated in eating this tasting menu by Tre so far," says Chris and the table nods in agreement.
I'll mark this third course as a tie.
Dez is working with a bizarrely fatty rack of lamb for her fourth course which feels worrisome. Visually, it comes together on the plate just fine, thanks to a grape gastrique, tamarind jus and braised daikon.
While Mark praises the jus specifically, her fine dining-inspired course falls flat for most of the table due to a lack of fat rendering on the lamb.
"To not trim your lamb properly or render of the fat is, in a way, a crime," says Janet.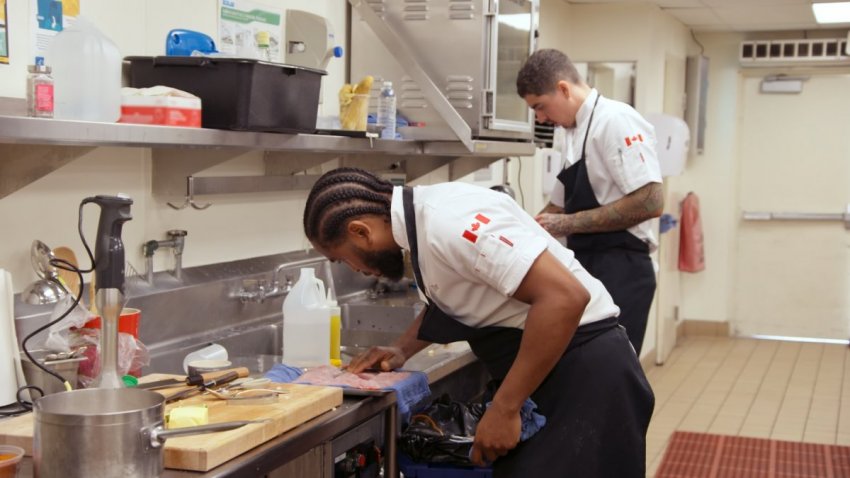 Tre is also going a bizarre route with his protein, opting for chicken breast. It's his take on his grandmother's curry chicken with Jamaican sweet potato puree, yam and a spinner dumpling.
This is the first flop for Tre tonight. The judges find little redeemable about any elements on his plate, but the use of chicken breast is what disappoints the most.
No points for either chef this time around.
Will it be a sweet finish for Dez as she delivers her Hong Kong Milk Tea custard with candied citrus, shortbread crumble and a brown sugar and ginger foam. It's inspired by her taking her mother for milk tea in Vancouver.
Texturally and visually the dessert is a home run. Chris notes that it's her first original and exciting dish of the night, which isn't a good sign that she will be crowned the winner.
Perhaps a touch of foreshadowing.
Tre serves a spiced rum cake with caramel-glazed plantains and cashew cream with crushed cashew garnish. It seems a touch simple compared to what Dez has created and invoked memories of Camilo's failed cake from Episode 7.
Mark regards it as a "very, very safe landing" for a finale dinner.
Judges' Table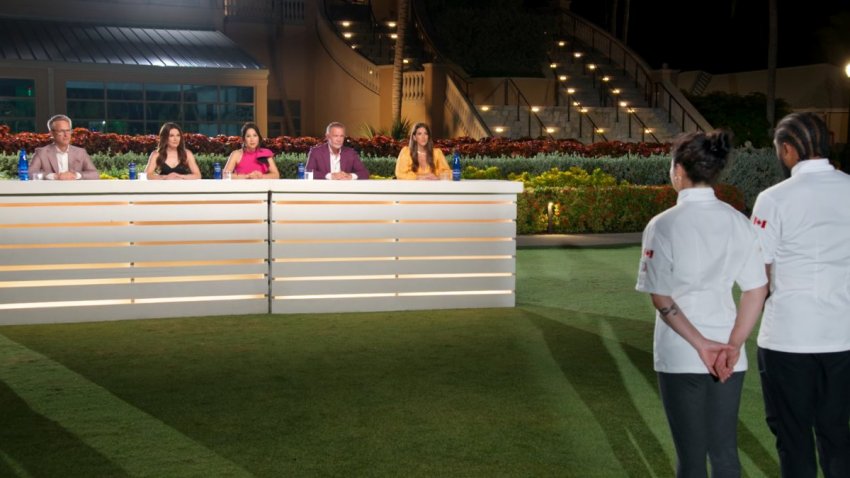 It's been a common thread this season that there is little surprise with who is being sent home once an episode arrives at the Judges' Table portion. In this case, it's who is being crowned "Canada's Top Chef", and are we expecting any other result than Tre?
As much as I love Dez (how could you not have fallen in love with her this season?), her menu felt less focused than Tre's in terms of concept. While we got a crash-course in Dez' life, her competitor's ability to rely childhood memories and transform them into unique dishes has set him up for finale success.
Tre is announced as "Canada's Top Chef" and he is speechless. After a few moments, the excitement really sinks in and he runs around the greenspace at the Ritz-Carlton.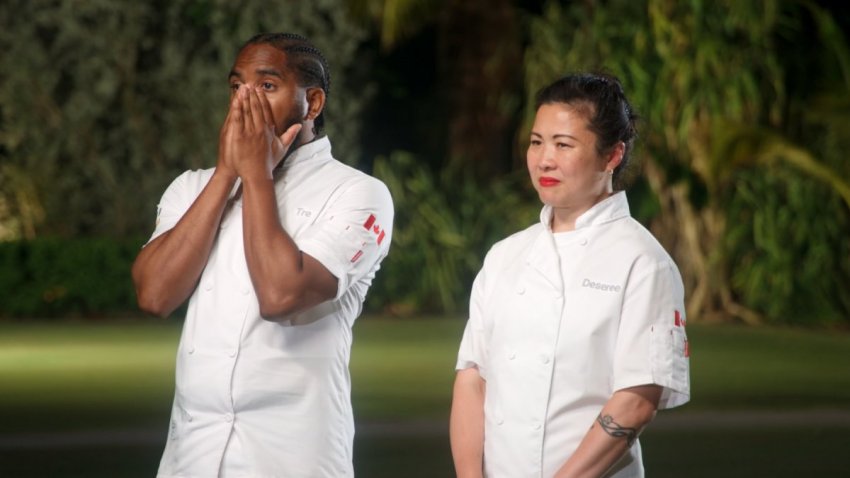 It's a truly emotional moment, even I shed a tear watching from my couch, and the judges all do too.
"You've changed my life," says Tre as he begins to cry too.
I mean, we're all crying, right?
Dez looks disappointed, but also happy for her fellow chef. Camilo pops out holding a tray of prosecco and Chris tags along too.
Plenty of cheers-ing and hugs follow and with that, Top Chef Canada Season X comes to a close.
In the final diary session moments, the producers hand Tre a tablet to video call his mom with the good news. She is beside herself, and just like that, I am tearing up again.
Kitchen Scraps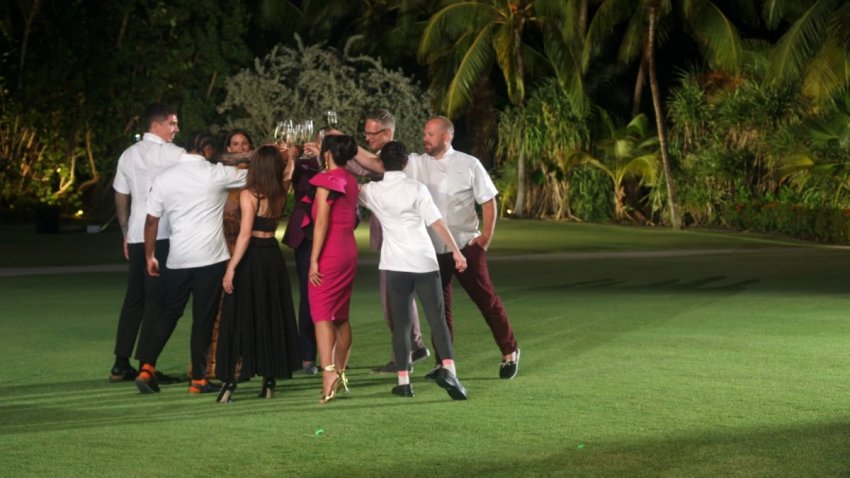 As always, Top Chef Canada has introduced myself and so many other Canadians to some pretty wonderful chefs this season like Martine Bauer, Vish Mayekar, Tawnya Brant and, of course, my personal Season X favourite Deseree Lo.
Tre Sanderson has remained memorable since day one and looking back on the entirety of Season X, he's created many of the most memorable dishes. I genuinely look forward to seeing what he does next. Once he opens his contemporary Caribbean restaurant, I can't wait to experience it.
All episodes of Top Chef Canada Season X can now be streamed on StackTV.