Last week's cliffhanger turns out to be short-lived as Monika is eliminated one minute into this episode. Part of me had hoped for another "sudden death" cook-off if the judges were truly at an impasse, but apparently they did come to a consensus after all.
So, it's farewell to Monika which means that Dez Lo is now the only female chef left standing in the competition.
There's a short scene where Dez breaks down while hugging Monika, and then off camera, briefly considers leaving the show. I don't know if it was really necessary to show this moment of weakness, but what I do know is I am rooting for Dez and hope she really shines in this episode.
"I want to find that drive, I want to find that fire. I need to prove to myself that I can do this," she says.
I think she can!
Quickfire Challenge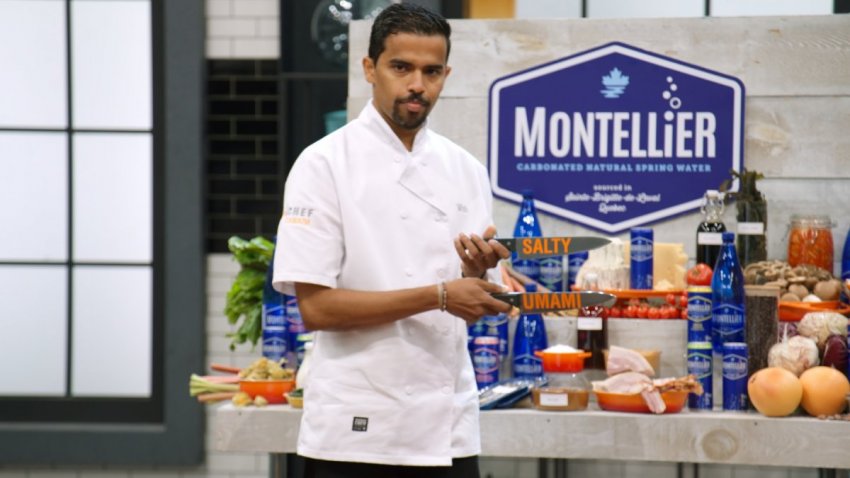 Sweet, sour, salty, bitter and umami are the collective name of the game for this week's Quickfire. It is these elements that come together to make the most memorable of dishes, but when they are unbalanced, they can also wreck one.
This is a fun challenge and one that we haven't seen happen in the TCC Kitchen in years. While it is not inherently difficult to create a dish that is, say, sweet and sour, there is still a balance that needs to be achieved in a dish to keep people coming back for another bite.
So, with that in mind, Eden has the chefs pull knives to see what two primary flavour profiles they'll need to perfect in their dishes while keeping overall appeal in mind.
For Chris it's "sweet and bitter", Tre winds up with "sweet and salty", "bitter and salty" for Dez, "salty and umami" for Vish and Camilo draws "sweet and salty" as well.
The iconic Ricardo Larrivée is the Quickfire guest judge today and Camilo seems beside himself with excitement.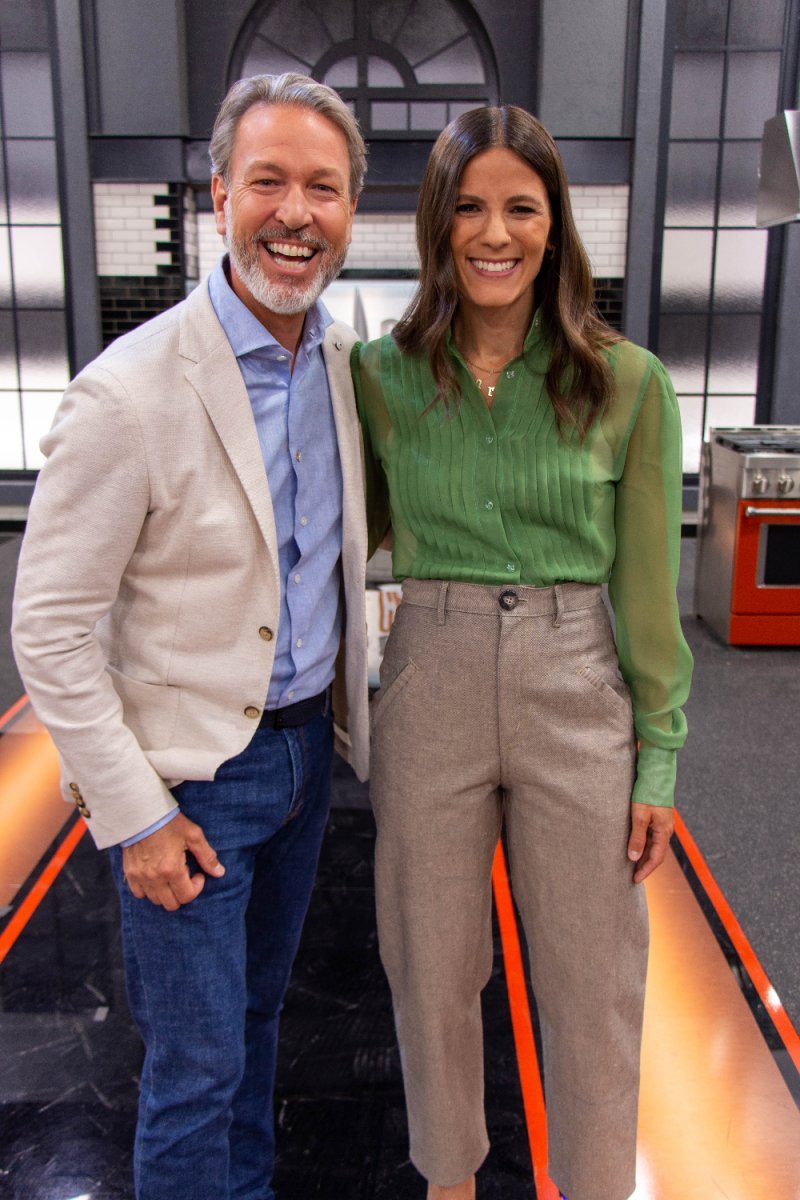 Ricardo, though having some presence on Food Network Canada over the years, is huge in Quebec. There is no bigger celebrity chef in French-speaking Canada than this gentleman.
Also, can we take a moment to appreciate his silver fox status? Bless.
Dez hits the ground running and starts grilling broccolini to draw out some more of its bitterness. For the salty component. She's making a fermented black bean vinaigrette with black vinegar and sesame oil, which sounds quite tasty!
Camilo talks about how he grew up watching Ricardo with his grandmother and that he would love to impress him today.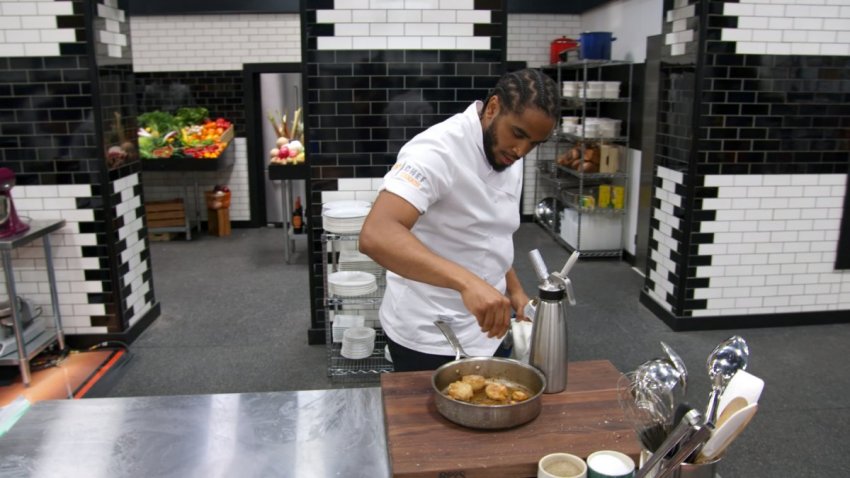 Tre is making scallops with seared plantains and a sweet corn puree, finished with cotija cheese.
Chris is making some maple-glazed pork with caramelised honey, dandelion greens and grapefruit gastrique which sounds enticing for "sweet and bitter".
When the clock runs out, Tre realizes he has forgotten to grate cheese on top of his dish. While Eden and Ricardo both enjoy his creation, there isn't a proper balance of sweet and salty.
Dez hits a home run with her vegetable-forward creation, largely thanks to the dynamic vinaigrette.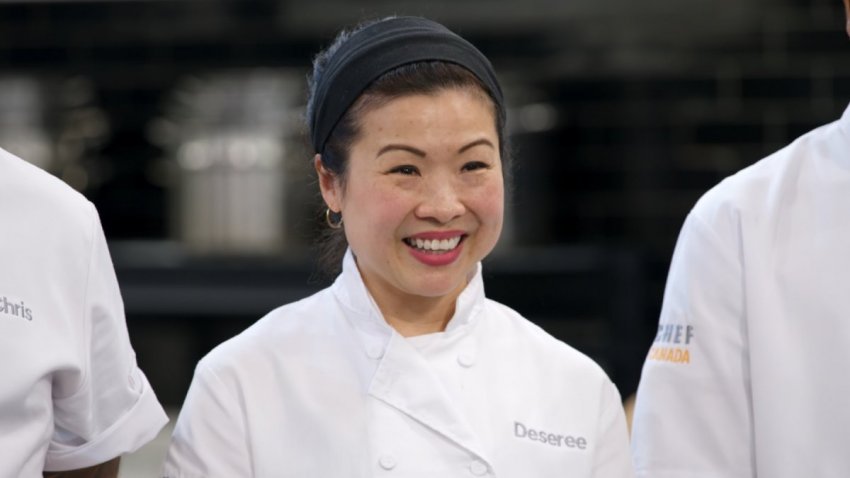 "I can't stop eating it," says Eden.
Chris' "sweet and bitter" pork creation seems like there might be too much going on with it, but still feels like a pass.
Vish ("salty and umami") does not fare well with his cheese and bacon polenta with sauteed mushrooms, pickled morels and fried basil. Ricardo seems especially perplexed with the addition of pickled morels.
I think that being assigned "salty and umami" would be one of the most difficult of the flavour profile pairs to achieve without going overboard. Vish was probably just trying to provide some relief to the intensity of the other elements of his dish.
Camilo rounds things out with a poached scallop, corn, tamari, ground cherry and reduced apple sauce. Ricardo describes it as "almost too fruity', while Eden seems to enjoy it.
Dez is the clear winner here and that is indeed what happens. She has found the motivation she was looking for…and $5,000 courtesy of Montellier sparkling water.
Elimination Challenge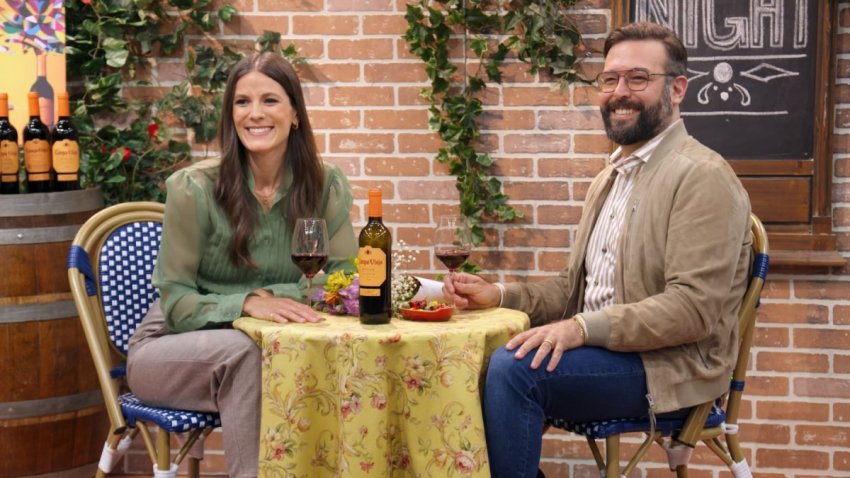 Date night!
The chefs walk in to see Eden and her husband sipping wine at a bistro table on an eternally cheesy mini set in the middle of the TCC Kitchen. The couple are quick to pause the romance so Eden can divulge the details of this week's Elimination Challenge.
The chefs are tasked to create the perfect date night dish for Top Chef Canada judges (and Eden) and their chosen dates.
Tre must create a take on tortellini en brodo for David Zilber and his partner Matilda. Chris Nuttall-Smith and his wife Carol request Moroccan tagine from Chris Irving.
Mijune and her bestie Faye want "dinner and a show" from Vish, while a grilled branzino dish is a favourite of Mark McEwan and his daughter Taylor, which Dez is assigned.
Eden and her husband Ido crave steak frites on date night, so that's exactly what Camilo will be making.
But, before they get to prepping…
This just in: Top Chef Canada is heading to the Cayman Islands for its final two episodes.
"History! History," says Tre after hearing the news.
The four chefs that make it through this challenge will be packing their bags and heading to the Caribbean.
It's exciting to see the show hit the road for the first time since its inception. This makes up for the real lacklustre "X" theme this year—I am still not quite over that!
Camilo is gushing about his girlfriend while he starts prepping for his dish. It's a cute moment.
Tre is doing tortellini en brodo, but Caribbean-style, by drawing inspiration from dumplings and fish tea. He's using dehydrated scallops, prawns, mussels and squid to make an intense broth before starting on a scallop-stuffed pasta.
Dez is fletching some serious fish muscle by deboning a whole branzino. I doubt anyone else in the TCC Kitchen would be capable of doing this, and I am hoping every viewer was as impressed as I was watching her do this.
The chefs are serving their dishes at Byblos in downtown Toronto and things feel pretty calm in the kitchen.
Camilo is butter-poaching the beef and then finishing it in the pan. He's also making pommes Dauphine instead of french fries.
Chris is doing a contemporary take on tagine with sous vide lamb, couscous with dried fruits, preserved lemon relish, apricot chutney, baba ganoush and flatbread. It's more than a few components and he does note that the judges have, at times, told him to scale back.
"When I think of tagine, I don't think of restraint," he says.
Will this sound bite come back to bite him?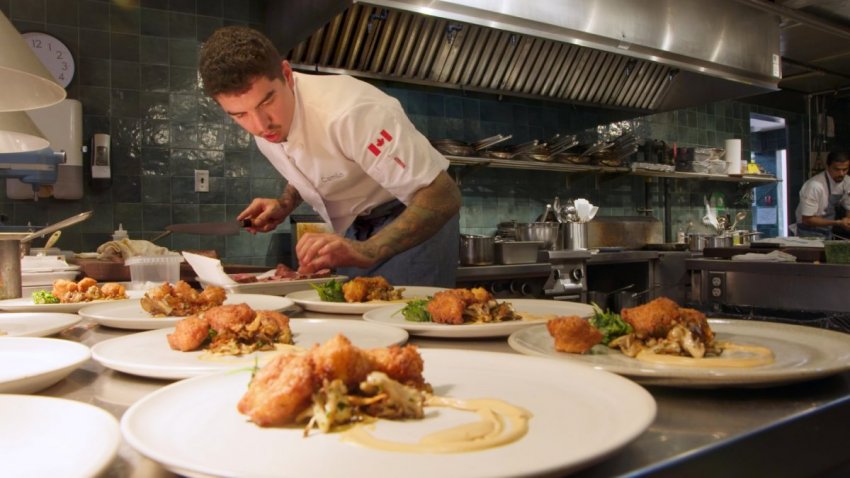 Camilo is first to serve and his refined version of steak frites, complete with bordelaise and some wilted greens, looks absolutely unreal. I want to try it immediately.
It receives rave reviews.
Chris serves his tagine-inspired spread and it looks equally as stunning as Camilo's. The colours though!
While the separate components seem to satiate Mark and Chris specifically, they both remark that some elements don't feel as intermingled as one would expect of a tagine.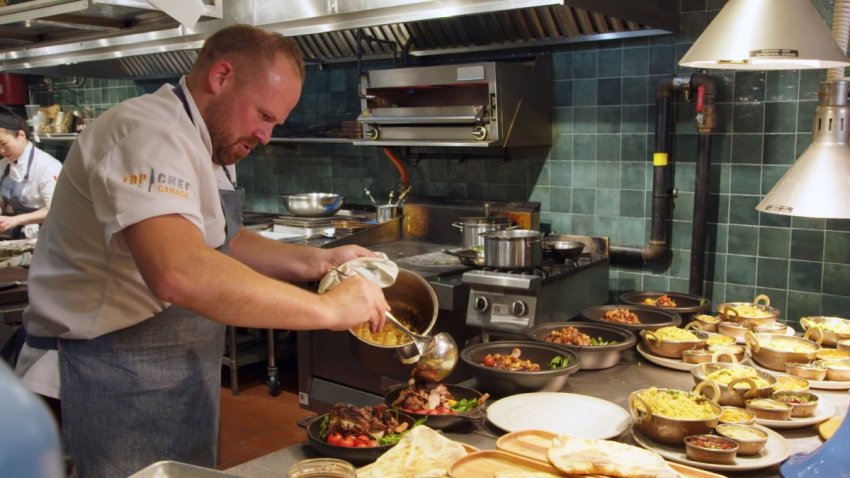 Dez's mushroom-stuffed branzino with (Italian) salsa verde and summer tomato salad garners positive feedback. She's primarily applauded for her ability to debone, not surprisingly, and her impeccable ability to grill.
Tre's dish looks lovely in its simplicity though the scallop tortellini looks a little thick. The broth seems to pack an intense punch that some dinner guests enjoy and others find too salty.
Not a good night for Tre!
Last, but not least, Vish serves his butter-poached sablefish dish, with summer squash, lobster farce-stuffed morels, white asparagus and cold smoked beurre blanc.
It looks tasty enough, but Mijune immediately remarks that it doesn't feel much like "dinner and a show". Mark notes that it's under seasoned and with that, we know Vish is back in the bottom two for the second week in a row.
Judges Table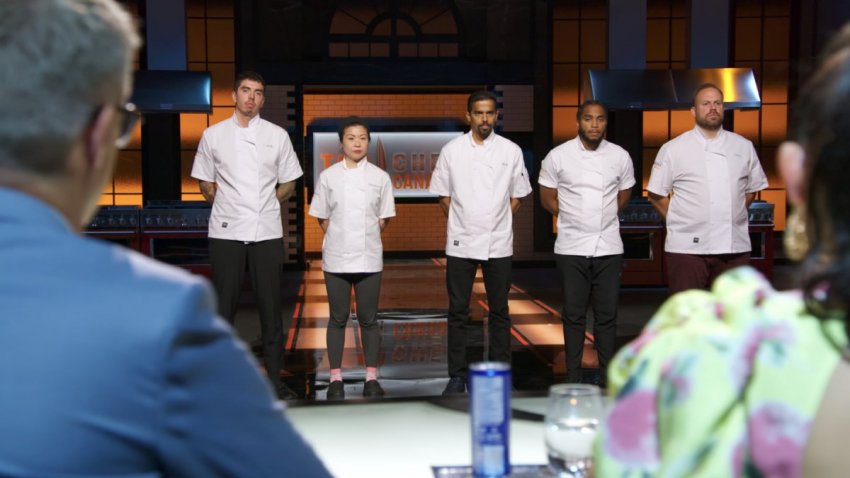 Speaking of two weeks in a row, Camilo is crowned with "best date night dish" for his stellar take on steak frites.
"I brought my speedo," he jokes after Eden tells him the news that he'll be headed to the Cayman Islands.
Dez is the next to receive the happy news and then she literally skips away into the holding room, jumping on Camilo in excitement.
There's not much surprise to see Chris as the third chef to be marked safe. Before leaving the Judges' Table, he is lightly wrist slapped for having too many components involved with his dish yet again.
Vish and Tre in the bottom two? Say it ain't so! I like 'em both, so this episode's ending is going to be sad whichever way they slice it.
I would not want to be the judges in this situation, this is probably the first truly hard decision they've had to make all season.
It winds up being Vish and I am sad, so let's hope we see him on Top Chef Canada: All Stars 2. Here's to manifesting that format filming in 2023!
Kitchen Scraps
It's exciting that the show will film the remainder of this season in the Cayman Islands. The last time Top Chef Canada travelled a significant distance for a finale, it was back in 2012 for Season 3.
As his Caribbean roots have been a prominent part of his storyline this season, I would love to see Tre in the finale. It just feels right.
Do the chefs get some down time to swim in the ocean? I hope they actually do get to bring their swimsuits!
Top Chef Canada Season X airs Monday nights at 10 p.m. ET/PT on Food Network Canada.