It's been a long weekend...but I know I don't have to tell you that.
I'm sure we've all done our fair share of eating and drinking with friends and family. Turkey dinner may try to take that spotlight away from Top Chef Canada here at Eat North HQ, but I am not havin' it.
Not this year, anyway.
TCC pays no heed to long weekends and, while normally I'd take an extra day or so to do an episode recap, who am I to deny Restaurant Wars its due attention?
But first, a taste test...
Quickfire Challenge
Most of my favourite challenges in a Top Chef franchise are tied to a taste test, be it blindfolded or otherwise. Tonight, the nine remaining chef are put into a bracket-style competition where they must successful taste their way through three rounds to claim whatever tonight's Quickfire prize winds up being.
Eden explains that the chefs have been "randomly" sorted into groups of three. This is the second time an off-camera sorting has happened this season and seems a bit odd. Take me back to the old days of chefs drawing knives to figure out which groups they are to be in or what there are assigned to do.
Obviously, production can't fully control the outcome of a taste-test Quickfire Challenge, but I still wonder what the reasoning for an off-camera sorting is. We'll never know and life will go on!
A fun thing about this bracket competition is that judge David Zilber has made each round's dish that the chefs will be trying. The trios start off tasting his Danish remoulade and I am happy to admit that at this point of the episode, I thought this was something slightly different from an everyday remoulade.
It is not. So, somewhere along the way, we dropped the "Danish" from the description in North America. Regardless, the first round weeds out chefs like Tawnya and Camilo quite quickly while others such as Monika, Martine and Tre seem to easily move on to the next level.
With the second part of the bracket taste tes being jerk paste, it's not surprising to see Tre feeling really excited. He's got this in the bag and moves on seamlessly.
On the other hand, we see some chefs such as Chris Irving guessing out in left field with "mustard". That was an odd guess and while Dez Lo's pick of "cayenne pepper" was obviously incorrect when it comes to jerk paste, her visual reaction to the sauce's spice level and her disbelief in hearing her guess was not correct further cements her as the most dynamic chef on screen this season.
Charmingly hilarious, always.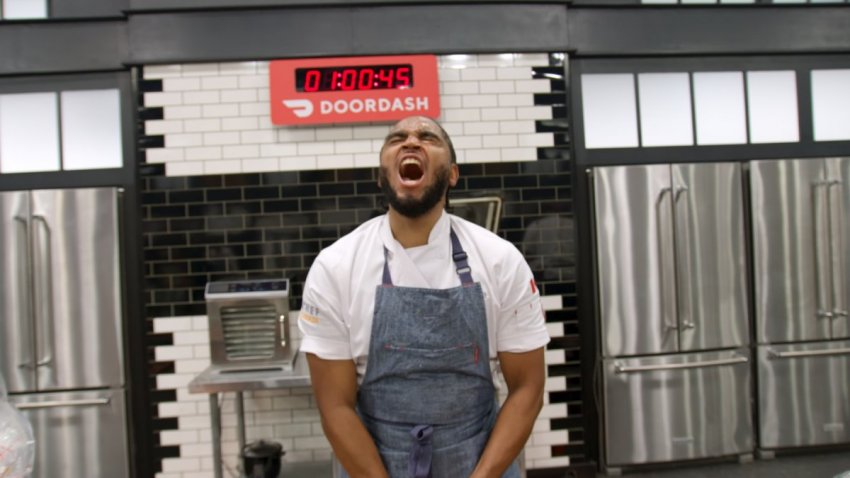 The final round sees Tre and Monika in a blind taste-off with a beef "jelly" or aspic with a side frisee salad. Monika guesses "allspice" and with that, Tre secures the Quickfire win.
But what does he win? Absolutely nothing.
This season seems real conservative with their immunity awards and after a three-tier taste test, Tre gets nothing but the title of captain for one of the teams of Restaurant Wars. It doesn't feel like a fair award for what is traditionally one of the most difficult Quickfire Challenges in a season, but here we are.
Also, why were no chefs given an "x' after being eliminated in the first round of this challenge? Likely a production slip up, but odd nonetheless.
Elimination Challenge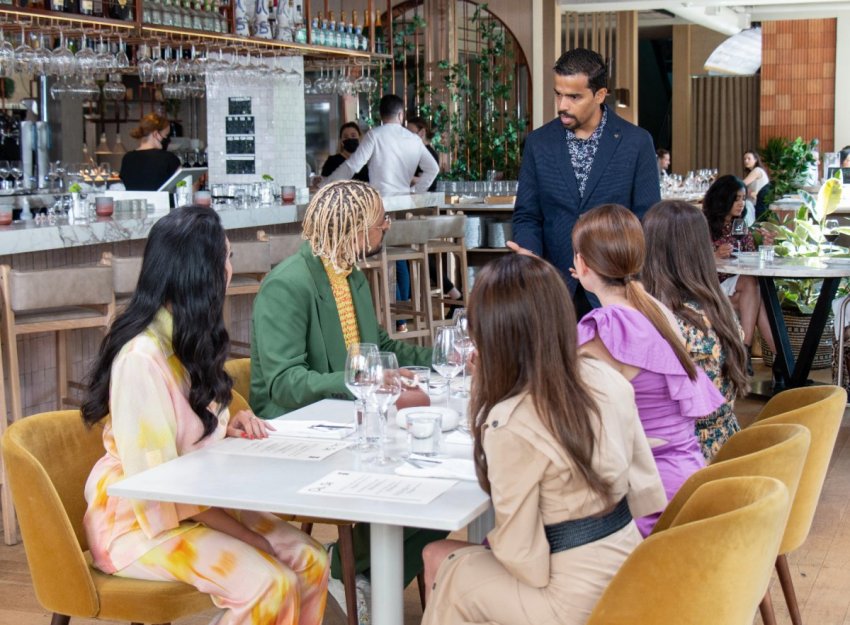 Well, we've already reached Restaurant Wars and, though it's a (fun and) pinnacle moment of most Top Chef Canada seasons, Episode 3 feels real soon to be here. We are here and Eden informs us that they chefs will be going to culinary war at the Toronto Beach Club with one team cooking indoors and one outdoors.
In earlier seasons when the series had more than 11 contestants, this would take much longer to get to. Even in Season 9, it took place in Episode 4 with 8 chefs to result in an even split team-wise. This year, there are 9 chefs left, so the teams wind up being unbalanced.
As the Quickfire winner, Tre gets to pick the opposing team's captain and have his first pick from the remainder of the crop. He assigns Chris as the head of opposition and quickly opts for Vish as his first team pick, which seems like the obvious choice from a viewer's perspective.
They go back and forth, one by one, until Tawnya is the last chef standing. No one wants to be in this position, so they usually receive a little "bonus" of being able to select what team to cook with. She opts for Chris, citing that he's a top tier chef and one that she'd love to cook beside.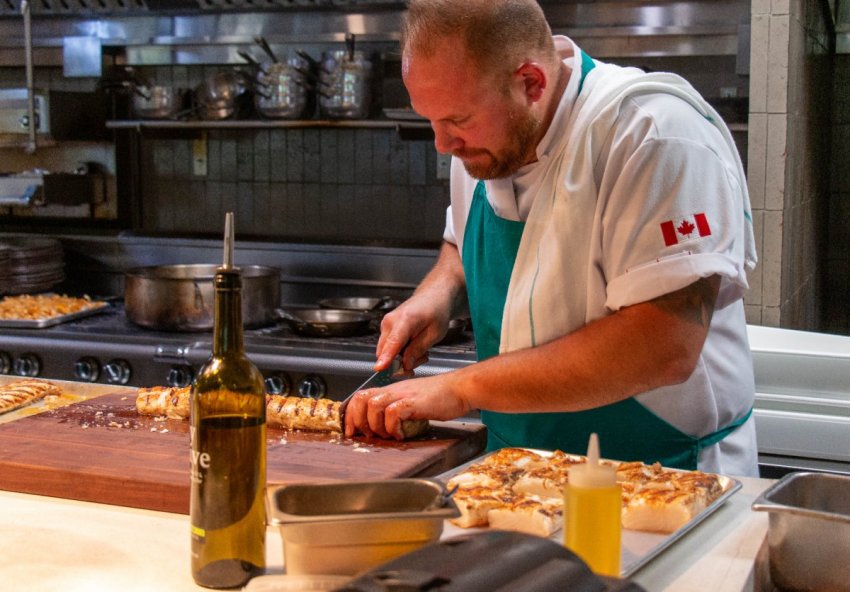 Since Chris' team has an extra chef, Eden explains that they will have an larger amount of covers during dinner service, though the exact number is not disclosed.
Tre's team is comprised of himself, Vish, Martine and Joachim. Technically strong chefs, though two (Martine and Joachim) have had rocky track records thus far.
Chris has Dez, Monika, Tawnya and Camilo. This seems like a fairly even match and I think we all know that anything can happen during Restaurant Wars.
Being the unofficial head judge of tonight's episode (my words, not TCC's) is none other than Gail Simmons. The Top Chef resident judge is always welcomed in the TCC realm and the chefs seem happy (albeit a tad nervous) that she'll be coming for dinner tonight.
Now, onto prepping!
Tre's team is "Dil Se" which means "from the heart" and aims to offer a four-course set menu. Vish, being chosen as the front of house manager, will create the first course, followed by Tre (scallops with a carmael jer sauce and porcini mushrooms), Joachim (duck 'two ways") and Martine with a cherry and rhubarb financier for dessert.
Based on the commentary and footage of Martine prepping, this feels like a good week for her. We've been waiting for a good week because we all know that she's got it in her.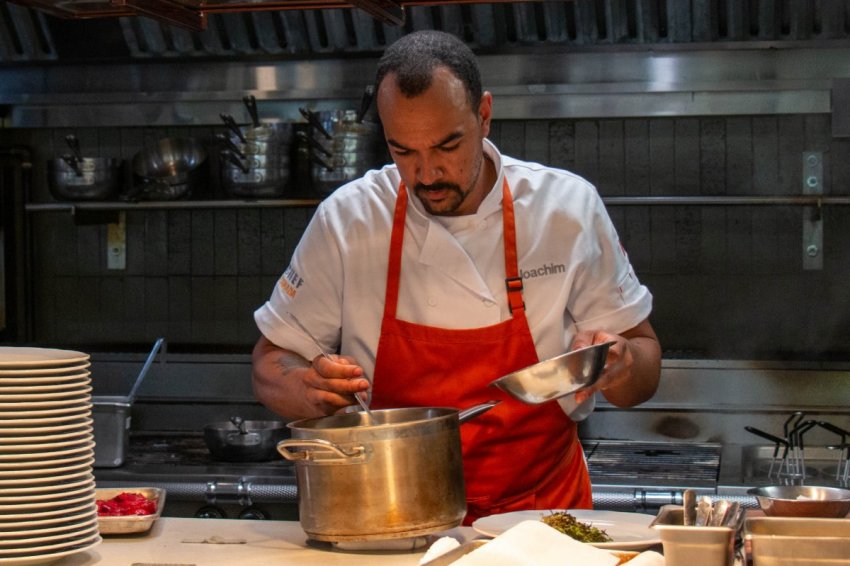 The only member of the team that's struggling seems to be Joachim as he's breaking down an absurd amount of ducks. You feel bad for him at this point in the episode, but you also have to wonder: why did you paint yourself into a breakdown corner here?
Should we have sympathy?
Chris' team ("Jardin") aims to be a touch more ambitious with their amount of offerings, opting for a three-course menu with two options per course.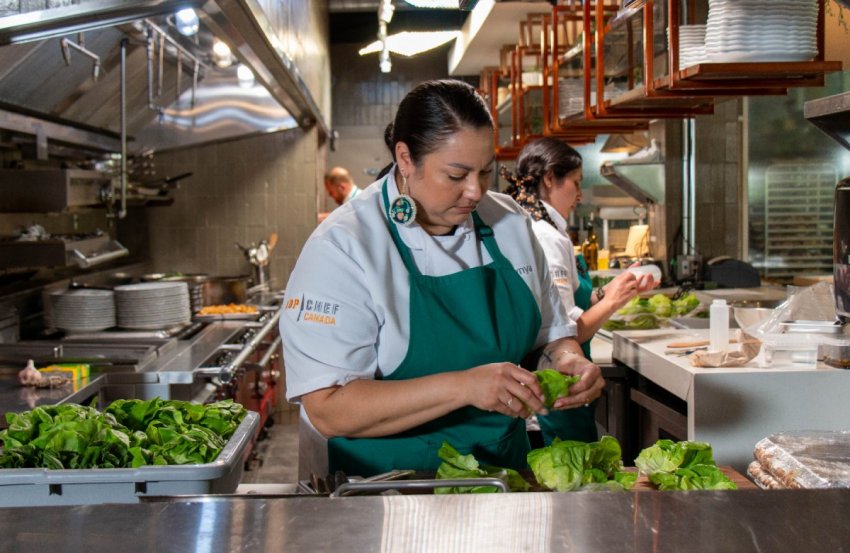 Camilo opts for a snow crab "taco platter" while Monika makes a marinated beet and burrata salad for an appetizer. For mains, Dez is channelling her experience at CinCin to make a grilled ribeye with chimichurri while Chris makes a grilled halibut with potato pave and salad. Jardin's desserts come courtesy of Camilo (doing double time here, which should be noted) with a peach melba and Tawnya with a strawberry and rhubarb shortcake.
The Jardin menu is reading as much more "safe", but you never know how things will play out once they hit the table.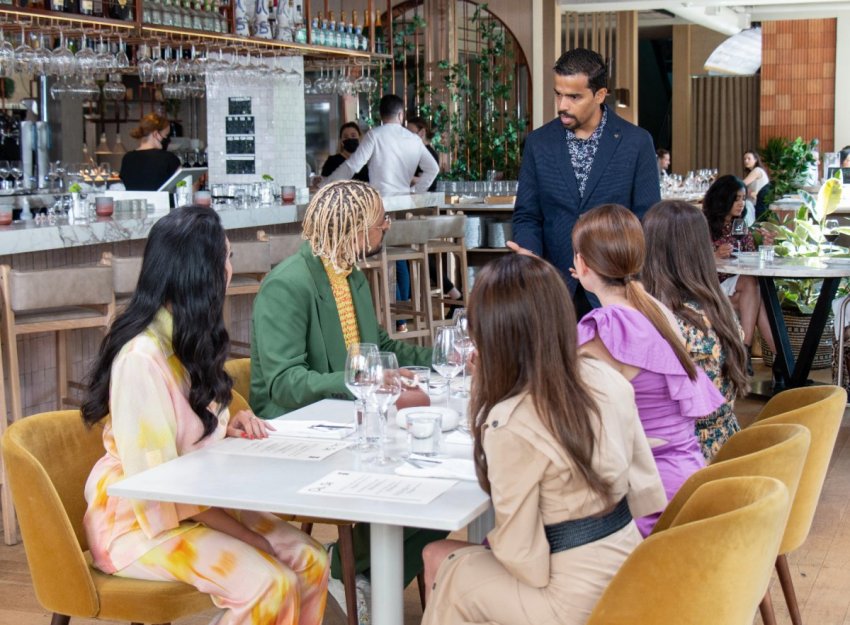 The judges arrive and Mark McEwan is nowhere to be found, same with Chris Nuttall-Smith for a second episode in a row. Janet, Mijune, David, Eden and Gail don't skip a beat strolling in and looking quite stylish while doing it.
Tre's team seems to garner vey good to great feedback on three out of four courses with Joachim's hefty—and I mean hefty—portion of duck being the clear weak link. After seeing just how much meat he chose to put on the plate, one starts to feel less bad about his prepping dilemma earlier this episode. Yikes.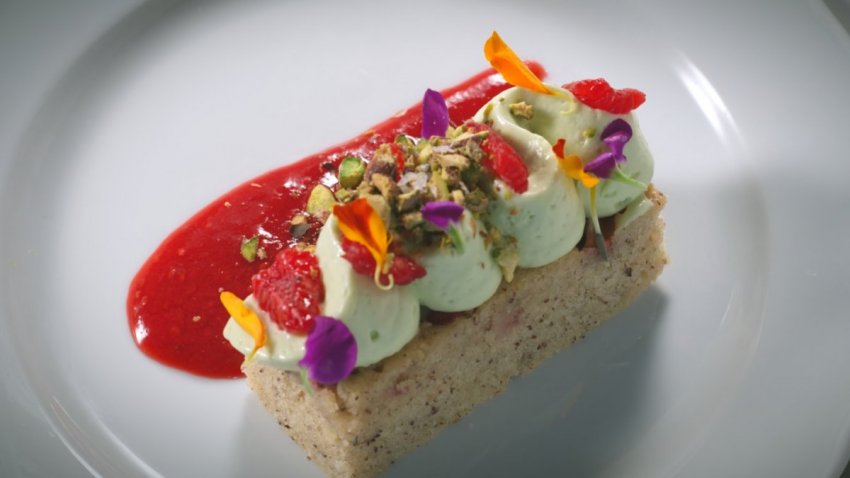 To me, it is Martine's dessert creation (financier with pistachio cream, summer berry coulis, edible flowers, raspberries) that is the stand-out dish of Dil Se's menu. The colours, the idea of the flavours in peak summer...I am into it!
Once the judges head outside to Jardin, it feels like things may not go as smoothly as they did indoors with the other team. Janet notes that the menu reads fairly run-of-the-mill and the kitchen will have to execute the dishes perfectly to leave her impressed.
Tawyna, as the front of house manager for Jardin, brings out Camilo's snow crab lettuce platter and Monika's beet salad. There is some light drama with alleged beard hairs in the lettuce on Zilber's serving, but that's quickly glossed over as the judges focus on the platter's lack of cohesion.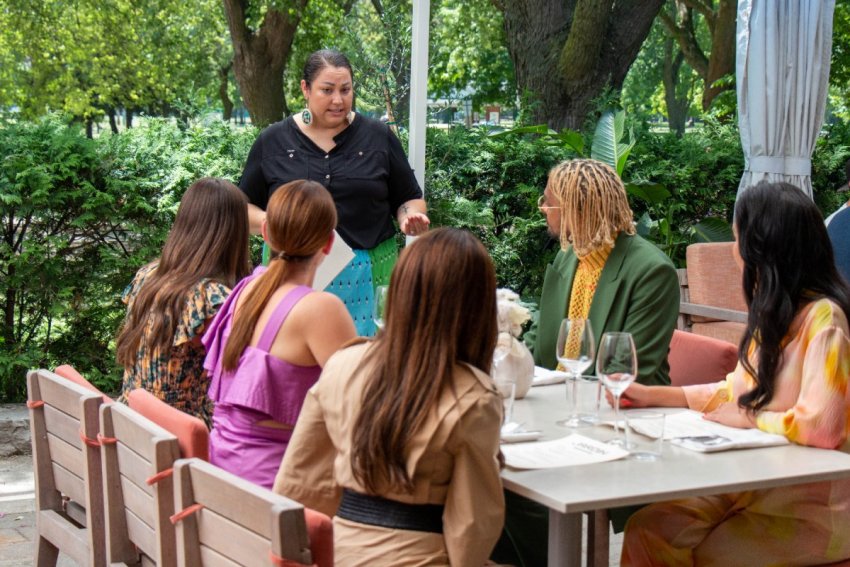 Monika's salad seems to garner mostly disappointing reactions and, to be honest, it does look like the most basic thing we've seen on TCC this season. A beet salad is a dime a dozen these days, so if you're going to serve on during Restaurant Wars is better be more elevated than simply beets on a plate with a salty white cheese. Unfortunately, that's all that was delivered aside from a za'atar-accented flatbread as an accompaniment, which wasn't really touched on so I think we can chalk this creation up to just "meh".
The main courses are the home runs for Jardin. Both the halibut and ribeye (by Chris and Dez respectively) give the judges life and, yes my friends, that is the kind of excitement we want to see during Restaurant Wars. Excitement dissipates somewhat with the dessert with Tawnya's shortcake yielding unremarkable responses and Camilo's melba piquiing the interest of Zilber specifically.
This has felt like a hit-and-miss service, so I'm feeling good for team Dil Se at this point in the night.
Judges' Table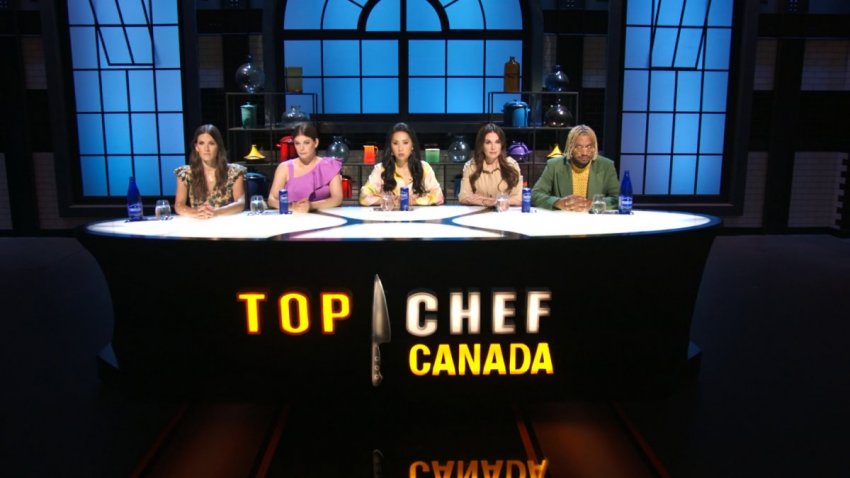 Gail Simmons is sticking around for Judges' Table, one can assume because of the absence of Mark McEwan, and it's nice to see her providing thoughtful commentary and honest feedback. I'd love to see her crossover to Top Chef Canada more often, but I digress, it's time to hear the panel weigh out the pros and cons of each team's menu so they can determine a winner.
There's only one chef with a really bad dish this week and that's Joachim, but the editing has made it seem like his team had the better overall performance. After plenty of back and forth, Eden brings all of the remaining cheftestants into the room for the verdict. The suspense!
Team Jardin winds up being the top team of the night with Dez Lo taking the top spot for her ribeye and chimichurri dish (go girl!). I'm happy for Dez, but who I'm not happy for is for Tre and co. Team Dil Se seemed to have a real strong showing, so I guess Joachim's duck dish must have just been that bad.
A somewhat awkward anointment of "x"s follows with Martine and Vish being granted "safe" status and Joachim and Tre being tarnished. At this point, it is very clear that Tre is beig lightly (and, in my opinion, unfairly) wrist slapped and Joachim is headed home.
Eliminations have felt quite obvious this season and tonight's episode is no exception.
Kitchen Scraps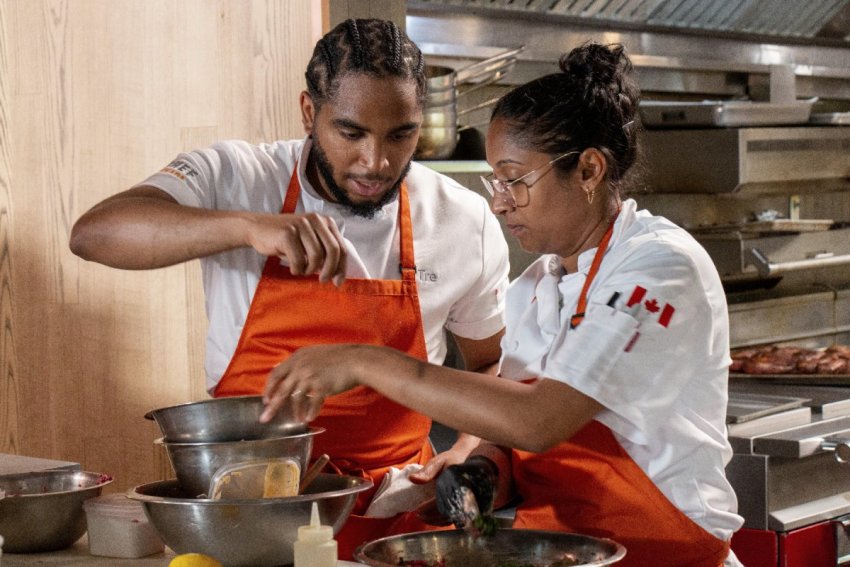 I hate to reference RuPaul's Drag Race again (who am I kidding? No I don't), but for this particular episode it felt like the team members should have been judged individually.
Based on the dish Tre made (pictured below because I'm still thinking about it) and his team's overall performance, he should not of been given an "x". It's not his fault that he was forced to be team leader (and a Quickfire Challenge "reward" no less) or Joachim put 12 pounds of duck onto one plate...but were beard hairs in Jardin's snow crab appetizer, followed a subpar salad and then a pedestrian dessert any worse?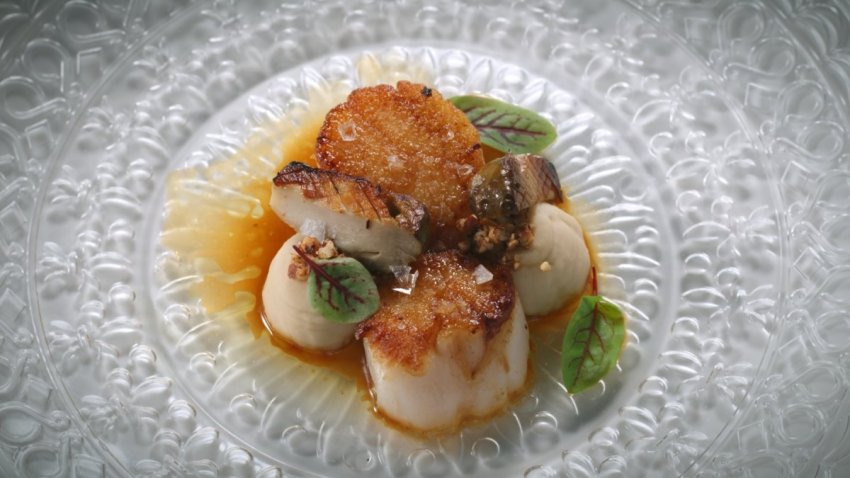 I have opinions.
Did anyone else think it was strange that Eden noted that David Zilber would no longer be present this season? If you announce someone as a new judge for a series, it feels a bit strange they'd only be in the first three episodes, does it not?
Again, I have opinions!
Top Chef Canada Season X airs Mondays at 10 p.m. ET/PT on Food Network Canada.