"A new twist will change the game" says Eden Grinshpan in the first few moments of the Top Chef Canada Season X premiere.
I mean, who doesn't live for a little added drama?
After 18 months off, Top Chef Canada is back in action with its milestone tenth season and 11 new competitors. It's a diverse crop—both geographically and culturally. It's one that piques one's interest and I feel like it will be an especially eventful competition to watch play out over the next eight weeks.
Following a somewhat awkwardly-forced converastion between Grinshpan and judge Janet Zuccarini, the season premiere kicks off on Ossington Street.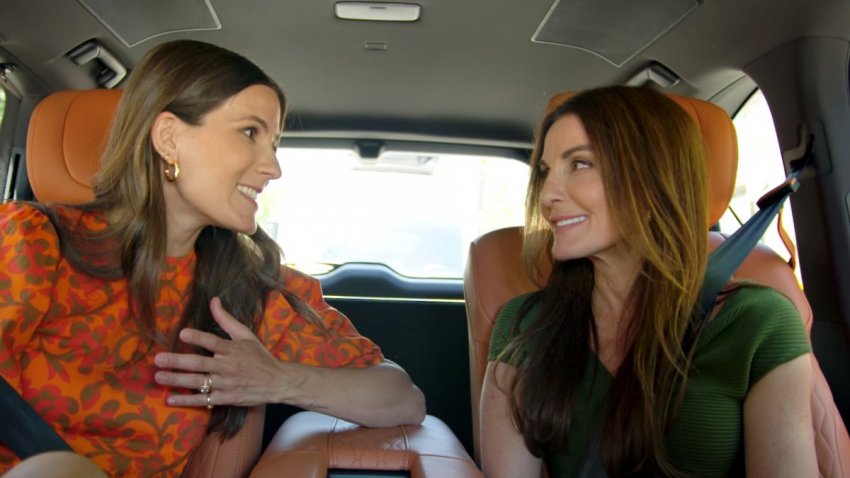 While the judges and the chefs all gush that it's one of the best streets for restaurants in the entire country, I'm sure many that don't live in Toronto are left wondering what this street is. It is a tasty little strip nonetheless (I see you in the b-roll, Cote du Boeuf, and I love you!) and a fun location for the season's first Quickfire Challenge.
Before we get to that though, TCC makes it clear that Season X will be paying homage to the "massive impact" its alumni have had on the country's food scene. It's an undeniable fact that the format has created many stars over the years including individuals like Nicole Gomes, Danny Smiles, Connie DeSousa, Billy Nguyen and Trevor Bird.
It's also clear that the format has some tricks up its sleeve to keep viewers especially enticed. The underperforming chefs of each challenge will receive an "x", and the first chef(s) to receive three will be immediately put into a sudden death cook-off where they will have to battle to remain in the competition.
This is a neat twist, so we'll see how these penalties play out and how frequently chefs actually wind up in a sudden death situation. I'm guessing it will happen twice during the eight-episode arc.
Quickfire Challenge
Following the celebratory 10-season introduction, we're introduced to this year's competitors at the onset of the Quickfire Challenge.
Throwing it back to where it all started back in 2011, it is time for a tiered culinary skills competition. Fittingly, Eden introduces Season 1 winner—and the winner of this first-ever challenge on the Top Chef Canada series—Dale MacKay as a co-judge for this portion of the episode alongside Janet.
To start, the chefs must produce two quality red snapper filets as fast as possible. Some chefs already seem, well, like fish out of water, while others are swimming upstream just fine.
Deseree Lo ("Dez") comes off as an early fan favourite. Her personality is shining through with her first moments on screen, but you can also tell that she is able to throwdown.
"I'm so nervous," she says before she's rated on her artichoke processing in the second round which she passes, along with Camilo Lapointe-Nascimento and fellow Vancouerite Vaishnav Mayekar ("Vish").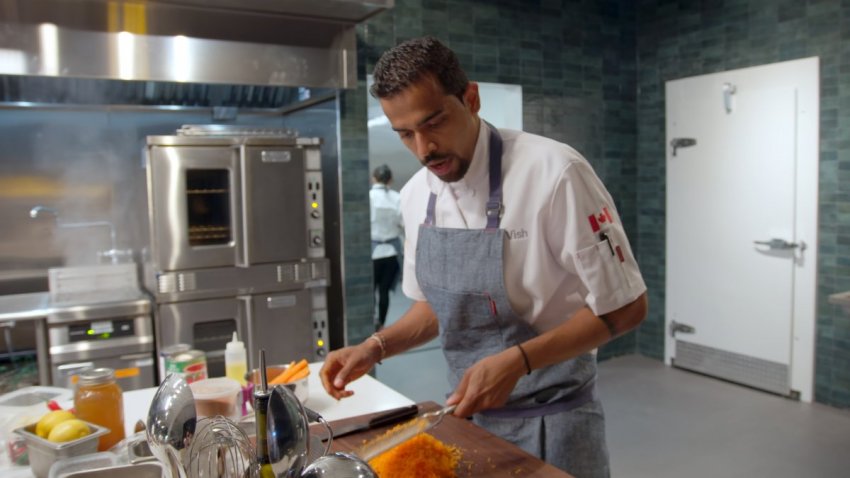 After being challenged with making a perfect hollandaise sauce, Dez is cut from the pack, leaving the two men to battle it out for immunity. They must use the prepped ingredients from the three rounds and turn them into a Top Chef quality dish for the judges.
"He might be the loudest guy in the kitchen...and he knows what's up, but he doesn't know what's up with me," says Vish of Camilo in his diary session.
Them's fighting words, if I've ever heard some, and they prove true as the Vancouver chef wins the first Quickfire Challenge of Top Chef Canada Season X.
Elimination Challenge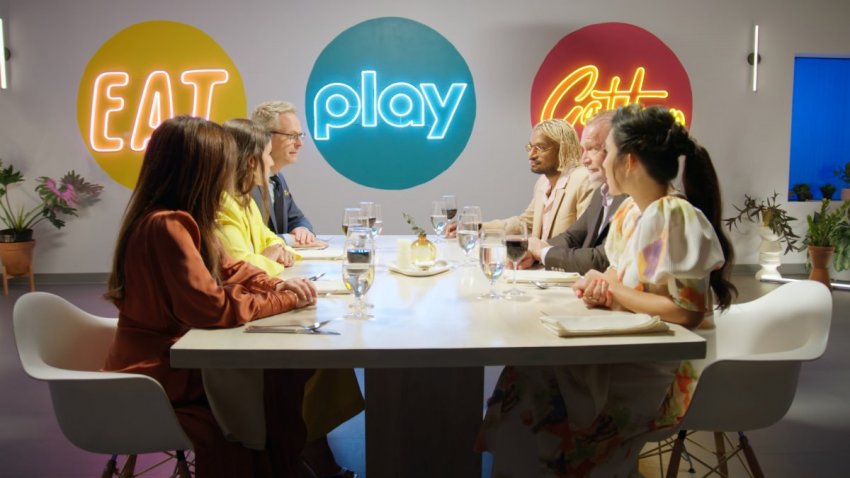 Eden informs the 11 cheftestants that they must create a dish in 90 minutes that is inspired by a "life-changing" dish they've experienced in their lives.
This leaves things up to some interpretation. Joachim Hayward ("Jo") draws inspiration from a buckwheat pasta dish he enjoyed with his wife's family in Northern Italy while chefs like Martine Bauer, Tawnya Brant and Monika Wahba draw on their cultural backgrounds for delicious-sounding creations.
Edmonton chef Lindsay Porter seems to be going way out in left field with a contemporary version of Étouffée while Kimberly Conway is sticking with a classic Maritimes dish of seafood chowder. Toronto's Tre Sanderson opens up about being underqualified to be competing ("I'm just a chef de partie"), but feels determined to succeed by drawing on his Caribbean family roots.
This challenge is taking place in Whitby, ON at TCC alum Andrea Nicholson's event space/culinary co-working Dishplay and, boy, does it ever look like a cool venue. Those kitchen tiles though!
"Manage your time...and make some damn tasty food," says Nicholson before the challenge's 90-minute clock starts to tick.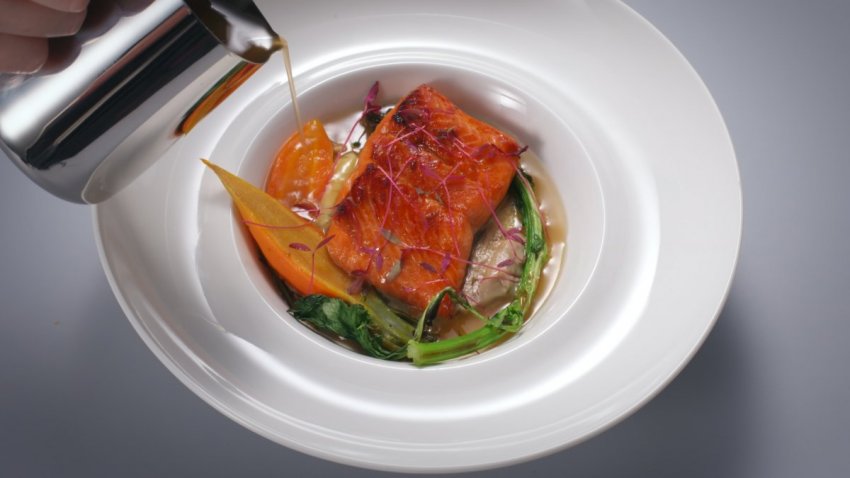 The 11 chefs present their dishes in three seperate groups. Chris Irving of Whitehorse (his steelhead trout and pine mushroom dashi dish pictured above), Tre Sanderson of Toronto, Vish, Tawnya and Monika are some of the chefs receive rave reviews. In fact, only four chefs appear to have lacklustre dishes.
Martine's Mauritis-inspired creation of curry and egg seems to leave the judging panel divided, though Mijune Pak seems to notably defend its attributes. Based on the commentary, Jo, Lindsay and Kimberly are trailing with respectively disappointing seafood creations.
Judges' Table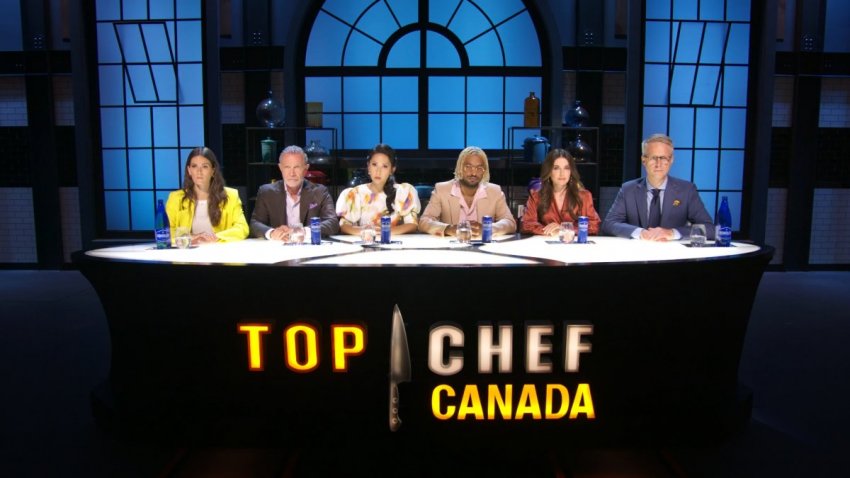 This isn't always the case, but on this particular epiosde, it is very clear who's going to be in the bottom two. There were three dishes that the judges did not love, but Jo's pasta-making techinque puts him a slight cut above which leaves Lindsay and Kim at back of the pack.
In the end, the judges decide to send Edmonton's Lindsay Porter packing.
Kitchen Scraps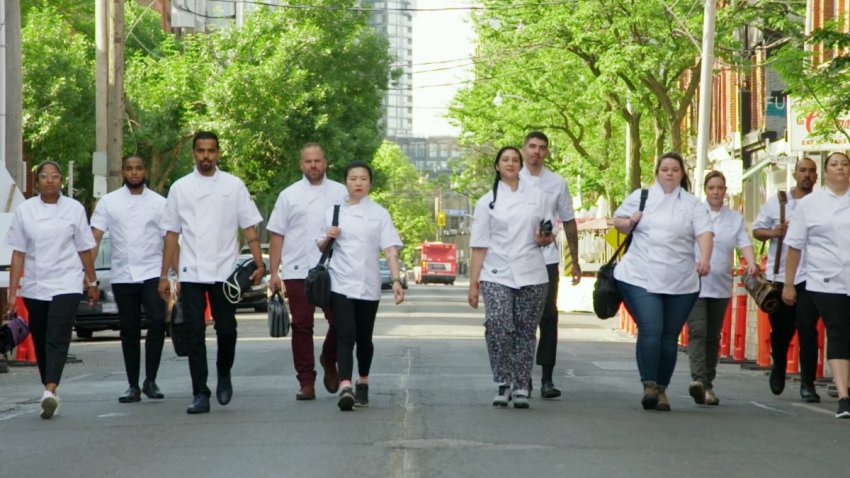 I'm surprised Lindsay was sent home first. She's done well on other culinary competition series, so it was interesting to see this particular competition format get the best of her.
If you're proudly from the east coast and you can't make a quality chowder, it makes me wary of what else you'll make on this season.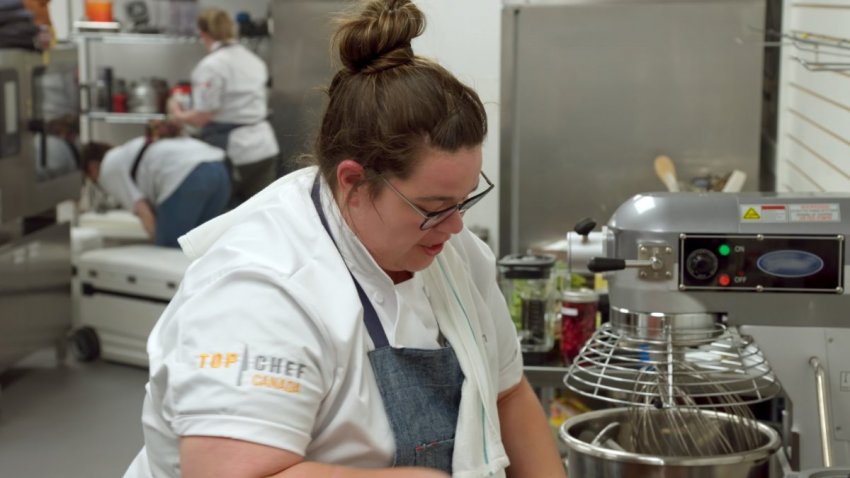 Will Kimberly gain traction after this episode? Given the robust talent in the fold this year, and her rough start, it seems unlikely.
First impressions are everything and I'm loving Dez Lo, Tawnya Brant and Vish Mayekar after this first episode. I'm a sucker for a quality cook that also offers up interesting food and a great diary session, and the three competitors displayed that throughout the premiere.
The Top Chef Canada judging panel really needed a breath of fresh air and David Zilber is bringing that to the table this season. He looks pretty stylish while doing it too!