When will this "X" twist actually start mattering?
It's the one question stuck in my mind as I press play on the Top Chef Canada Season X Episode 4 screener—aside from "Why does Tre never win a real prize when he wins a challenge?". Most chefs are tarnished with at least one "x" by now, but no one has hit a triad just yet. As well, they forgot to dish out "x"s after last week's Quickfire.
So, I guess the third question I have been pondering is: Was this "X" theme well thought out?
There are eight chefs left and a handful of frontrunners in the group. While a upset seems unlikely to happen at this point, this show does love to remind us that anything can happen in (or out of) the TCC Kitchen.
We'll see!
Quickfire Challenge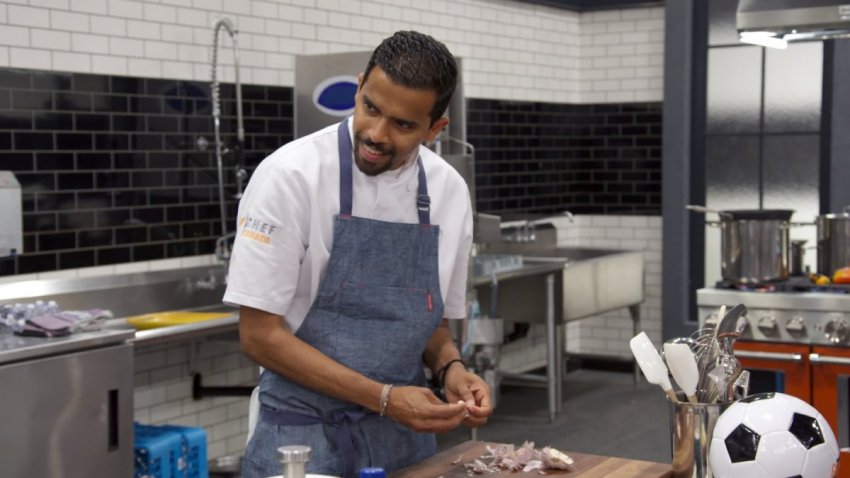 KitchenAid is comin' in hot with a colourful brand presence this week as Eden informs the cheftestants they will need to be creating dishes that embrace the colour offerings found in appliance company's portfolio. One by one they draw knives to discover which two colours they are assigned.
Colours like "yellow pepper", "onyx black", "pistachio" and "passion red" seem relatively easy to attain, generally speaking, but both "ink blue" and "violet blue" feel like eternally difficult hues to match. Monika, Tawnya and Tre wind up with blues and it's hard not to feel bad for them immediately.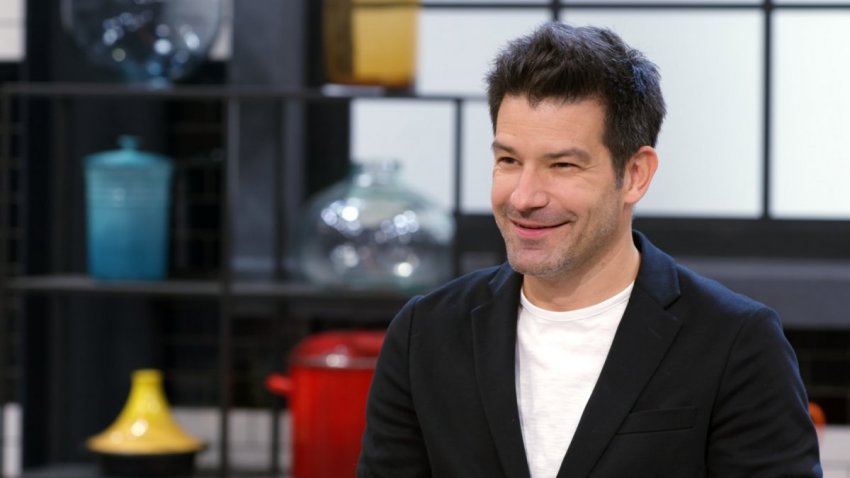 On the other hand, everyone's favourite TCC Kitchen comedian Dez Lo has drawn "honey" and "passion red", the latter of which she likens to her red lipstick. She'll also be serving whatever dish she conjures up to her "crush from 10 years ago", chef George Mendes of New York's Aldea.
Dez opts for a simple bar snack-inspired plate of deep-fried cheddar sticks and marinara sauce. Her colours seem on point.
"I'm not looking you in the eyes in case I black out," says Dez to George as he and Eden dive into her dish. Everyone has a good laugh.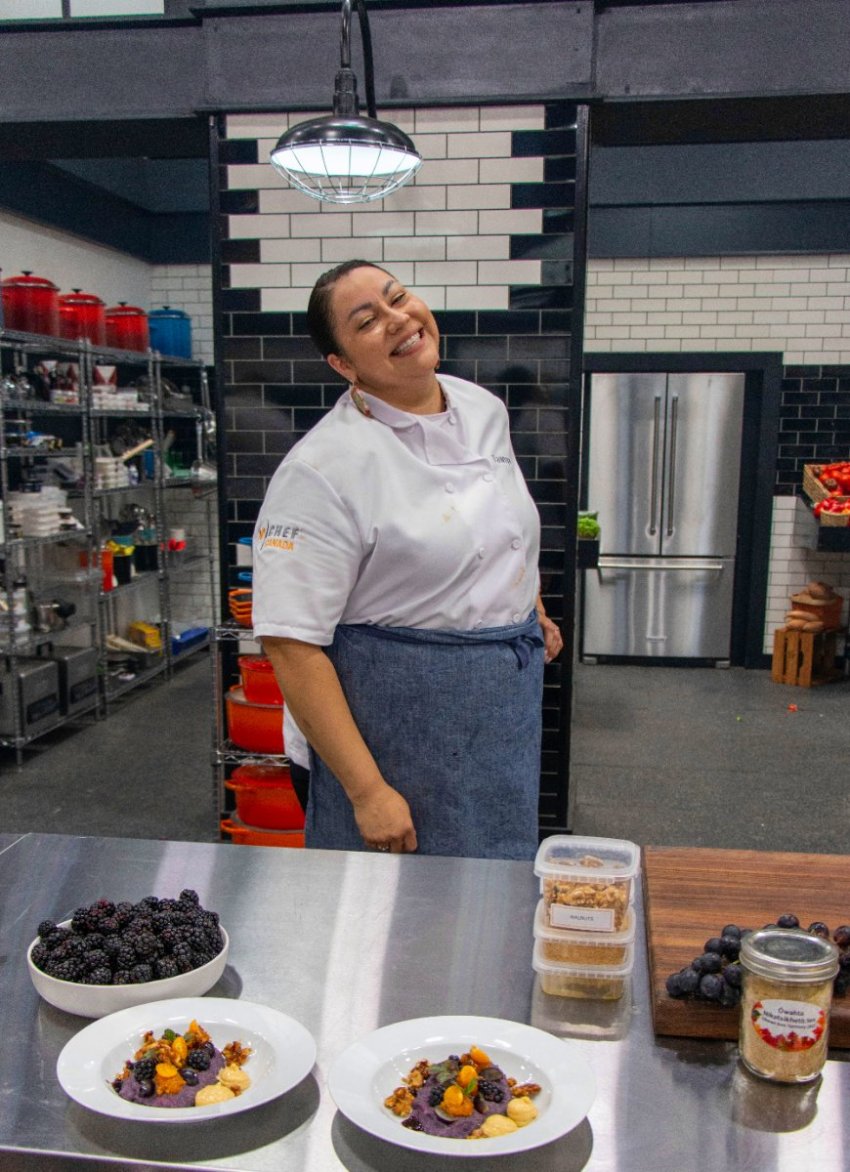 Chris Irving seems to get fairly great marks for his "yellow pepper" and "passion red" prawn and gazpacho dish, and Vish too, for a plate of leeks with a "black onyx" aioli. Tawnya seems to deliver an enjoyable dish of blue corn mush with apricot Greek yogurt, but perhaps not quite blue enough.
On the down side, Camilo's dish does have some black garlic, but lacks the "onyx black", Monika's deep-fried eggplant dish is the furthest from her assigned colours, especially the "ink blue". Both chefs receive an "x", which is a first for Camilo but, gasp, a third for Monika!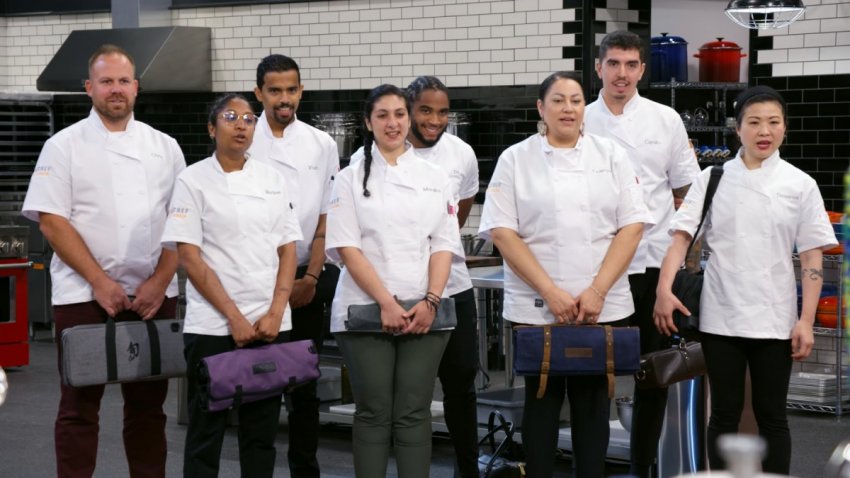 Tre, while presented with one of the toughest colours, "violet blue", along with "burnt orange" winds up with a bullseye thans to a bluberry buttermilk cured scallop ceviche studded with burnt orange slices and beetroot powder.
So, what happens next? Absolutely nothing!
I thought this was the moment we have been waiting for since Episode 1: to watch a triple-x chef compete in a sudden death cook-off to remain in the competition. Instead, Eden lightly remarks that Monika now has three "x"s and we move on with the episode.
Tre wins the Quickfire, likely for being the only chef to get remotely close to matching the colour blue with his dish, and he's real happy about it. I'm also excited because he finally wins some cash, $5,000 courtesy of KitchenAid.
Elimination Challenge
As we continue to wonder what fate awaits Monika, Eden dishes on the details of this week's Elimination Challenge.
The chefs will be grilling on the sidelines at BMO Field and to find our what protein they will each be assigned, the competitors take turns picking up soccer balls. From ground beef (Vish) and lamb chops (Tawnya) to prawns (Camilo) and bison back ribs (Monika), there's plenty of barbecue-friendly meats to work with. At this point things feel like an even playing field.
Once their dishes are mostly prepped, the competitors are given a twist and must kick a soccer ball at an inflatable goalie of choice to determine a last minute ingredient which will need to be incorporated into their dish. Between preserved lemon, red pepper jelly and endive, none of the three seem like an overly easy additional to a dish that's already largely been conceived.
This could make or break someone's chance at winning today.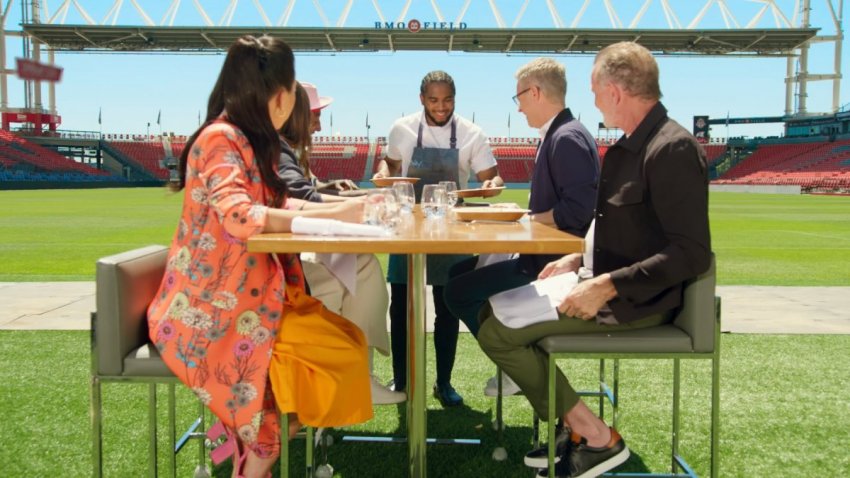 For this challenge, the one and only Marcus Sameulsson will be joining Mark McEwan, Chris Nuttall-Smith, Mijune and Eden for today and you can tell the chefs are eager (and nervous) to serve him.
There are few ahead-of-time worries watching the chefs prepare their dishes save Martine who has chosen to marinate Miami (or "Korean") short ribs in a pineapple mixture that breaks down the thin cuts of meat far past what's appropriate. Uh oh!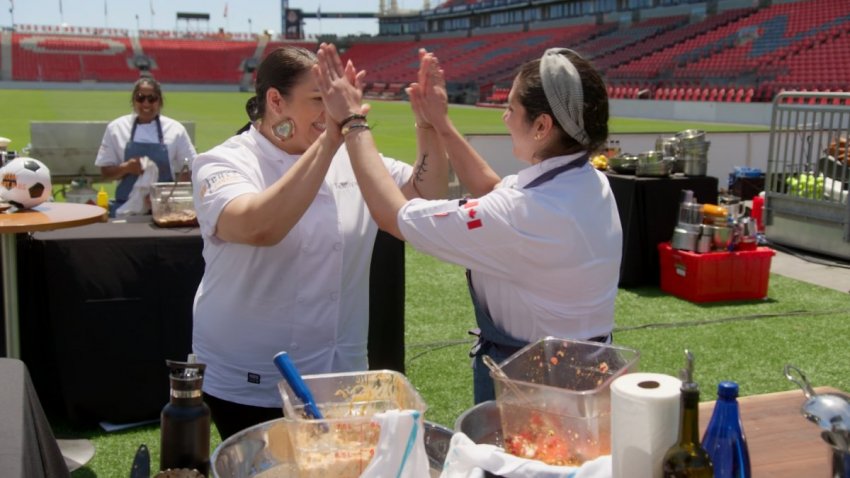 Tawnya and Monika, both unfamiliar with their assigned proteins, have charmingly leaned on one another to gain confidence and do right by their meats. It's nice to see chefs helping one another on TCC when there is not a group or pair challenged, it's rare. You get the feeling that these two are going to be just fine this episode.
Dez is singing high praises of chicken drumsticks, her assigned meat, which feels odd because I feel like you rarely see chicken drumsticks on a restaurant menu, but if she's feeling her oats then I am too. She's also raving about her beautiful cheddar biscuits and seems, perhaps, overly confident as she prepares plates for the judges.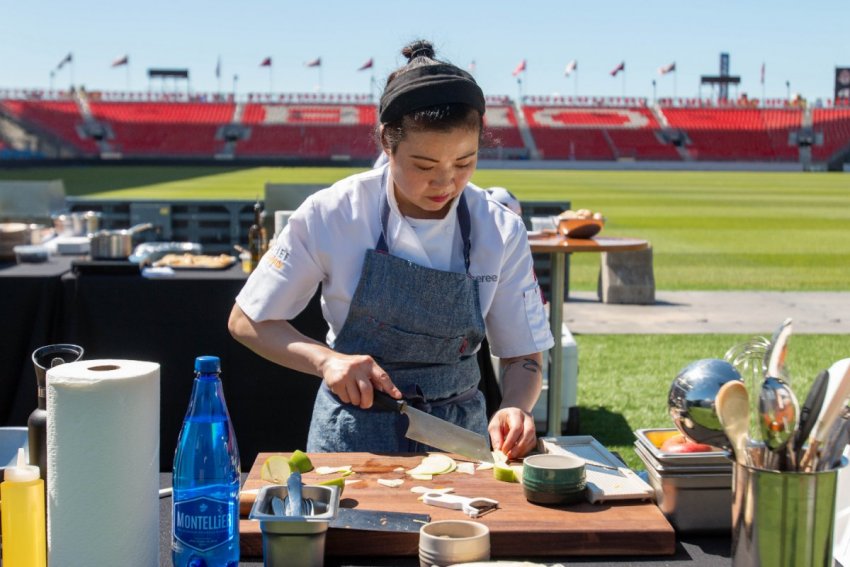 Camilo is making grilled prawns with red pepper sauce, Tre a grilled rib eye with escabeche, Chris a marinated pork skewer and quinoa salad and Vish, a curry-spiced kofta. Honestly, everything sounds delicious, though some seem more fitting for an outdoor barbecue gathering than others.
Once the plates start hitting the judges' table, it's mostly hit after hit. Vish's dish, Chris' dish as well as Tawnya's lamp chops with corn rib and potato salad (pictured above) and Monika's bison rib and salad duo garner the best reviews, while Tre's seems good enough.
Dez appears to have some uneven doneness on the chicken drumsticks, though the table raves about her biscuit specifically. The judges stand divided!
The most lacklustre dishes of the episode appear to be Camilo's mushy prawns, drowning in overpowering sauce and Martine's equally mushy beef that visually look, well, very unappetizing.
Judges' Table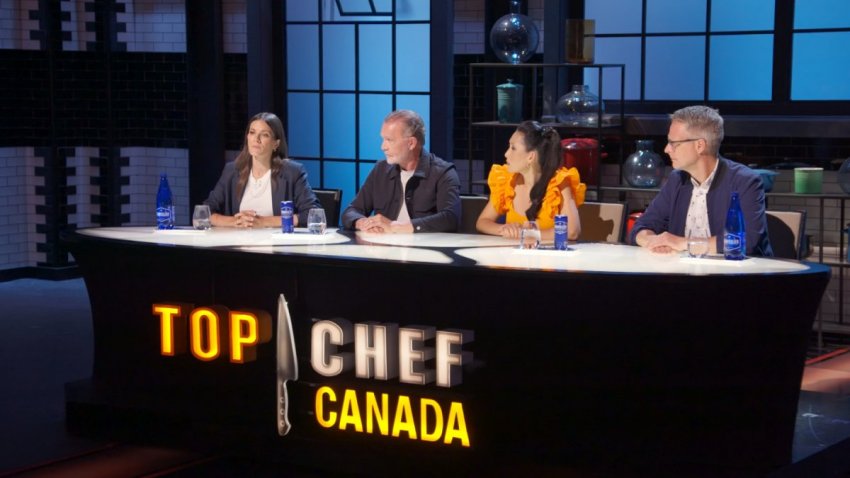 Not too many surprises here as Eden asks for Chris, Vish, Monika and Tawnya to go in and see the judges. The viewers know they're on top, and perhaps Vish and Chris too, but you can tell Monika and Tawnya seem a bit dubious.
They've been put through the ringer more than the other two chefs this season, so they seem beyond relieved and ecstatic when they find out they've made some great dishes today.
"These are happy tears," says Monika, verklempt after hearing the news.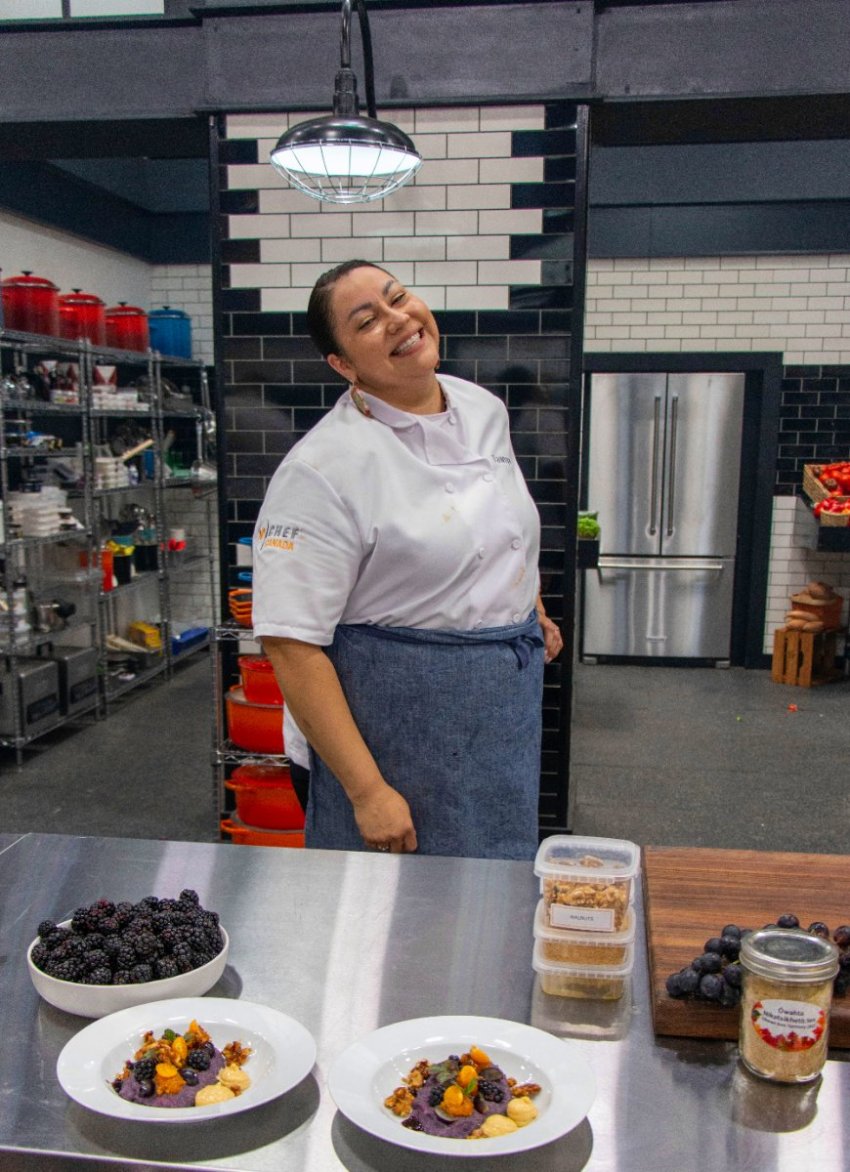 Tawnya ends up with the winning dish of the day. Her lamp chops and potato salad impressed, but it appears like her corn rib was the component that helped her edge out her fellow competitors for this win. She's smiling from ear to ear.
Tre is the sole "safe" chef and Camilo, Dez and Martine head into chat with the judges.
The only right choice here is to send Martine home. Her main component appeared inedible and it's really hard to get past that when you've already had a tumultuous run on the season. Camilo on the other hand seemed to have simply missed the mark by not offering a more "standard" barbecue dish and Dez's chicken drumstick dish didn't disappoint to the point of elimination.
It's farewell to Martine and now seven chefs are left cooking in the competition.
Kitchen Scraps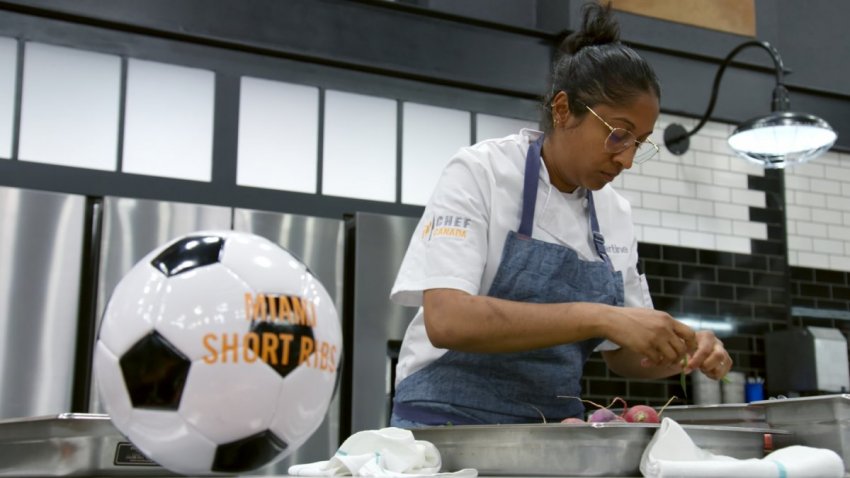 I really liked Martine! I kept wishing we could watch her hit her stride, but that just didn't end up happening. I have said it multiple times on the podcast, but you can tell this chef can cook. This competition just got the best of her.
With three "x"s attached to herself, Monika must have felt extra pressure to perform in this Elimination Challenge. It doesn't seem fair to make a chef just sit in limbo with three "x"s after teasing to the viewers that something dramatic is going to happen when a chef reaches that point.
Even during the preview for Episode 5, the bit about having to "cook for your life" doesn't even feel like a focal point. Give me some x-rated drama, gosh darn it!
We're also now that that point in the season where there are very clear front-runners, but maybe next week's plant-based challenge will see one of the top performing chefs topple from their continual top spots.
Top Chef Canada Season X airs on Mondays at 10 p.m. ET/PT on Food Network Canada.