What does a gigantic soccer field and eight flaming grills have in common? Why Top Chef Canada Season X Episode 4, of course!
Famed chef and restaurateur Marcus Samuelsson was the much-welcomed guest judge this week during an Elimination Challenge that saw the remaining competitors grilling up a storm for hordes of hungry soccer players.
Here's how the eight cheftestants stack up after four weeks of competition.
8. Martine Bauer (eliminated)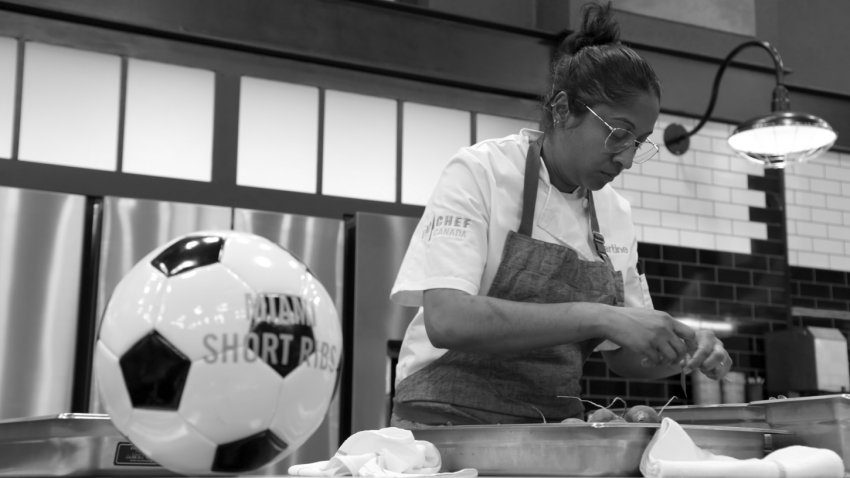 We hate to bid Martine adieu, but sadly she was the chef to hear "pack your knives and go" at the end of this week's episode. It wasn't all too surprising—for the audience or Martine—as her short ribs essentially disintegrated on the grill.
This was a tough elimination for us because you can tell that Martine has some serious skills, she just didn't shine her brightest on the show.
7. Dez Lo (last week: 5)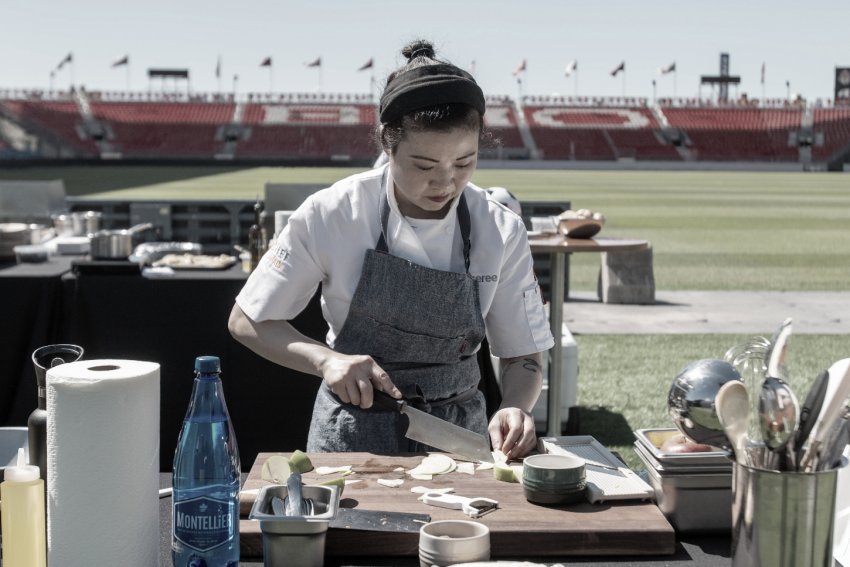 What a rollercoaster ride this season has been for Dez Lo, albeit a very fun one for viewers! Dez brought her A-game with an especially vibrant personality episode, but it's just too bad her Elimination Challenge dish of hoisin barbecue-brushed chicken drumsticks left the judges divided due to uneven cooking.
After dipping down, she usually goes back up, so we're crossing our fingers for a great Episode 5 for Dez.
6. Monika Wahba (last week: 6)
Monika's bison ribs with salad duo (horseradish potato salad and watermelon and feta salad) saw her as one of the top-performing chefs this episode, which was nice to see. With a rough go in the Quickfire though, she remains middle of the pack.
With Episode 5 being plant-based-focused, we have a feeling she might break away from the middle come next week, but before that can happen she's going to have to "cook for her life" being the first chef with three "x"s.
5. Tawnya Brant (last week: 8)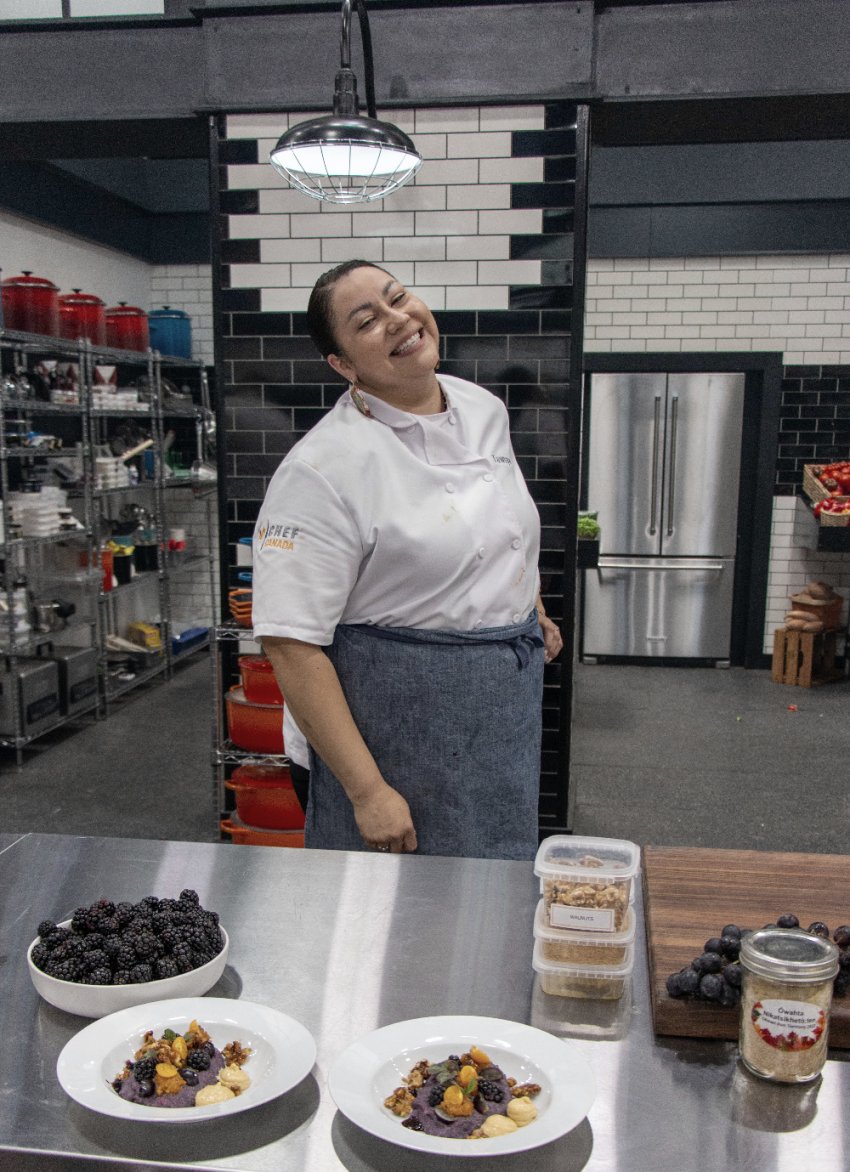 This was a lovely week for Tawnya, and we love to see it!
From making a tasty-looking blue corn mush during the Quickfire Challenge to her grilled lamb chops taking home the top spot for the best dish of the day, it felt like the chef was really in her element. Now, onto slaying those vegetables in Episode 5!
4. Camilo (last week: 3)
While we don't fully agree with the negative comments Camilo received during the colour themed Quickfire Challenge, his grilled prawns with red pepper sauce dish later on in Episode 4 seemed to be one of the weakest offerings.
Camilo has a near-impeccable track record and is still very much a serious contender in Top Chef Canada Season X, but this just goes to show you that one mishap can almost send you home.
3. Tre Sanderson (last week: 4)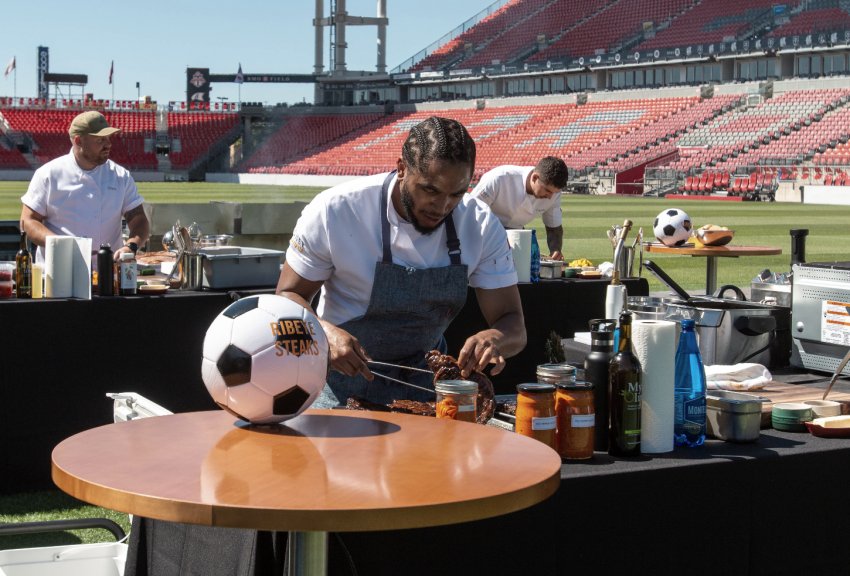 Seeing Tre win the Quickfire Challenge (and $5,000 courtesy of KitchenAid) with a striking presentation of scallop ceviche thanks to the addition of blue spirulina powder was worthy of a standing ovation. The chef has been on top before, but his challenge "prizes" have, well, not really felt like prizes.
His grilled rib eye dish didn't impress or disappoint during the Elimination Challenge, leaving him as the sole safe competitor. Better safe than the bottom, we say!
2. Chris Irving (last week: 1)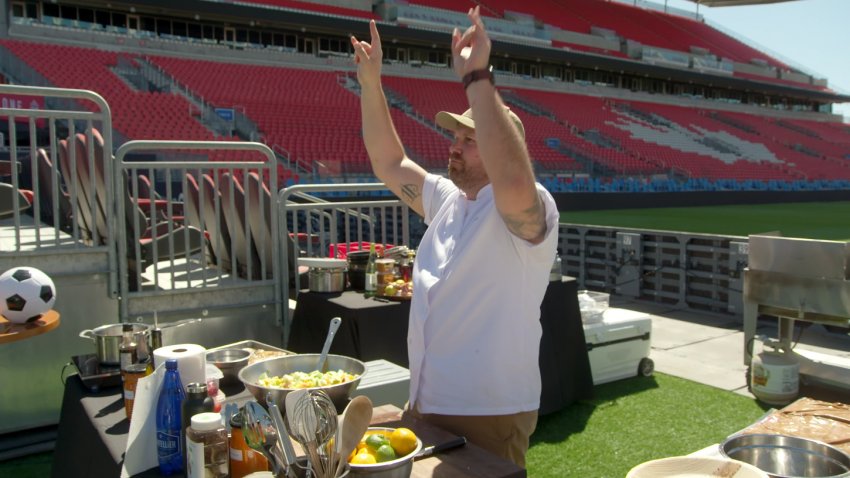 Is Chris Irving unstoppable? That's the question we asked ourselves after another very solid showing on Episode 4. The chef bravely took chopped pork chops and turned them into allegedly succulent skewers which is no easy task given the type of protein or the volume of food that was to be cooked during the Elimination Challenge.
Hot take: It's a Vish Mayekar vs. Chris Irving Top Chef Canada X world and we're all just livin' in it.
1. Vish Mayekar (last week: 2)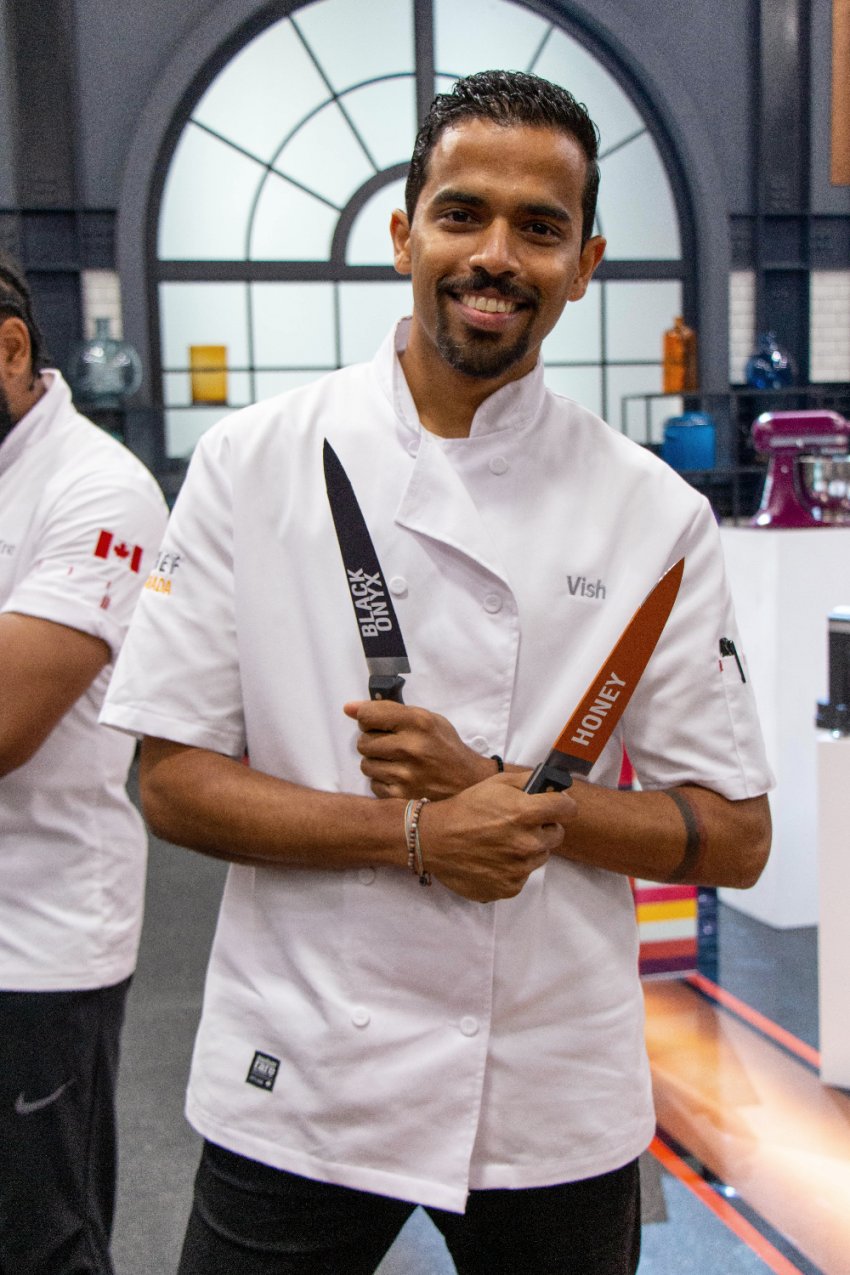 Now that we're four episodes in, there are two clear chefs to beat and Vish is one of them. The chef often flexes his Italian culinary muscle, but also leaned into his South Asian heritage this week to make Indian-inspired ground beef skewers for the Elimination Challenge that left the judging panel craving more.
We have an inkling Vish will perform well next week too, so we'll see if he maintains this No. 1 position for another episode!
Top Chef Canada Season X airs Monday nights at 10 p.m. ET/PT on Food Network Canada.