With a musical theme featuring the popular band The Beaches, Top Chef Canada Season X Episode 2 puts the chefs to the test by way of creating what they imagine to be the idyllic dishes to eat backstage at a concert.
While a few chefs rose to the challenge, the majority of the remaining 10 competitors seemed to leave the judging panel wishing for more...flavour, salt, acidity, etc...
Here's our power rankings for the cheftestants after two weeks of competition.
10. Kim Conway (eliminated)
Poor Kim, she had a rough run on this season. After making a batch of seafood chowder that left the judging panel more than unimpressed, the week two offering of a dense bun and dry fried oyster sealed her fate.
9. Martine Bauer (last week: 8)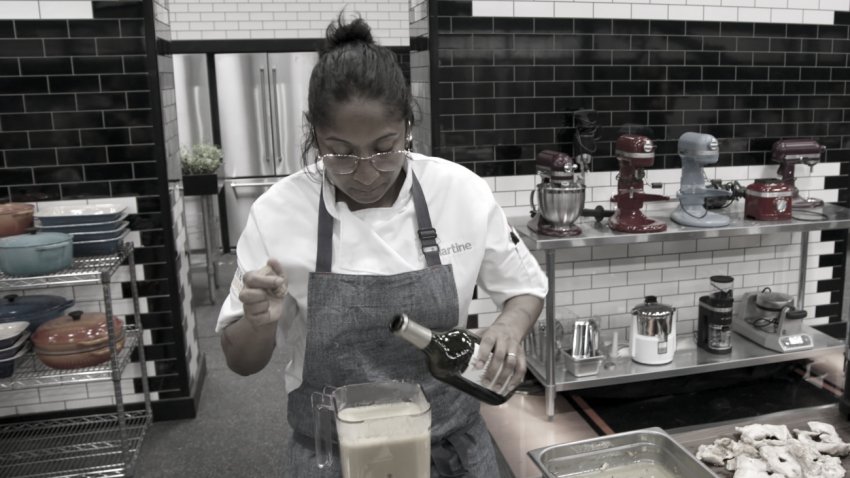 You can tell that Martine is more than capable of being a serious competitor in this season, but her choice of soba noodles (especially when used in a hot application) lead to a poor showing in the Elimination Challenge.
That aside, she really came through in the Quickfire Challenge alongside Tawyna Brant and Tre Sanderson, so we're going to go out on a limb and predict an uptick in her power ranking next week.
8. Tawnya Brant (last week: 6)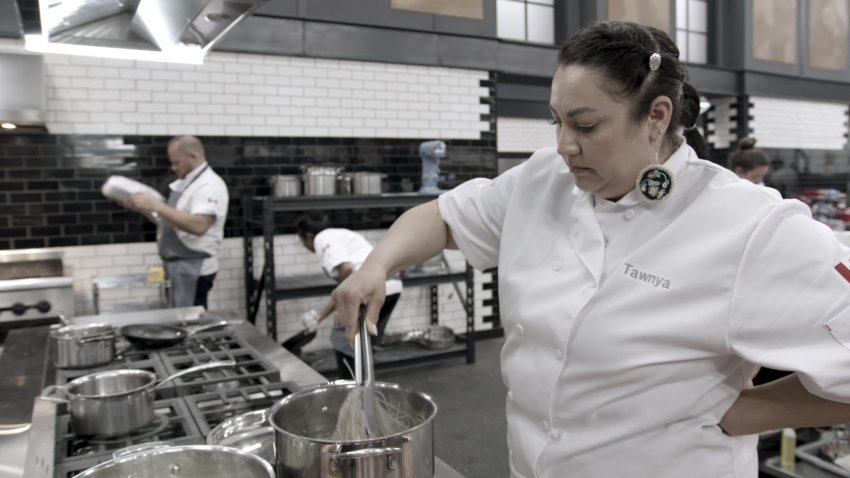 Much like Martine, we feel like an unfamiliarity with creating noodle-centric dishes is what got the best of Tawnya on episode two. We loved the idea of the Navajo tea-infusion into the sweet potato noodles, but her birria-inspired meat components seemed like a bit of a mismatch.
7. Dez Lo (last week: 4)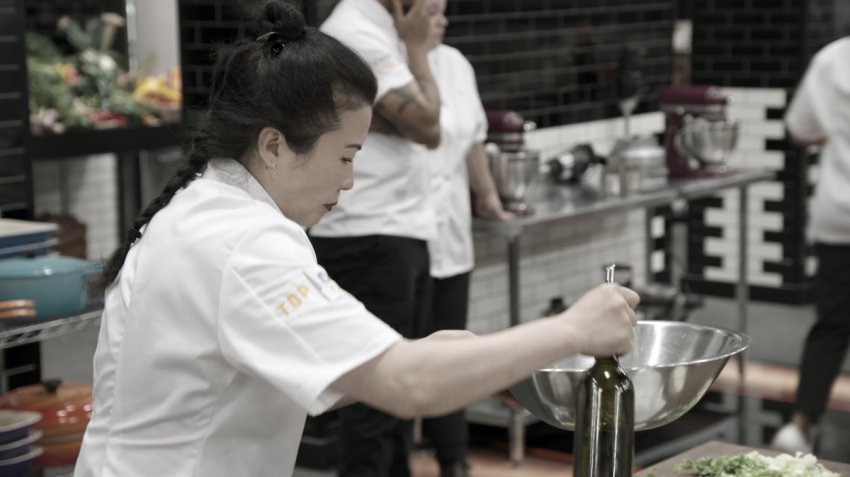 As much as we're loving Dez Lo's on-screen personality, she had a rough week.
First, she landed in the bottom of the Quickfire Challenge earning her one "X" and her carpaccio creation in the Elimination Challenge did not garner much positive feedback. Luckily, she was not in the bottom and with Restaurant Wars coming up next week, this could be an opportunity for her to really shine.
6. Monika Wahba (last week: 6)
Monika is a chef that continues to charm, both with her warm personality and unique approach to cooking, bringing plenty of Egyptian flavours to whatever she creates.
This week wasn't a good or bad showing for the chef, so she currently remains middle of the pack.
5. Joachim Hayward (last week: 9)
After a real rough week one with two "x"s assigned to him, Jo had everything to lose this week. Luckily, the chef found himself in the Top 3 at the end of the episode for his corn, shishito and poblano pepper salad creation that the judges couldn't get enough of.
Talk about redemption!
4. Tre Sanderson (last week: 1)
Tre was one of the stand outs for us in the Top Chef Canada Season X premiere. while he still comes off as one of the top contenders after episode two, a few others clearly bested him in the Elimination Challenge.
His dish yielded mediocre feedback from the judges, but it was tasty enough to keep him safe for the week.
3. Camilo Lapointe-Nascimento (last week: 5)
A stunning dessert presentation and a blackened lemon curd component left a lasting impression with the judges' taste buds and viewers' minds.
Camilo continues to demonstrate consistency and a high level of culinary technique which is sure to continue to do him well as Top Chef Canada Season X progresses.
2. Chris Irving (last week: 3)
With another strong showing, Chris seemed to easily win the judges over with his embodiment of Yukon flavours (fireweed, birch syrup, et al.) in a flatbread sandwich. On our end, the paper wrapping and twine tying of the sandwich got him some bonus points for cute presentation.
1. Vish Mayekar (last week: 2)
Making dessert is generally not a (non-pastry) chef's strong suit, but both Camilo and Vish proved that they are more than capable in the sweet department.
Vish's olive oil cake looked nothing short of delicious and, based on the judging panel's reactions, it tasted impeccable too.