From vegan diner dish mishaps to picnic fails, this was a pretty rough episode for many of the competitors on Top Chef Canada. It's odd to see more negative reviews than positive, especially this early on in a season, but that's exactly what happened this week when the chefs were tasked with creating plant-based comfort foods in the TCC Kitchen and then bespoke picnic baskets that were to be served in an outdoor setting.
Here are the power rankings for the remaining 10 chefs of Top Chef Canada Season 9.
10. Jae-Anthony Dougan (eliminated, last week: 7)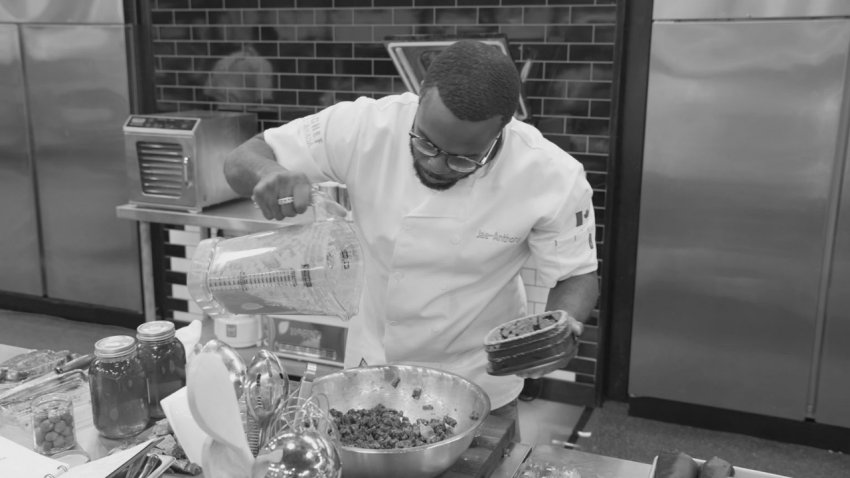 With minimal screen time on episode one, there wasn't much opportunity to get to know Jae-Anthony Dougan. This week though, he exuded a fun, animated personality for the entirety of the episode, so it felt too soon to bid the Ottawa-raised, Montreal-dwelling chef adieu.
Jae-Anthony seemed to do well enough with his indulgent-looking vegan "burger" during the Quickfire–that drew decent reviews from Eden and guest judges Suzanne Barr and George Stroumboulopoulos–but things really fell apart when it came to the picnic portion of the show. A bison tartare that did not allow his designated ingredient (apple) to shine as the star proved a disappointment for the entire judging panel for being unbalanced as well as a dish that was not ideal to serve at a picnic.
We'll definitely make a point of popping by Tropikàl Restobar to try the chef's Caribbean-inspired fare the next time we're in Montreal. Au revoir, Jae-Anthony!
9. Siobhan Detkavich (last week: 10)
The young Kelowna-based chef got off to a rough start this episode during the Quickfire where she presented two large cubes of tofu on toast, a dish that was drawing some very loose inspiration from a hot turkey sandwich.
Group challenges often result in flaws when it comes to the judges deliberating who they should send home. In this case, Siobhan Detkavich's team as a whole offered the best overall picnic basket experience in this episode, making Erica, Josh and herself safe from elimination.
However, the cake component of Siobhan's dessert went awry while being prepared in the TCC Kitchen. It was somewhat salvaged before being presented to the judges and their special guests, but it appeared to be salvaged under the advisement of Josh, still looked a mess regardless, and garnered next-to-no positive feedback.
8. Andrea Alridge (last week: 8)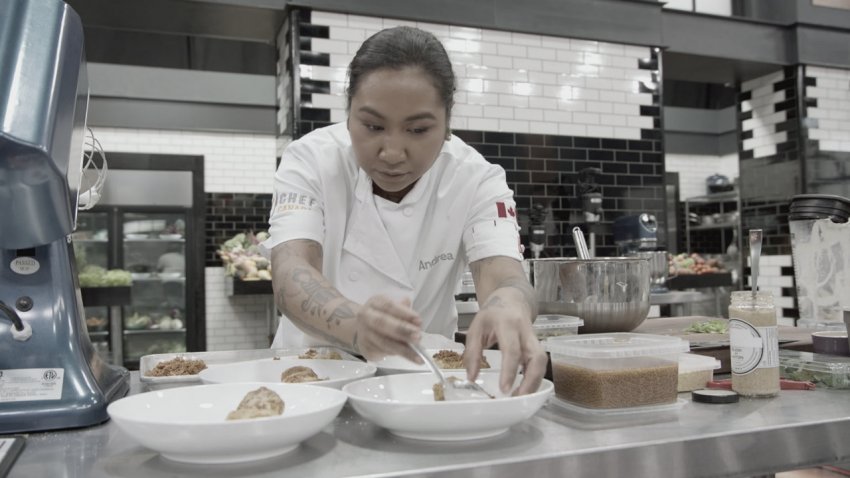 Sigh, another not-so-great week for Vancouver's Andrea Alridge. The chef first received lacklustre feedback for her reuben-flavoured falafels in the Quickfire–though more-so for not properly interpreting the challenge, not the dish's quality–followed by what was arguably the biggest picnic fail in the Elimination Challenge.
Even the chef admitted that her foie gras pate with apple gel was an ambitious undertaking with the time frame provided, which eventually resulted in her dish not setting properly before it was served to the judges. The biggest mistake, though, was Andrea's oversight when considering the integrity of her dish, assuming it would retain during transport and still retain itself while sitting in the hot sun.
That was clearly not the case!
7. Emily Butcher (last week: 5)
Like Siobhan, the Winnipeg chef is certainly lucky that competitors were judged as teams and not individually at the end of this episode as her creation of five-spice duck breast and vegetable salad garnered a large amount of negative critiques at the Top Chef Canada picnic. Sound bites earlier on in the episode implied that Emily Butcher would have some struggles with making corn the star of the picnic dish, so it wasn't a huge surprise when this happened.
Looking back to the first half of the episode, the chef really seemed to miss the mark when trying to create a vegan version of a tuna melt. It felt like her creativity got the best of her.
6. Galasa Aden (last week: 4)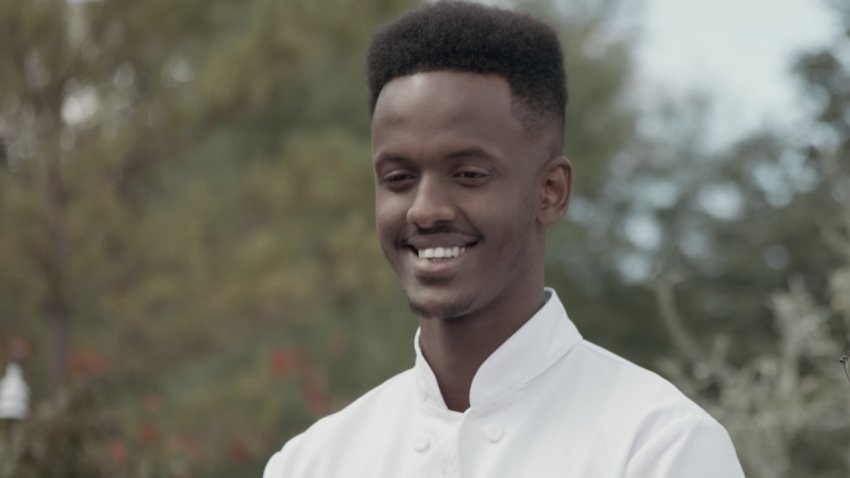 Galasa Aden clearly dominated the vegan diner-themed Quickfire Challenge with his mushroom meatloaf and caramelized onion puree–and was granted immunity from elimination as a result–but things did not go as successfully when it came to his elevated apple crumble in the "apple" picnic basket.
The judges seemed to neither enjoy the separate parts of Galasa's dessert nor the sum of said parts. From "sandy" to "uncooked", plenty of descriptors were thrown around that sounded much less than appetizing.
A good start and poor finish for the Rocky Mountains-based chef.
5. Aicia Colacci (last week: 6)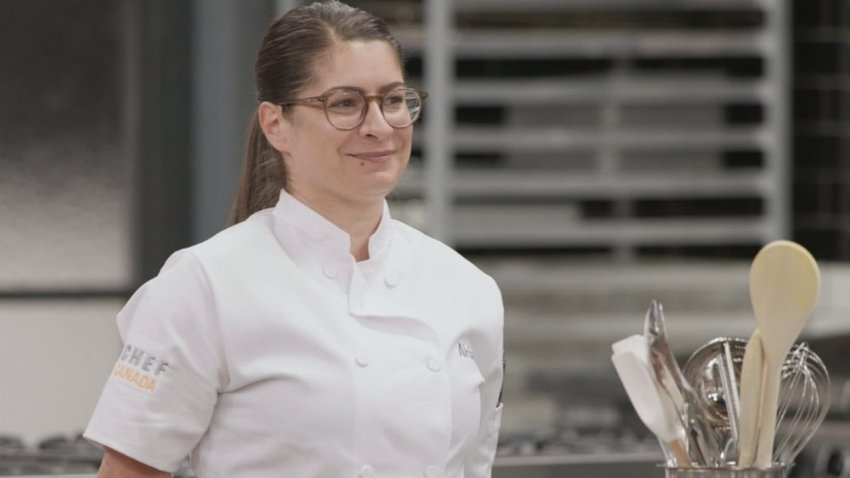 Putting Aicia Colacci in the number five spot this week might feel high considering the judges' response to her corn quiche-frittata hybrid creation, but hear me out. We did not see Aicia's (or Alex's) dish during the Quickfire, which means it was likely good enough, but not great.
In the Elimination, being on team "corn" alongside a successful dish and poorly executed one, it seems like the Montreal chef fell somewhere in the middle...yet again. I'm curious to see if Aicia will break away from the pack in next week's episode and if she does, will it be ahead or behind?
4. Alex Edmonson (last week: 9)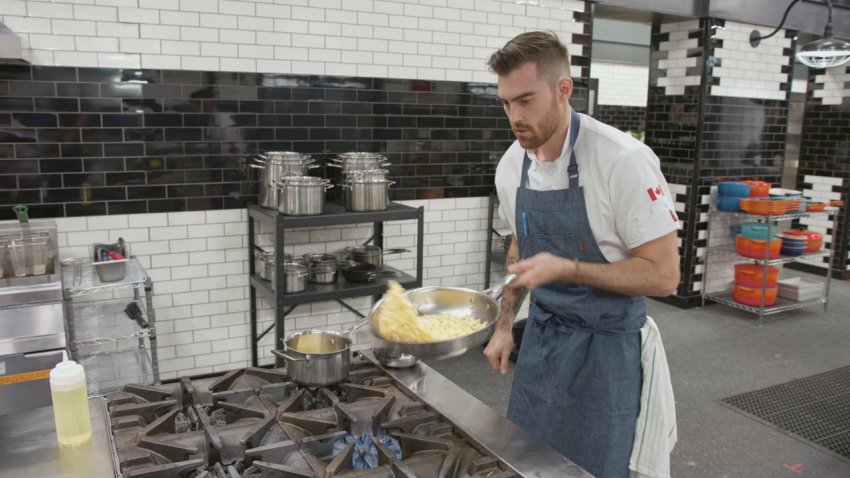 To never judge a book by its cover is a lesson many viewers learnt in episode two when it comes to Calgary's Alex Edmonson.
Labelled somewhat of an "Instagram chef" in commentary at Judges' Table, the private chef wasn't painted in the best light in the Season 9 premiere. Alex came back fighting this week and dominated the picnic challenge with his trout rillettes with corn bavarois and corn chips that proved both perfectly portable and delicious.
This is another reason why it would have made more sense to judge the chefs individually with this Elimination Challenge as Alex seemed to have one of the best dishes out of all of the picnic baskets.
3. Kym Nguyen (last week: 1)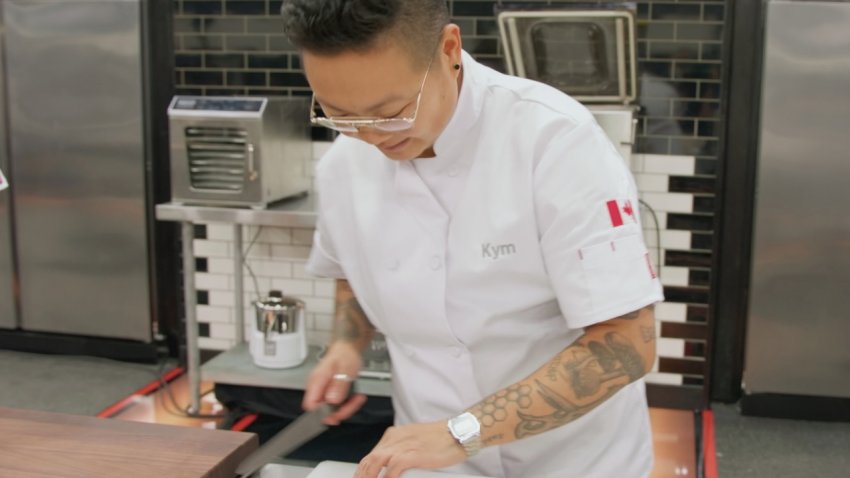 Much like Alex being simply safe, seeing Kym Nguyen stuck in the bottom this week with their under-performing teammates after receiving rave reviews from the judges and special guests for their tuna tataki and apple salsa dish felt wrong.
If this was a challenge like Restaurant Wars where the chefs have to actually work together to make a cohesive menu and help execute table service then of course=, judge them as teams. Unless it was left out in the editing, symmetry between dishes when it came to the three different chef teams did not appear to be a requirement.
Television production, am I right!?
Moving on, or rather looking back to earlier in the episode, Kym made a supremely clever dish when challenged to create a vegan western omelette, drawing inspiration from a Vietnamese classic, banh xeo. Very impressive!
2. Erica Karbelnik (last week: 2)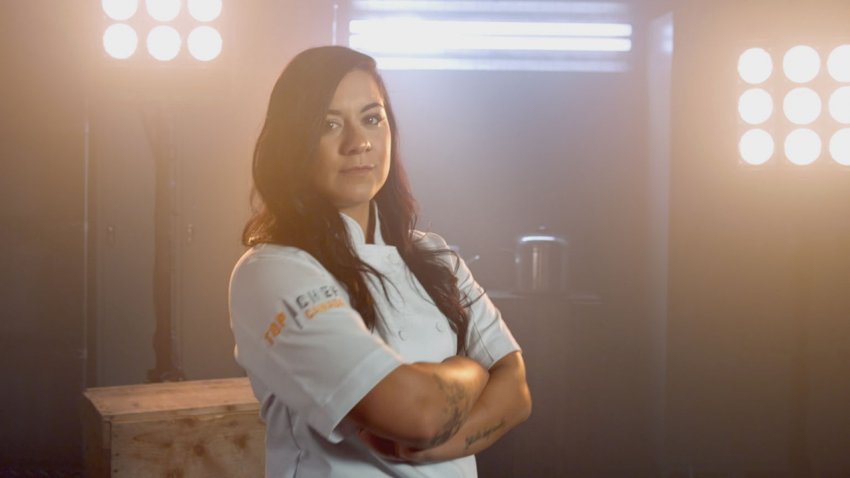 As viewers, we weren't privy to the reactions to Erica Karbelnik's plant-based interpretation of a club sandwich during the Quickfire as it didn't get the screen time, but we can assume they were good enough. From there, things just go from good to great for the Toronto chef.
It's rare to win an Elimination Challenge on any Top Chef series with a salad, but Erica Karbelnik managed to do just that with her thoughtful pumpkin creation. Using a melon baller to make small rounds of pumpkin was an especially brilliant thing to do to the ingredient before roasting it. As well, the judges seemed genuinely obsessed with her truffle honey vinaigrette which she made with a pumpkin seed oil to no doubt further showcase her assigned ingredient.
Very clever!
1. Josh Karbelnik (last week: 3)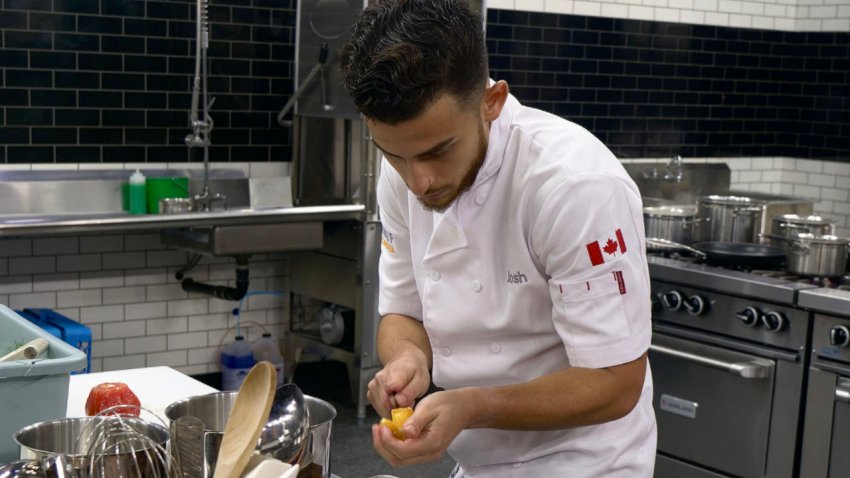 Will the Karbelniks be unstoppable this season? Plenty of signs are pointing to yes after yet another exceptional showing throughout episode two.
Though it didn't fully make sense to me that Josh was praised for a dish that looked nothing like Salisbury steak while Andrea was scolded for her dish's lack of reuben resemblance, I don't doubt that his elegant cauliflower dish in the Quickfire was full of flavour. Moving onto the picnic, it's hard to argue that the chef's pumpkin "tenders" (a play on chicken fingers) was not the most unique dish presented to the judges this episode. Showstopper!
Have a listen to our latest Top Chef Canada podcast episode!
Our podcast is available to stream and subscribe on all major podcast services, including Apple Podcasts, Google Play, and Spotify. New episodes every Wednesday!