Social media is a funny thing. It can distract you from work (Hm, which 1990s soap star am I, really?); it can irritate you (If she posts one more selfie of her and her six cats…); it can make you cry (did you hear about that single mother of eight who was almost eaten by a shark last week?); and it can do a lot of other things too. At its best and most productive, it can help you discover something really cool.
The last is how I came to stumble upon mud + stone. I was supposed to be working, but instead, I scrolled through my Instagram feed and landed on a reposted image about prototype platters being designed for deer + almond, one of Winnipeg's top restaurants.
"Prototype plates," it said, or something along those lines.
"These plates are awesome," I thought to myself.
It was this concise, one-sided conversation that led me to look into the mud + stone studio to find out what exactly they were all about.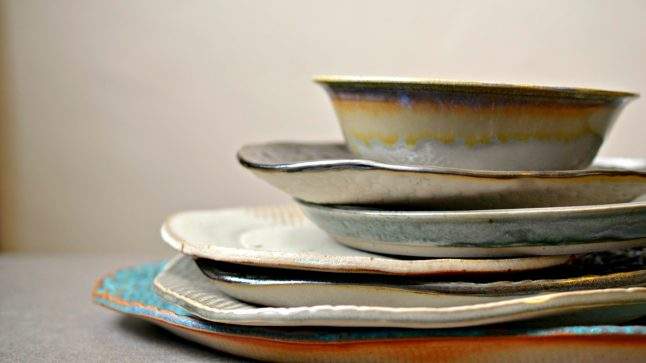 Mud + stone studio is one of only a few contemporary custom potters in Canada. A majority of restaurants source their ceramics from distributors that are based out of the States or overseas, so it's nice to see a local producer like this being embraced. I mean, we all care about where are ingredients are coming from these days, so having a connection to your serving vessels is an extension of that mentality.
After meeting through classes at a local stoneware studio, business partners Jenn McCurry and Lynne Mulvihill saw the passion for the art form in each other's eyes and that a collaboration would be a natural fit.
"We were both in the process of getting serious about a career in pottery, so we met to chat over a glass of wine," explains Mulvihill. "We had the same vision and decided that we could do so much more as a creative duo and so, mud + stone was born."
The two creators started up their business in late 2013 and aim to stay contemporary and inspired with their creations, which are nowhere near the kind of ceramic plates and cups many of us may associate with our mother's cupboards. By experimenting with a variety of imprints and glazes, the team was able to create product lines that run the gamut of colours and textures from tan and brown thumbprint mugs to large turquoise and grey serving platters that are reminiscent of snakeskin.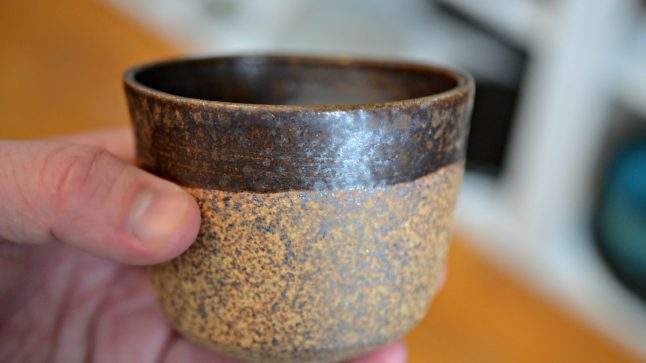 "We challenge ourselves to come up with new ideas for each potential dish and have a unique concept for each restaurant that we are working with," McCurry points out about their creative processes. "In every kiln, we'll make a few prototypes to play with whatever new ideas we might have. Our goal is to make plates that help make someone's food look amazing, and are still interesting to look at once the dish is done!"
Do you know how hard it is to form a bowl with your hands on a pottery wheel? It's full of trials and tribulations. On top of all of that, there's the drying, the firing, the glazing, the re-firing and the end where, after the ceramics have all cooled down and are able to be touched, you cross your god damn fingers and toes that they haven't cracked.
"Pottery is definitely a slow art," says Mulvihill. "Each piece takes weeks to move through the process; starting out as a piece of wet clay to the finished product. Everytime you touch a piece of clay, you think of who it's for. To see the end product being used in such an artful way by a chef in a restaurant or even just someone in their own home is so gratifying."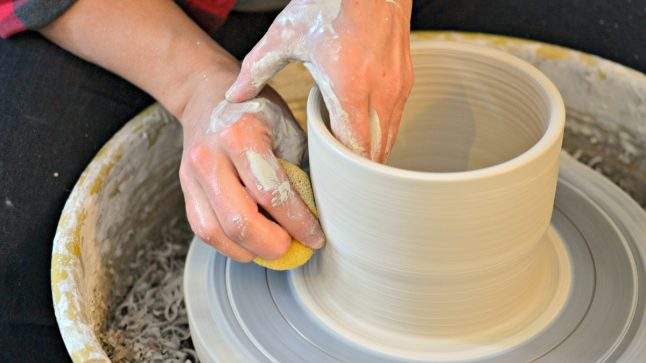 In just short of two years, Mulvihill and McCurry's studio has created plates for many restaurants, like deer + almond in Winnipeg, The Mitchell Block and Sydney's at The Forks, with more collaborations on the way. As the two women get busier, they are more than excited for what's to (hopefully) come.
"Jenn is expecting her first baby in late May, but we are still going strong!" says Mulvihille, adamantly. "We are hoping to continue to grow and take on new chefs for custom design collaborations all across Canada. We are also planning to expand our retail base within the next few months to have our collections readily available to home cooks and chefs everywhere."
Emily Dickinson once said, "Fame is a fickle food upon a shifting plate."
Regardless of how the plates may shift in the hands of these two potters, they'll capture the country's attention for quite a while to come, and our food, no matter how fickle it might be, will look all the better for it.
Check out pictures below of some of mud + stone studio's beautiful creations or head here to see their full line of ceramics.
Snakeskin serving platter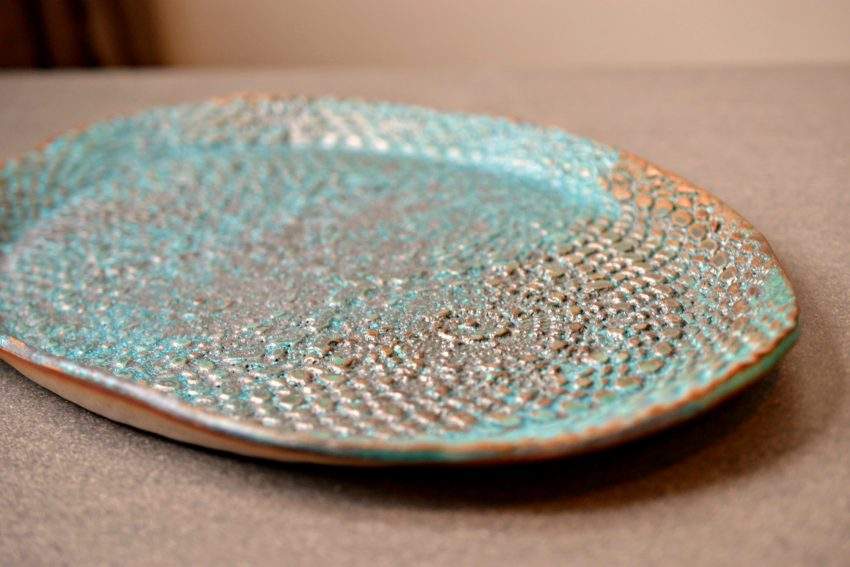 Textured mugs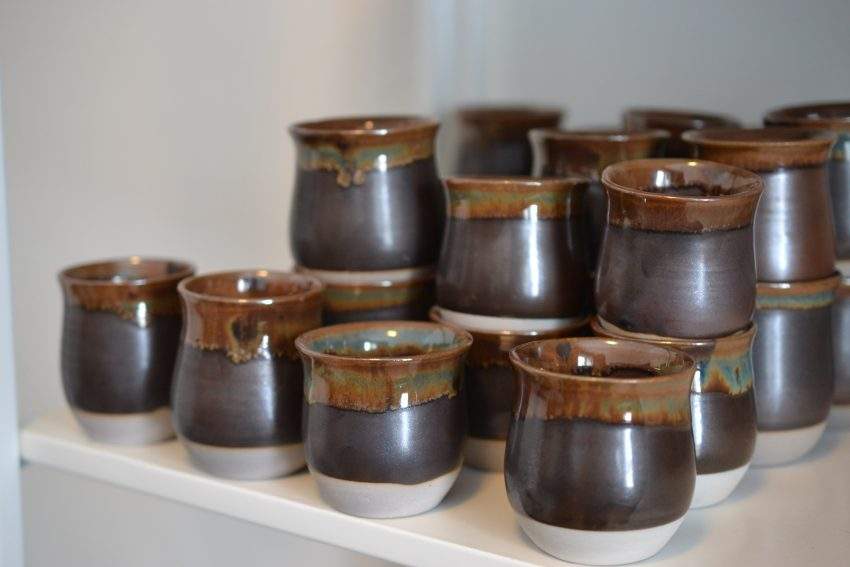 Purple hued bowl