Following the resounding success of their first collaboration in 2021, Vancouver's DL Chicken and Juke Fried Chicken announced this week that they will be joining forces once again for a collaborative pop-up at Steel and Oak Brewing.
Like last year's pop-up, the two popular chicken joints will be featuring a special edition fried chicken sandwich made with Rossdown Farms' boneless chicken thigh, Juke's signature bun sauce, DL slaw and pickles, and a choice between DL spice and Juke's Spicy Boyz sauce.
Pop-up visitors will also have a slew of sides to choose from that range from DL's pimento cheese macaroni salad to Juke's Asian peanut slaw, craft beer courtesy of Steel and Oak Brewing, and a double-decker "Chick Mac" featuring DL's Hot Chicken Sando on the bottom and Juke's Spicy Boi on the top.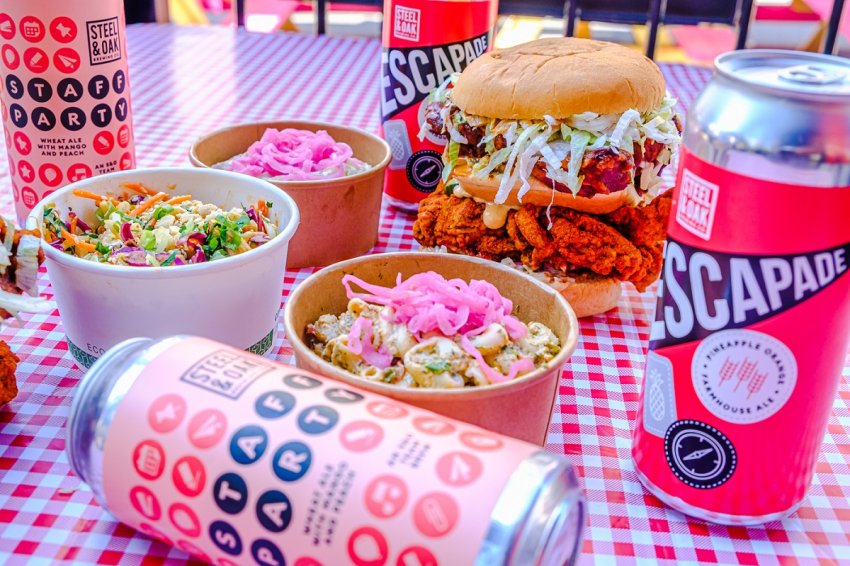 "It's always fun when the industry can get together and create something for the fans," says Juke Fried Chicken co-owner Bryan Satterford. "Juke'N on the DL 2.0 is going to be bigger and even better this year! We're taking over the entire parking lot, it's fully licensed for our guests to enjoy all that Steel and Oak has to offer, and there will be games and other surprises."
The Juke'N on the DL pop-up is taking place at Steel and Oak Brewing on Saturday, July 23 from noon to 8 p.m.