Vancouver Island is hardly synonymous with ski culture, nevertheless, a "slope-less" après-ski experience is coming to Victoria this week. The new eatery Eva Schnitzelhaus is hoping to provide patrons with the warmth and ambiance of a classic DACH region ski chalet, along with playful interpretations of classic German, Swiss, and Austrian fare and libations.
Led by co-owner and executive chef Maxime Durand, who previously helmed the kitchen at Victoria's award-winning Agrius, the Eva Schnitzelhaus menu will feature an array of traditional share plates, mains, and snacks, Dishes include a potato and raclette, beets and sour cream, pretzels and house mustard, along with a full slate of schnitzels that range from Jagerschnitzel to a signature Schnitzel Eva, schnitzel sliders and even a vegan-friendly eggplant "schnitzel".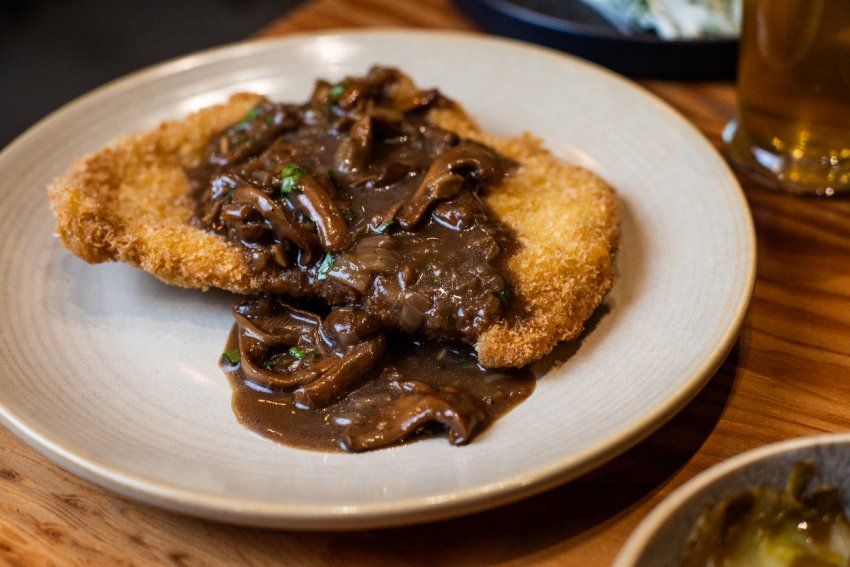 "We wanted to take German, Swiss and Austrian ingredients and recipes as people know them and give them a fresh new interpretation, while still honouring the traditional ways they are prepared, presented and representative of a celebrated culinary heritage," says chef Durand. "We want to keep the Eva dining experience light, casual, and great for conversations–creating a relaxing place where guests can come after work, for dinner, or to grab a late-night snack over a stein or two. We look forward to welcoming guests into the space very soon."
The 600 square-foot eatery will also offer a selection of local and old world wines, as well as a wide variety of German beers like the Ayinger OktoberFest Marzen, Weihenstephaner Hefe Weissbier, Bitburger Premium Pilsner, and many more.
Eva Schnitzelhouse is slated to open for dinner service on Wednesday, November 17.