A new restaurant from the popular Sattva Hospitality recently celebrated its grand opening in Vancouver, offering diners a fresh take on vegetable-forward cuisine by blending various culinary styles and techniques from around the world.
Led by executive chef Chanthy Yen—who previously opened Montreal's award-winning Fieldstone and has cooked alongside celebrated Canadian chefs like Jefferson Alvarez and Ned Bell—Nightshade aims to explore the boundaries of vegan cuisine, while showcasing hyper-local and sustainably-sourced ingredients.
"We've drawn on techniques and flavours from a lot of different places, including India, Cambodia, Thailand, and Laos. The kitchen will also be using some strict Japanese techniques in certain dishes," says Yen. "It's not exactly molecular gastronomy but the restaurant is looking at ingredients from a different perspective."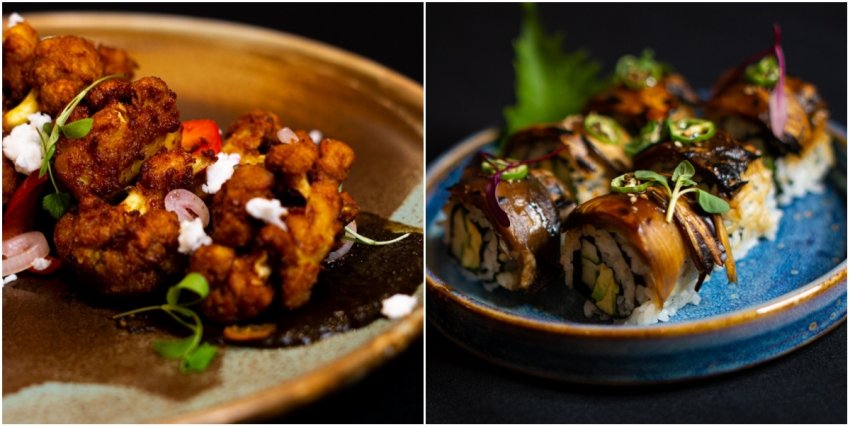 Similar to its sister restaurants The Coup and Nourish Bistro, Nightshade offers a fun fusion of flavourful plant-based dishes and vegan cocktails. Along with options like sushi rolls, golden cauliflower fritters, and lavender and strawberry hibiscus crème brûlée, one of the menu items that best reflects the restaurant's culinary ethos is the Agnolotti: Turmeric pasta dough stuffed with Blue Heron plant-based cheeses, wild local chanterelles cooked in shiitake butter, fermented chili Arrabiata sauce, shaved Parmesan, black and pink peppercorn pumpkin seeds with toasted kasha, blistered heirloom tomatoes, herb oil, and root vegetable chips.
The 150-seat restaurant also features a variety of wine and vegan cocktails made-to-order, as well as a selection of classic cocktails like Old Fashions and rum Manhattans on tap, along with a private 20-seat wine bar and tasting room.
Nightshade is open Wednesday through Sunday from 5 to 10 p.m. Reservations can be made online.