Maybe it's skydiving, maybe it's travelling to a place you've never been to, or maybe it's as simple as indulging all your senses for your next meal. Reward and pleasure comes in many forms and no matter what your threshold for excitement is, you can complement your adventure with an equally bold meal experience. Of course, daring is as daring does, and there's no better ride to go along with the adventure than a Cadillac, which drives those who dare closer to their own definition of greatness. So, get in your Escalade or CT6, make tracks across Canada's terrain, and go where a meal isn't just a meal, it's an experience.
Dinner in the Sky
Feel the wind in your hair as you take in the cityscape with your multi-course meal. Dinner in the Sky first started in Belgium more than 10 years ago and since then, the concept has expanded to major cities around the world, including Vancouver and Ottawa. Diners, as well as the chef and servers, are hoisted onto a platform that's craned 150 feet above ground for an unforgettable dining experience.
Picnic on Jasper's Glacier Skywalk
Another one for the height seeker, Jasper's Glacier Skywalk is a 1-kilometre cliff-edged walkway that leads into the glass-floored observation platform, which sits 918 feet over the Sunwapta Valley, overlooking the largest icefield in the Rockies. For a daring experience, pack a lunch and enjoy it on the Skywalk while you take in the gravity and grandiosity of the surrounding mountains.
Dining in the dark
Sometimes, the adventure isn't in overloading your senses, it's the deprivation of sight while kicking other sense into overdrive. If being out in the open frightens more than it thrills, consider heading to Dark Table in Calgary or Vancouver, or Onoir in Toronto or Montreal's Onoir, where you can experience dinner in the dark. Upon arrival, your hostess will take your order in a lit area. Then, you'll place your trust in your guides and servers who will be serving and guiding you through the meal.
Restaurants with bugs on the menu
Drinks at Hotel de Glace
Elegance and adventure go hand in hand at the Hotel de Glace in Quebec, where you can put on your Arctic explorer hat on and explore the award-winning and beautifully-designed ice hotel. The 32,000 sq. ft. hotel is built entirely out of ice and snow and maintains a temperature of -3°C to -5°C.
If you just want to enjoy a cocktail at the hotel without a guided tour or stay, you can opt for the cocktail package, which access to the impressive venue and a cocktail served in an ice glass.
West Coast Expeditions' Base Camp Kayaking Tours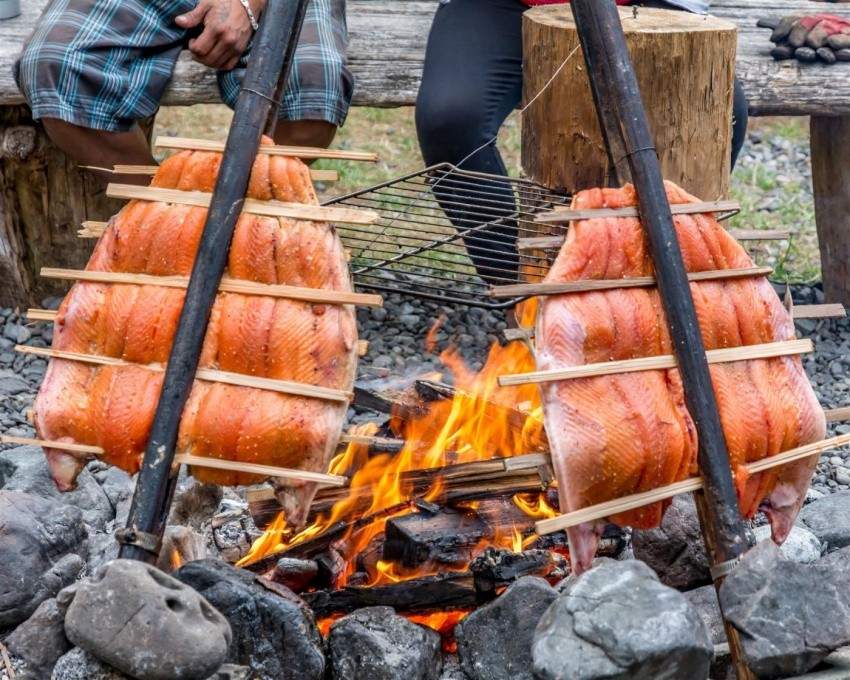 If spending time by the ocean your ideal getaway, then you should drive out to Vancouver Island and join West Coast Expeditions' Base Camp kayaking tours, where you can go on one-day or multi-day kayaking tours. All the multi-day packages include meals, but the five-day and six-day packages include a traditional Aboriginal cultural salmon dinner and visit, hosted by the Kyuquot-Checleset First Nations.
Roots, Rants and Roar's food hike in Newfoundland
Nature enthusiasts who yearn for the sunset and the smell of the ocean over candlelight and paintings can hike from food station to station at Roots, Rants and Roars Fall Festival in Elliston, N.L. The hike happens on day two of the festival, where you follow the 5km loop along Elliston's shoreline while sampling food by chefs from across the country.