Here's to hoping we will be treated to a warm weather week as we inch closer and closer to the first day of spring. Whether you've fired up the barbecue or are sticking indoors, cooking up dinner in your own kitchen, we've got a brand new crop of tunes for you to enjoy while you're at it.
From an amazing track off of Serena Ryder's brand new album to a catchy new single from country singer Don Amero featuring backup vocals from a surprise guest, here are 10 new songs we are loving this week.
Ariel Posen - It's You
A few seconds into Ariel Posen's song "It's You" and you'll be hooked by, well, the guitar hook before he even begins to sing. Once he does though, you'll be further charmed by his warm, calm tone. This tune is all kinds of soothing.
Don Amero - You Can't Always Be 21
As much as we'd love to stay young, it's hard to disagree with Don Amero's sentiments in his latest single. "You Can't Always Be 21" is catchy country through and through. If those female harmonies helping uplift Amero's smooth voice sound familiar it's because it is none other than country superstar Jess Moskaluke.
We love it!
ELIO - CHARGER featuring Charli XCX
The U.K. born, but Canadian-raised singer is known well for putting out pop songs that a listener can't get enough of and "CHARGER" featuring Charli XCX is no exception. Who knew a song about leaving your phone charger at a person's house could be this much of a bop?
We guess ELIO did!
Elsa - Pick Up
"Pick Up" by R&B singer Elsa is giving us early 2000s vibes in the best way. This post-breakup slow jam is off of her recently released EP Cycles that offers four other tracks to get a sense of what this up-and-coming artist has to offer.
The Hello Darlins - Prayer for a Sparrow
With each new song release, we get progressively more and more excited about what The Hello Darlins will do next. The band's latest single, "Prayer for a Sparrow", is nothing short of gorgeous and offers thought-provoking lyrics about digging deep for motivation and perseverance during vulnerable times.
iskwē - Sweet Tuesday (Stars Remix)
The artful approach of iskwē on The Stars–the re-imagining of her award-winning album acākosīk–is nothing short of intoxicating. "Sweet Tuesday (Stars Mix)" has a stage musical ballad feeling to it, but with much more depth and wonder.
"The Stars version of 'Sweet Tuesday' had been a dream of mine for quite some time, working with a chamber-style arrangement, which had originally been inspired by Bjork's performance of Unravel at Riverside Church," says iskwē in the song's announcement. "I really loved the idea of simplifying even further, to the root essence of each tune, attempting to capture simply the emotion."
New Wales - Full Grown
The piano-heavy track "Full Grown" by Winnipeg duo New Wales is just the kind of upbeat indie rock we need to get through the week. There are moments of the song where we feel compelled to belt out "I guess that's why they call it the blues". Definitely some younger years Elton John energy coming off of this tune.
Ontarians - Born To Love You
Take a few moments and drift away with this mellow indie rock song by the Ontarians. There's plenty to appreciate with the production of "Born To Love You", especially when the track reaches a crescendo after the two minute mark.
Rochelle Jordan - NEXT 2 YOU
With an album coming out at the end of April, Rochelle Jordan is dropping a few songs leading up to its release. The newest single, "NEXT 2 YOU", is a cool R&B track that's peppered with plenty of trance-like beats.
It's an intoxicating listen.
Serena Ryder - All the Love
Debuting The Art of Falling Apart last Friday, there is much to love from start to finish on Serena Ryder's new album. "All the Love" is a peppy song that offers up a great beat, clever lyrics about love gone wrong and, of course, dynamic vocals that help bring everything to life.
Eat North's Cooking Playlist on Spotify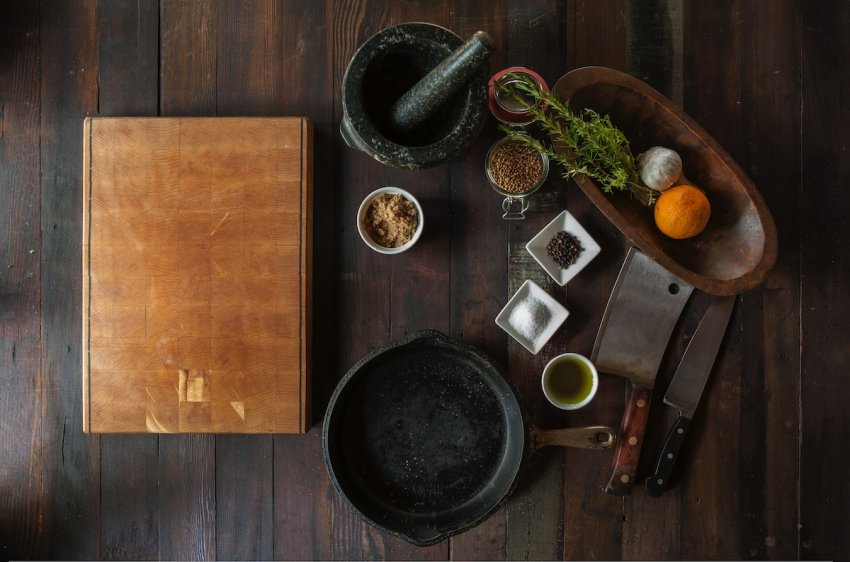 Updated weekly with ten new songs, our Spotify playlist boasts 60 great tracks by Canadian artists in a wide variety of genres. Give our playlist a listen or follow to discover some new favourite tunes!