Many of us know who Anna Olson and Bob Blumer are as some of the early Food Network Canada stars who taught us how to make perfect butter tarts and cook salmon in a dishwasher. While we are fans of these two, there are many food personalities who drive Canada's food scene and awareness behind the scenes. On Canada Day, let's show these epicures some love.
Anita Stewart (Food Day Canada)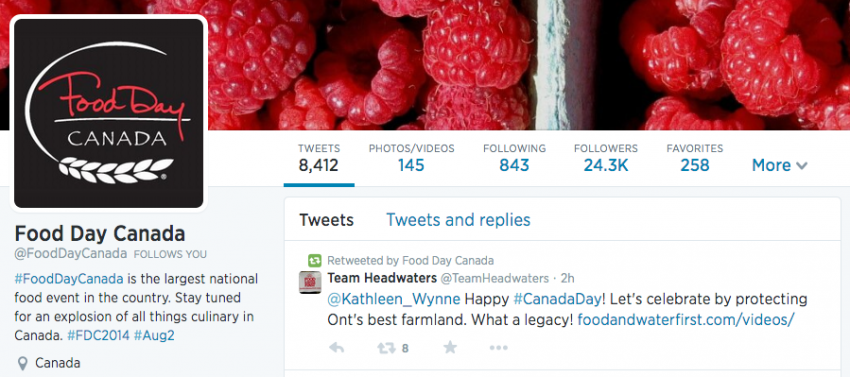 There's no brief way to introduce Anita Stewart, who has done so much for the Canadian food industry and culture. To start, she is a pioneer of the local food movement in this country. Her initiative, Food Day Canada, recognizes the hard work of the industry, from fishers and farmers to researchers and chefs, and encourages people to share food and stories of Canada. This year, it is happening on August 2, 2014, and it gets bigger and better each year with more chefs, restaurants and culinary enthusiasts coming into the fold.
Where home cooks look to chefs for inspiration on what to make and eat, those top-notch chefs look to Stewart for inspiration on what eating in Canada means. Every great chef in the country has a story about how Stewart has energized them and given them insight. We'd almost go as far to say that if there was no Anita Stewart in this country, you wouldn't even know what farm-to-table was.
Jenn Sharp (Bridges Editor)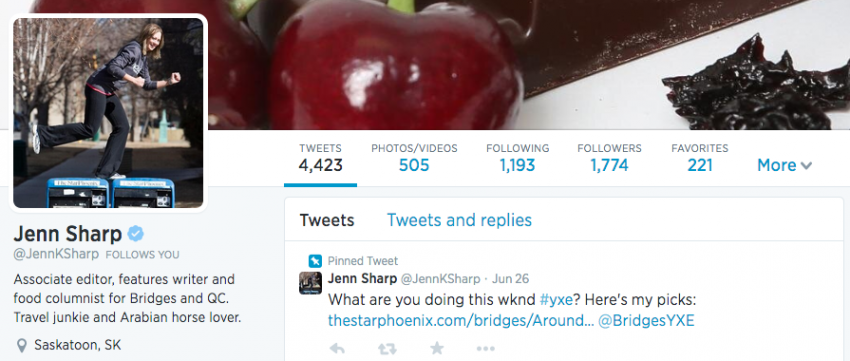 When it comes to Saskatchewan's food scene, you'll be hard pressed to find someone more in the know than Jenn Sharp. Associate editor of Bridges at The StarPhoenix, Sharp travels back and forth between Saskatoon (her homebase) and Regina regularly. She knows the farmers and producers that supply the markets and restaurants with quality products that make Saskatchewan food noteworthy.
Mairlyn Smith (Home Economics)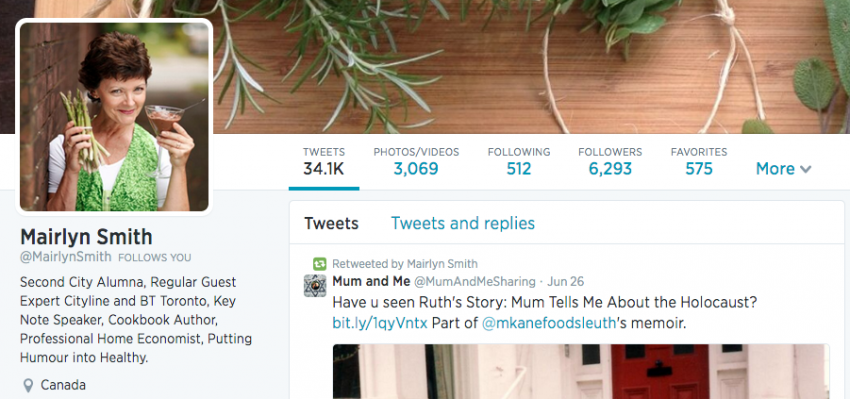 There are preachers of the importance of a balanced diet and how the foods you choose in your everyday life affect your health, and then there are those who can captivate people with that message. Before Mairlyn became a regular guest on Breakfast Television and Global Toronto, writing bestselling cookbooks and traveling across the country in the name of good food, the home economist was a member of The Second City comedy troupe. #themoreyouknow
Dana McCauley (Food consultant)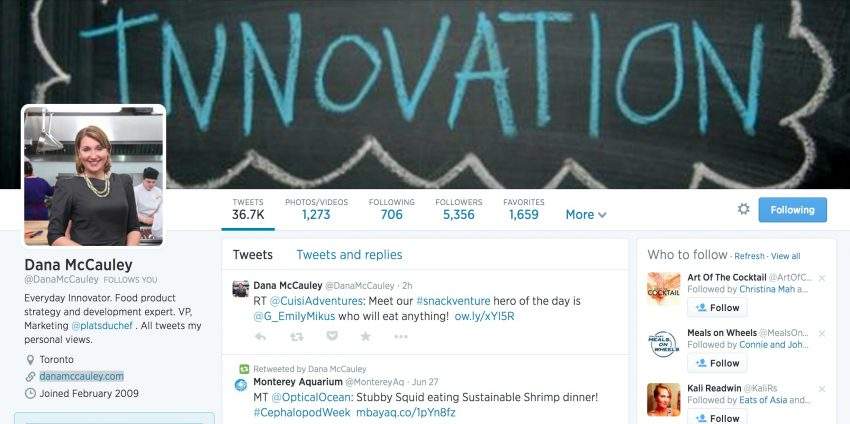 You may recognize Dana McCauley as the food product development judge on the first two seasons of Recipe to Riches on Food Network Canada, but she has been grinding it out in Canada's food and media industry long before the show. She is the former food editor and contributor to some of Canada's most popular magazines like Canadian Living, Chatelaine and Canadian House & Home; penned five cookbooks; and she is a regular on morning shows like Breakfast Television (in various cities) and expert food trend panels.
It's hard for us just to list all the hats she wears. Just imagine how hard it is for her to say so much in 140 characters.
Joel MacCharles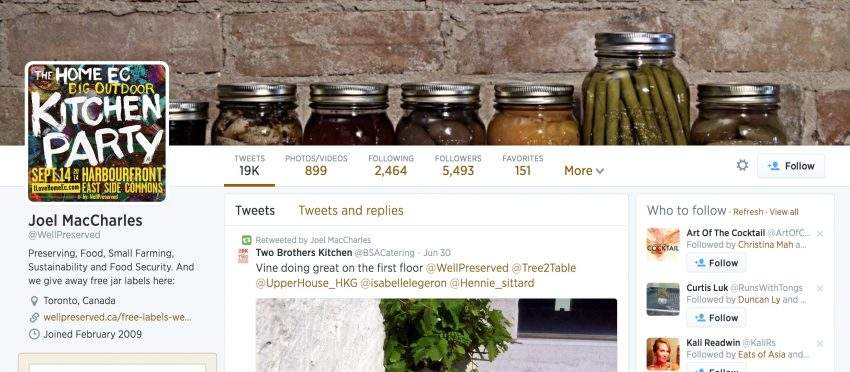 A co-founder of the popular Toronto-based blog, WellPreserved.ca, Joel MacCharles recently spoke at TedxToronto, proving that he is making his mark on the Canadian food scene Along with his wife Dana, the duo is also launching a festival this September, The Home Ec (Big Outdoor) Kitchen Party, where there will be culinary fanatics and independent producers demonstrating their craft at the "pop-up" grocery store, along with live tunes and more. Sounds pretty sweet to us! In general, we love their casual, informative approach to preserving and everything home cook-inspirational, and their Instagram feed always makes us hungry!
Ned Bell (Chefs For Oceans)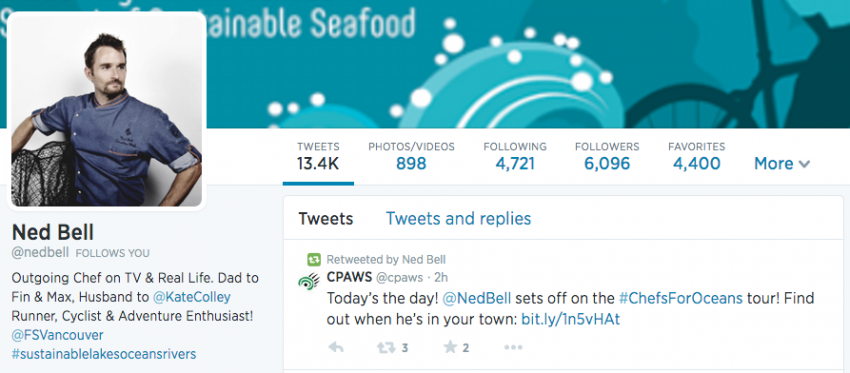 Based in Vancouver, this bubbly chef made his name across the country years ago as one of the chefs on Cook Like a Chef (memba that?). Now, heading the kitchen at YEW, a seafood-focused restaurant in the Four Season Hotel, Bell is all about ocean sustainability and spreading the word on its importance. So much so, in fact, that the crusader for the waters will be cycling across the country, starting today, with his initiative, Chefs For Oceans. Starting on the East Coast and working his way home to the Pacific Ocean, this guy might be peddling through your city this summer. Make sure you take a minute to give him a high-five!
Eliese Watson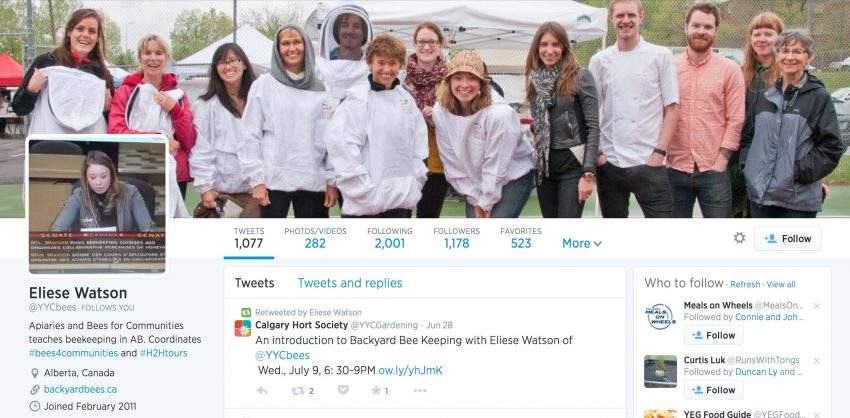 With more and more people becoming aware of the worrisome dwindling bee population, Eliese Watson is educating industry professionals and the public and has single-handedly made beekeeping abuzz (see what we did there) in Calgary.
Aside from beekeeping for some notable Calgary restaurants like Rouge and Ox and Angela and even the Fairmont Palliser (Calgary's iconic downtown hotel which turned 100 this year), Watson runs courses for any folks interested in the art. Watson and her artisan honey even made it all the way out to Winnipeg this past winter, contributing to RAW: Almond, the city's one-of-a-kind frozen river dining experience.
Now, give us a jar of that sweet, sweet nectar.