Take one look at her and you'll realize that Calgary's Grease Jones isn't your everyday kind of lady. In fact, she's not a lady at all.
Are you gagged?
In her own words, the memorable drag performer says you can find her doing wheelies down 17th Avenue or shotgunning a can of PBR in an alley near you. A true stoner rock goddess, Jones is the most fun you'll have on two wheels. Hold on tight because this queen isn't slowing down.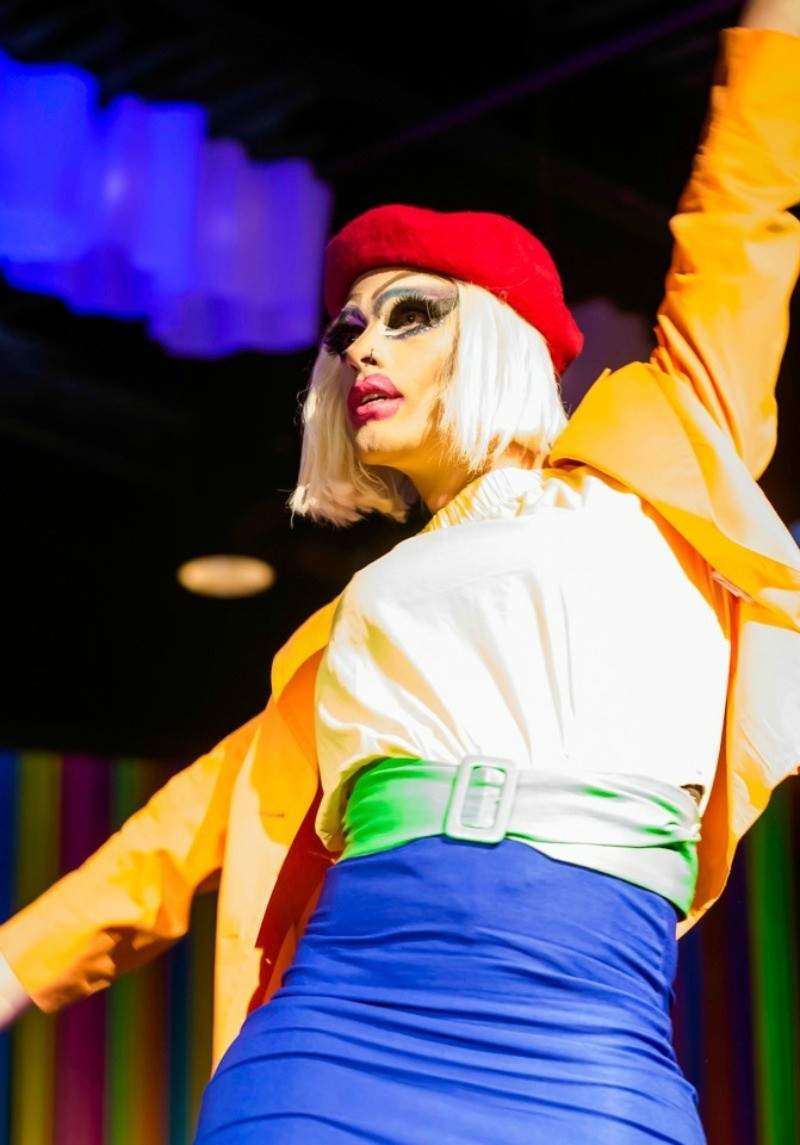 If that's piqued your interest, you'll be happy to know that Jones performs regularly around Calgary throughout the year. You'll find her most frequently at Dickens on Friday nights where she co-hosts lively RuPaul's Drag Race viewing parties and after show performance showcases. With the show starting promptly at 6 p.m., you'll need to come early to grab a seat because the room is always packed with fans of RPDR and local drag performers alike. Yes henny, we are speaking from personal experience.
With a disclaimer of no tea, no shade, we asked Grease Jones to take us on a whirlwind eating and drinking tour in her hometown of Calgary and we've got to say, the girl's got good taste!
Breakfast
What's not to love about Dairy Lane? Locally sourced ingredients prepared perfectly make this classic diner breakfast spot my go-to. The breakfast hash and the brisket and caramelized onion eggs Benny are both highlights for me. Plus, they serve a mean cup o' Joe made with Fratello Coffee Roaster beans.
My second place: Nellie's Cosmic Cafe.
Lunch
I'm going to preface this by saying I absolutely love ramen. If we had as many ramen spots as we did for pho, I'd be a really happy camper. That said, Shiki Menya makes a fantastic bowl of ramen. The Miso Classic and the Tonkotsu Black are both excellent options, but you really can't go wrong with any of them. They make a limited quantity everyday so you better get there early--something I'm not good at, but it's definitely worth it. Almost definitely the best ramen in the city!
My second place: Menyatai Japanese Noodle House.
Dinner
Four words: Baked kimchi fried rice.
My top dinner spot is, hands down, Anju. It's Korean food that always has a fun twist. Crispy tofu, spicy lamb pot stickers, and the gochujang chicken wings are just a few of my favourite dishes. They also boast a great cocktail and beer list as well as a good selection of soju. Anju is easily my favourite restaurant in the city and I'll spend all my hard earned tips on it any chance I get.
My second place: Just go to Anju.
Drinks
For drinks, I like to keep it simple, so I'm going for my staple location: Ship and Anchor. Is it the fanciest place? No. Do they have the longest cocktail list? No. Do they have a killer atmosphere, good food, great beer, a patio and live music? Yes to all. If me and the gals need a pint, we know where to go. If you're lucky you can catch me there, in or out of drag. Ship is a Calgary classic.
Alternatively, I would also recommend my home bar, Dickens. They have a great beer selection, good food, and an amazing staff; not to mention, they always throw the best parties. From Hang the DJ to Fake Moustache, Shock Therapy, and, of course, the GLOC RuPaul's Drag Race viewing parties I cohost with Vanta Blaque on Friday nights, I spend more time at Dickens than I do at my house.
So, you know where to find me.