Born and raised in Thunder Bay, Hayden Johnston--a current competitor on the new season of Top Chef Canada--grew up in a family that hunted, fished and foraged throughout the year. With a solid foundation for cooking and appreciation for local ingredients since a young age, Johnston went on to graduate from the Culinary Institute of Canada and cut his teeth in many top restaurants before settling in at the much-celebrated Richmond Station in Toronto where he runs the kitchen alongside owner Carl Heinrich as the restaurant's chef de cuisine.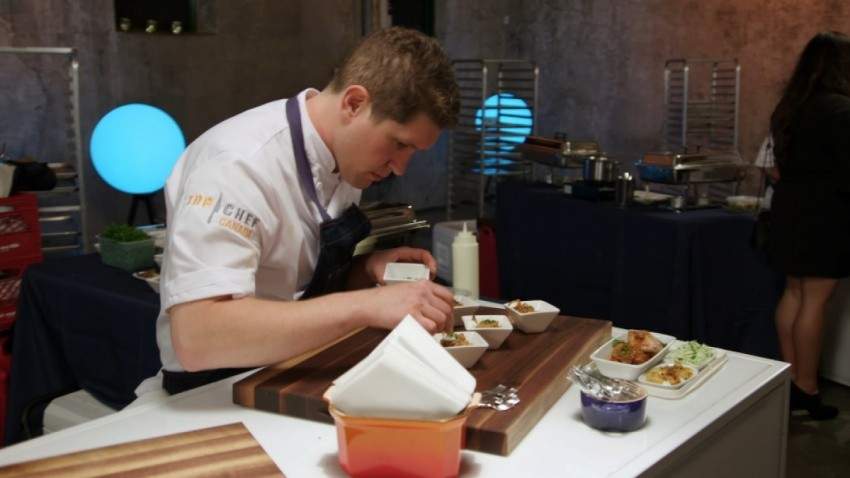 "Success in cuisine is the combination of great relationships and great ingredients," says the chef.
Catch Hayden cooking off against some formidable Canadian talent on Top Chef Canada, which airs Monday nights on Food Network Canada.
When he does have a day off, here's where you can likely catch the chef eating and drinking around Toronto.
Breakfast
This is a tough one... I don't eat out for breakfast very often. I actually eat the same bowl of cereal everyday! Boring, I know. This mix helps me ensure that I'm getting the recommended amount of fibre and other healthy things. I like to stay regular!
Here's the recipe:
1/2 cup All Bran Buds
1/2 cup Kashi Berry Mix Cereal
1/2 cup Kashi Orginal Cereal
1 banana
Milk
Lunch
Côte de Boeuf on Ossington Street is my go-to day-off lunch spot! It's a small French bistro that serves all the classics, has great wine by the glass, and services the community with a small retail counter. Their French onion soup is a must-try, as is their daily sandwich special, regardless of what it is.
Pizzeria Libretto is a close second though!
Dinner
Montgomery's on Queen Street is a great dinner spot! Guys Rawlings and his team are doing something unique at Montgomery's...The food is both delicious and inventive. Their use of ferments, pickles and preserves is something that really resonates with me and they are the only restaurant I know of that uses only Canadian ingredients. The wine list is full of awesome bottles and the menu changes often.
Drinks
I think The Good Son on Queen Street has one of the most underrated cocktail/beverage programs in the city. Connor, the head bartender creates some of the city's best mixed drinks and I appreciate the effort he spends sourcing his ingredients. The space is cool, the food is good and the service is on point.... make sure to ask for "The Secret" (their off-menu cocktail) when you go!