All good things must come to an end. Last night, the final three competitors on Top Chef Canada: All-Stars all began the episode with hopes of victory. Typically, most finales have a bit of a twist, and for this season, that twist would be a high stakes Quickfire Challenge where one of the remaining chefs would be sent home. Dustin Gallagher, Trevor Bird and Nicole Gomes were told to cook their "do or die" dish--essentially, a plate of food they would love to eat before going into battle.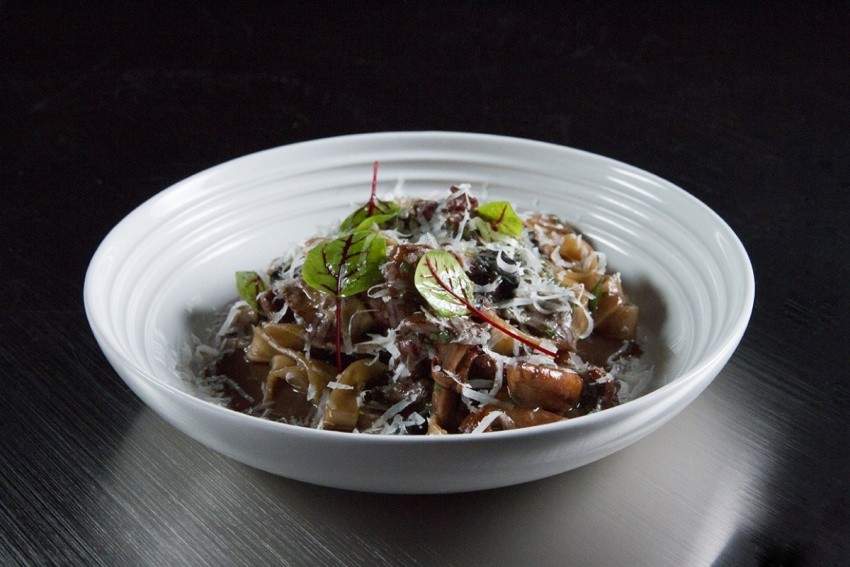 Dustin's fennel-poached salmon with fingerling potatoes, braised carrots, and fennel impressed head judge Mark McEwan and resident judge Mijune Pak, as did Nicole's spaghetti puttanesca with grilled steak and salsa verde. Trevor spent time making his own pasta from scratch, a tagliatelle with spinach, sausage, and chanterelle mushroom sauce (pictured above), which seemed impressive; but in the end, it wasn't quite on the same level as the other two chefs. Trevor was told to pack his knives and go.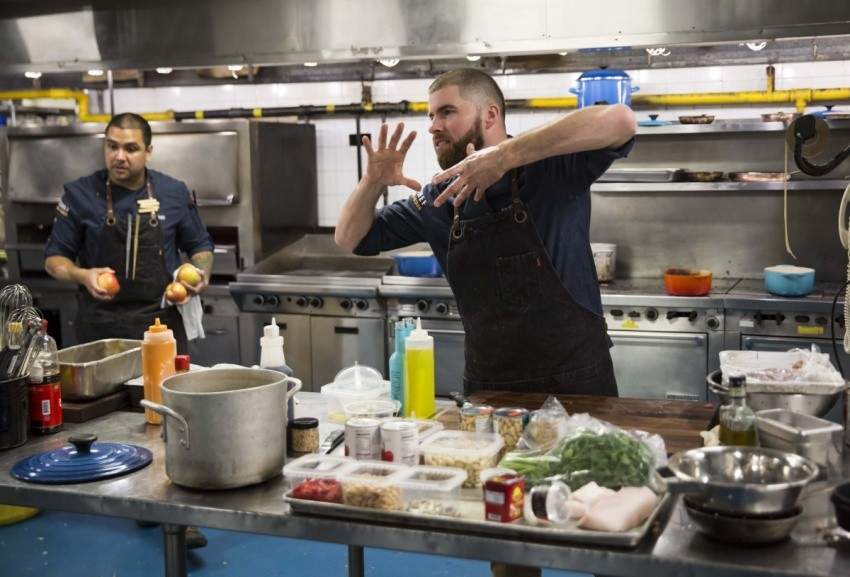 With only Nicole and Dustin remaining, host Eden Grinshpan told the finalists to get to work to create a five-course dinner that would be served to herself and the entire judging panel. The menu was to be the "meal of a lifetime" and the dishes should reflect their all-star evolution over the years. Since a five-course menu is a lot of work for simply one person, the finalists were paired up with two of their fellow alumni: Dennis Tay, who cooked with Dustin, and Andrea Nicholson, who cooked with Nicole.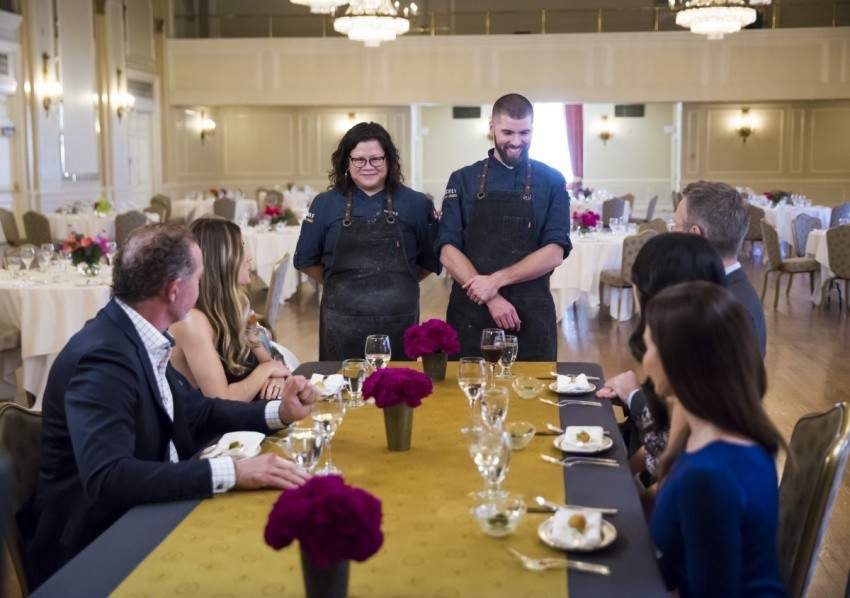 In terms of menus, Dustin took a more global approach, pulling in flavours from around the world, while Nicole decided to cook fairly authentic Italian dishes with contemporary touches. The menus were wildly different, but seemed to wow the judges and host almost equally. Nicole's sea bream with fingerling potatoes, crispy capers, and beurre blanc and Dustin's Japanese-style steak platter were the only two slight misses of the evening, with Nicole's fish dish being too far outside of the realm of Italian and Dustin's collective flavours being a bit off.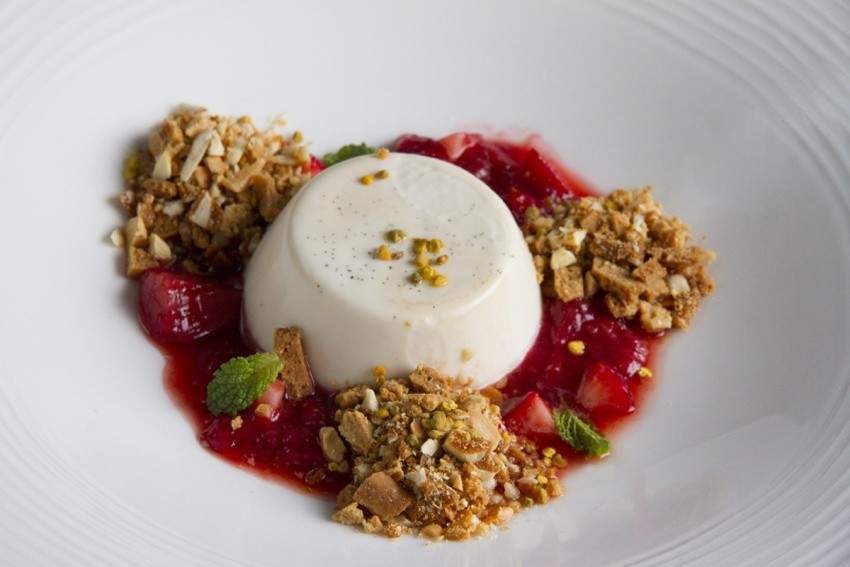 For the chefs' final bites, the dessert round, Dustin prepared a visually beautiful take on a classic apple Tarte Tatin, while Nicole served a vanilla bean panna cotta with strawberry compote and almond cantucci crumble. As the judges remarked multiple times throughout the episode, this final decision was going to be an extremely difficult one.
It was very clear that both chefs had laid it all on the line and while at the judges' table, passionately expressed how much they wanted to win the title of Canada's Top Chef. Emotions were so high, you could practically feel them radiating through the screen. After what felt like forever, Eden finally said the words, "Nicole, congratulations. You are Canada's Top Chef!"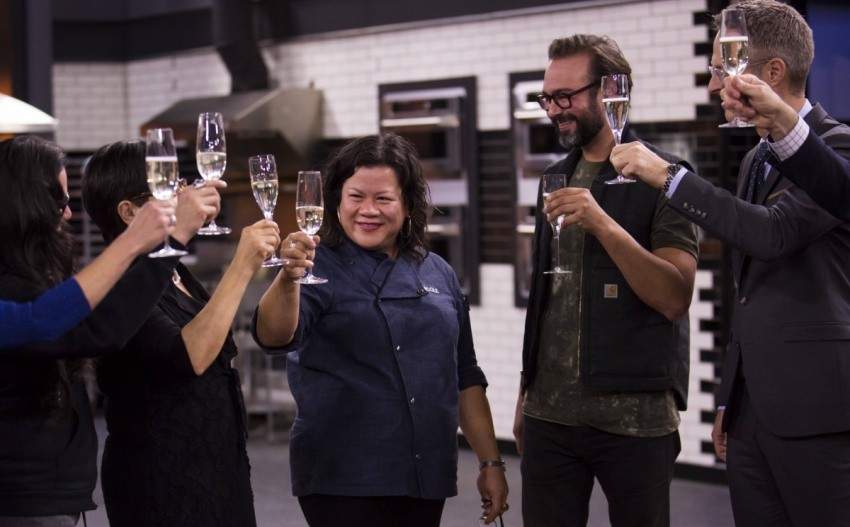 And just like that, the season of
Top Chef Canada: All-Stars
drew to close. A big congratulations to Canada's Top Chef,
Nicole Gomes
. We can't wait to see where this big win takes her.
We can't wait for the return of the show for its sixth season in 2018!