With just one episode left until we find out which Top Chef Canada alum takes the All-star title, the remaining four chefs are all heads-down and focused on the goal. To start things off in the ninth episode, the competitors are each paired up with a winner from previous seasons (Dale MacKay, Carl Heinrich, Matthew Stowe and Rene Rodriguez) to cook as many Mark McEwan-approved dishes as possible in only 35 minutes. Whoa!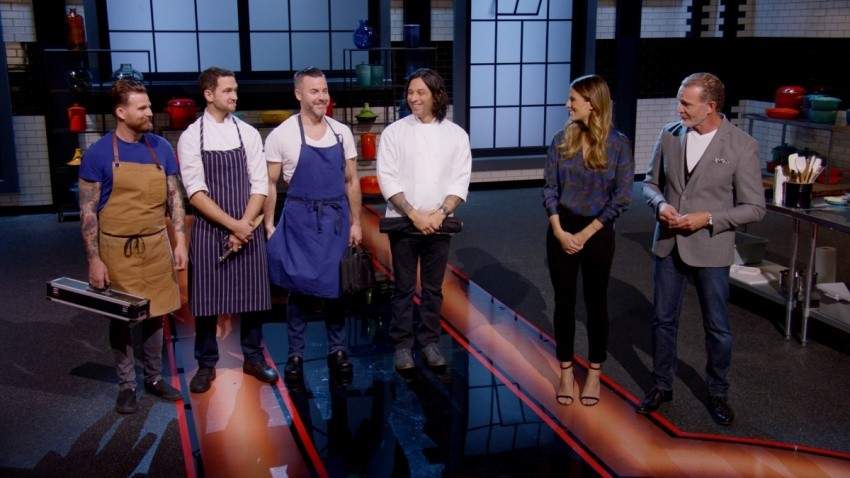 Nicole Gomes decides to go with three well-constructed dishes with multiple components while the other chefs seem to aim for as many dishes as possible using only a few ingredients. Trevor Bird gets particularly ambitious and presents seven dishes to McEwan and Eden Grinshpan. After tasting them all, only one was deemed unacceptable and with six approved dishes, Bird wins the Quickfire and gets a $3,000 cash prize, but no advantage in the Elimination challenge.
To secure a spot in the finale, the chefs were challenged to cook outdoor on a grill with wild game, and serve their family-style dish to a large table of guests, which would include discerning palates like Normand Laprise, chef/owner of Montreal's Toqué! Restaurant, the past Top Chef Canada champions, judges Mijune Pak, Chris Nutall-Smith and, of course, Mr. McEwan.
The chefs had to draw knives to find out which protein they would be working with. Dustin Gallagher seemed especially happy to be working with venison, while Nicole got the short end of the stick with duck. As her competitors, herself and the judges note throughout the episode, duck would be, by far, the most difficult to cook on the barbecue due to its high fat content. Nonetheless, the chefs hit the ground running and all seemed comfortable executing in the outdoors.
Dustin's grilled venison with birch-glazed apples, mustard and apple jus was met with rave reviews from the table, which wasn't all too surprising considering that the chef has consistently been on top in most of the challenges throughout the season. Likewise, Nicole managed to impress with her brined and smoked duck breast that was served with a cherry jus, creamed savoy cabbage with chestnuts and bacon and a root vegetable pavé.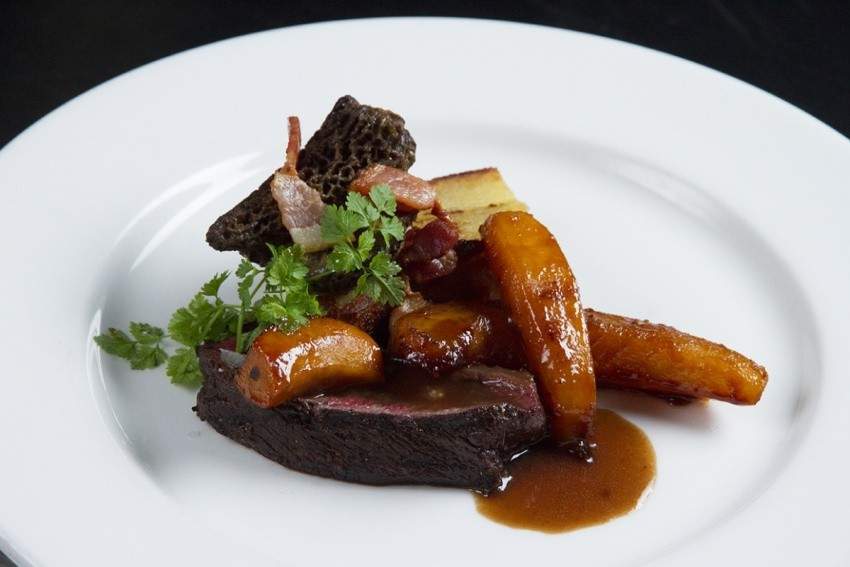 The low points of the dinner came by way of Trevor's pork tenderloin platter that overwhelmed the table due to its clunky presentation, and Dennis Tay's whole-roasted juniper and cedar bison striploin with grilled cabbage and onion soubise, soaked bread, grilled asparagus and melted raclette.
Moving into the judge's table portion of the episode, it was no shocker that both Dustin and Nicole claimed spots in the finale, leaving one spot left for either Trevor or Dennis. After some deliberation, the panel decided that Dennis' bison dish was the most disappointing of the evening and that he had to go home.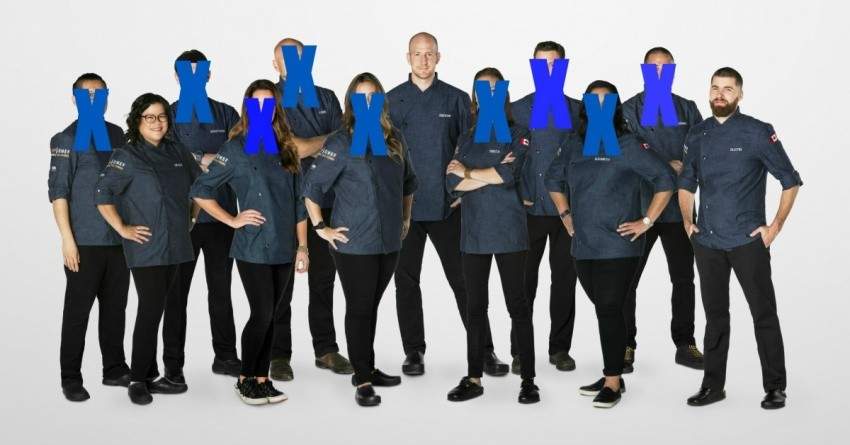 The finale of Top Chef Canada: All-Stars airs on Sunday, June 4th at 10 p.m. (ET) on Food Network Canada. Who do you think will end up on top?