You know things are about to get real when Daniel Boulud walks into your kitchen.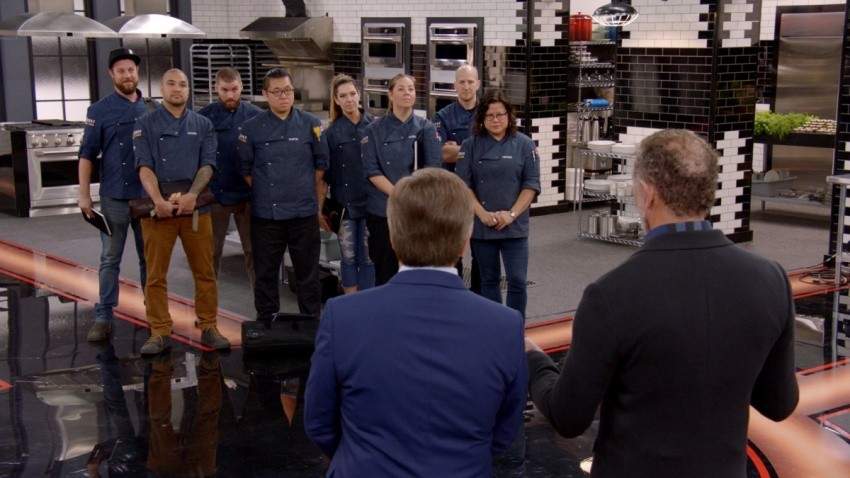 That is exactly what happened last night as the fifth episode of Top Chef Canada: All-Stars revealed the Quickfire competiton to the remaining eight chefs. In previous seasons, we've seen the competitors being put to a blind taste test with a mix of ingredients, but this challenge took things a little bit further by having the competitors perform a blind taste test on one of four completed dishes, and then having to recreate one as accurately as possible. To make it even tougher, these were Boulud's favourite dishes. The pressure is on!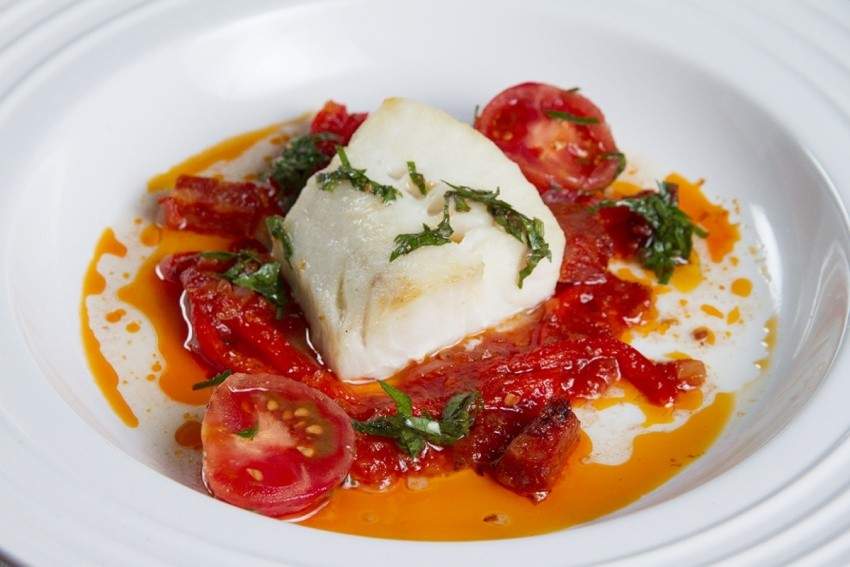 Most of the competitors seemed relatively spot-on with their flavours and managed to produce dishes within the realm of French cooking. Both judges, Mark McEwan and Boulud, appeared to be impressed with the majority of the creations, and announced Andrea Nicholson as the winner of the Quickfire for her take on cod Basquaise, where she used sablefish and offered it up in a bell pepper, tomato and chorizo sauce. Winner or not, this is the first episode where the Quickfire winner would not receive immunity, which would have been somewhat of an advantage in the Retail Wars Elimination challenge.
Similar to Restaurant Wars challenge of past seasons, the group was split up into two teams (Andrea's advantage was being able to choose her opposing team's captain and having the first pick of a teammate) who had to create a variety of fast-casual dishes, from salads to desserts, including entrees, and would be sold at McEwan Foods. Further adding to the star power of the episode, Lidia Bastianich, Italian food icon and owner of Eataly was revealed as the guest food judge.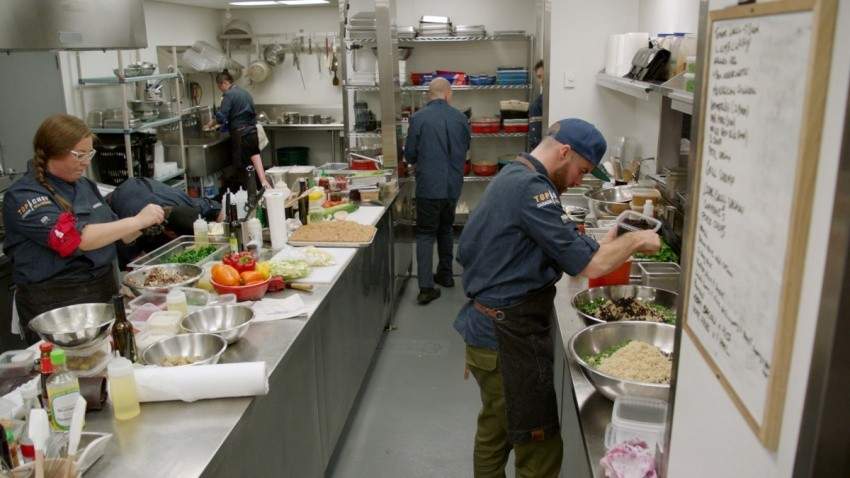 While shopping and prepping for the challenge, Andrea is shown talking at length about her knowledge of the retail side of the food world and her successful line of gourmet condiments, Killer Condiments. Her team seemed to have shopped and prepped with ease. On the other side of the kitchen, opposing team leader, Curtis Luk, appeared a little scattered and frantic with the camera showing Nicole Gomes yelling at him quite a bit. Based on this, it seemed that Andrea's team (comprised of Connie, Dennis and Dustin) had this in the bag.
But, nothing is ever as it seems on Top Chef Canada, is it? Of course not.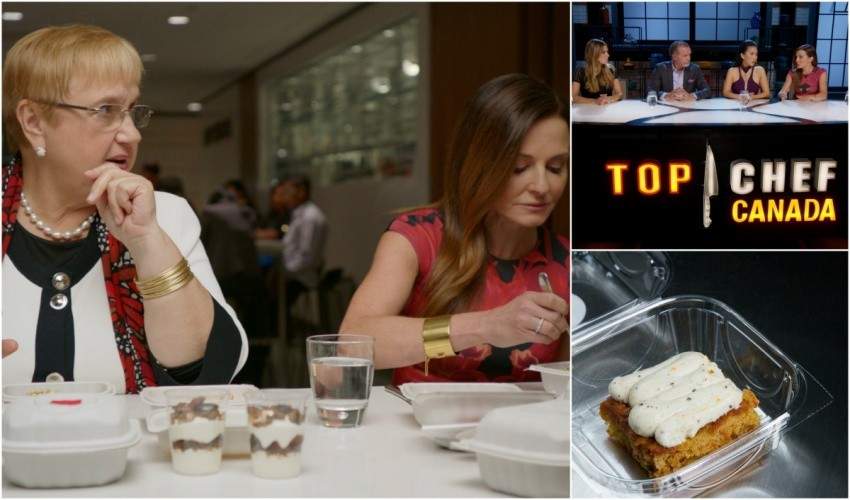 After the judges arrived and sat down to sample Andrea's team's on-the-go offerings, they seemed sorrowfully disappointed in most dishes, including Dennis' compressed watermelon salad and Andrea's seafood salad, as well as her mozzarella-stuffed meatball. Dustin and Connie garnered the most positive remarks from the judges, for Dustin's light and refreshing green salad, Connie's delicious-looking cheesecake-in-a-cup, as well as her confit tuna and tomato salad that although tasty, was over-dressed.
Curtis' team (which included Trevor, Nicole and Jesse), on the other hand, received almost entirely positive remarks for Jesse's creative brassica Caesar salad, Trevor's tuna poke in a grilled avocado, Curtis' ratatouille-esque vegetable dish and for Nicole's spicy panang chicken curry. The judges seemed especially unanimous over her pineapple carrot cake with brown butter frosting. Resident judge, Janet Zuccarini, remarked: "This is the best carrot cake I've ever had in my life and I love carrot cake."
Now we really want a slice. Not surprisingly, Nicole was named the top chef of the episode.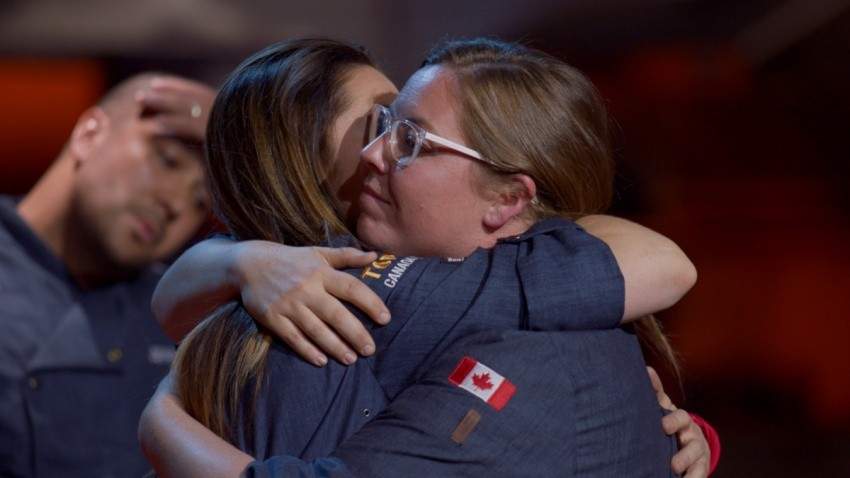 Once everything was all said and done, the judging panel decided that it was Andrea Nicholson who would be heading home. Though this episode was not her best performance, the chef was previously one of the frontrunners of the series, proving again that you are only as good as your last dish. Nicholson's new restaurant venture, Butchie's, just opened right outside of Toronto, so pop in to see the chef and enjoy some of her tasty-looking Southern food.
There are now seven chefs left in the running to become the Top Chef Canada: All-Stars champion. The next episode airs Sunday, May 7 at 10 p.m. (ET) on Food Network Canada, where the competitors are tasked with creating a dinner menu with each dish being inspired from a major moment in Canadian history, a theme that we are sure will be equal parts educational and delectable!