As the number of chefs dwindle, the remaining five all-stars keep walking into more and more surprising situations. Kicking off episode eight, the competitors popped into their locker room to find tablets waiting for them with short videos from each of their mentors. Each chef had dramatically different mentors in their lives: Dailo owner Nick Liu (Dennis Tay); Trevor Bird's business partner, Ron MacGillivray; Susur Lee (Dustin Gallagher); Jesse Vergen's stepfather, Thomas Jepson; and Lida Gan, Nicole Gomes' mother.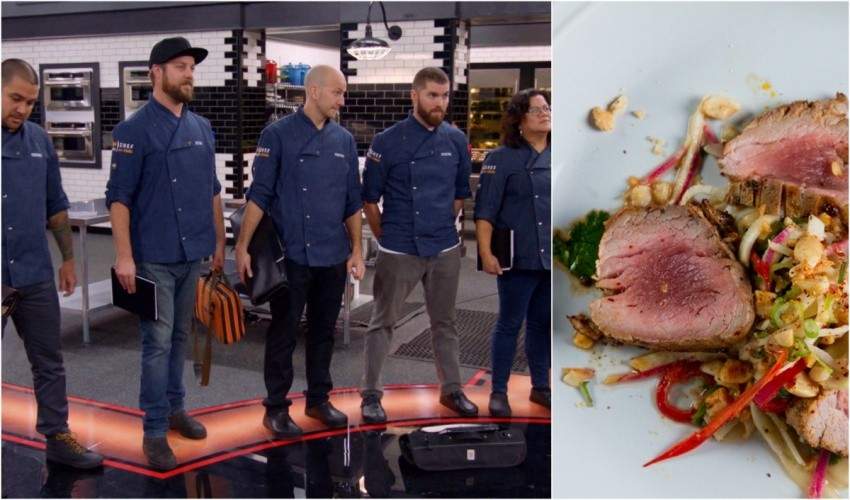 After watching the video messages, host Eden Grinshpan and guest judge Antonio Park announced that the chefs would be creating a dish using ingredients shipped to them by their culinary mentors. You know, a black box challenge!
Immediately, you can see Nicole looking at her ingredients and laughing as she ended up with a big slab of pork belly from her mother. Most of us know that cooking pork belly in thirty minutes is next to impossible, but the chef gives it her best shot by cooking it in three different ways and serving it up with her other ingredients that included wood ear fungus (a type of mushroom) and black vinegar. Dustin had a challenging mix of ingredients, including some whiskey, which he promptly popped open and took a swig.
Once the dishes were presented and tasted, it was Dennis who made the ingredients shine the most and created the Quickfire challenge's winning dish: an annatto-crusted pork tenderloin with coconut caramel dressing and fennel slaw (pictured above). Until now, he hasn't had much luck in challenges this season.
When it came to the Elimination challenge, the chefs were asked to create two hors d'oeuvres in a trompe l'oeil style, meant to cheat the eye and trick the taste buds. For example, it could be something that looks like a piece of fruit, but ends up being a foie gras mousse; deliciously surprising. The dishes were served at the Monogram Design Centre to a big group of party goers and the judges, including guest judge Derek Dammann.
"Do you have any watermelons left in your grocery store?" remarked Dammann to McEwan as four out of the five chefs decided to use the fruit in one application or another for the challenge. If we didn't know watermelon could be so deceptively versatile, we certainly do now.
Trevor was the one chef who seemed to have taken the challenge head-on and executed flawlessly. His "scallops and orange" made of white beets with golden beet liquid gel and hazelnuts, and "spaghetti bolognese" made of fried mushroom ragout with deep-fried potatoes and Parmesan both surprised and delighted the entire judging panel.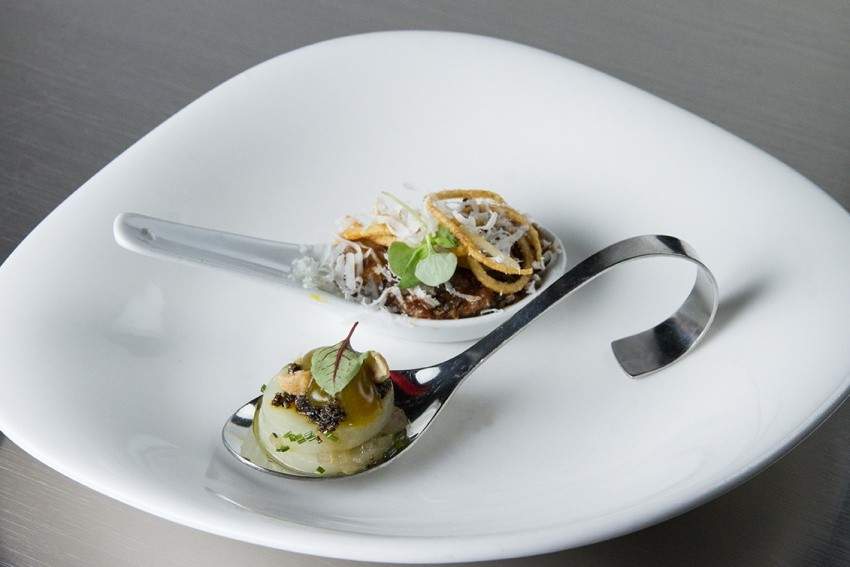 Jesse's "beet" made of watermelon compressed with negroni and beet juice seemed to flop especially hard, as did his "carrot" made of chicken farce (essentially a fancied version of chicken meatloaf) with buffalo-style hot sauce and chicken skin crumble. Both Dennis and Nicole garnered not as damning, but not exactly positive, feedback from the judges. Nicole's "carrot" dish was also topped with chicken skin, and her "tomato" was a ball of watermelon stuffed with feta and balsamic reduction. Though they found her dishes flavourful enough, it was not completely inline with the theme of the challenge.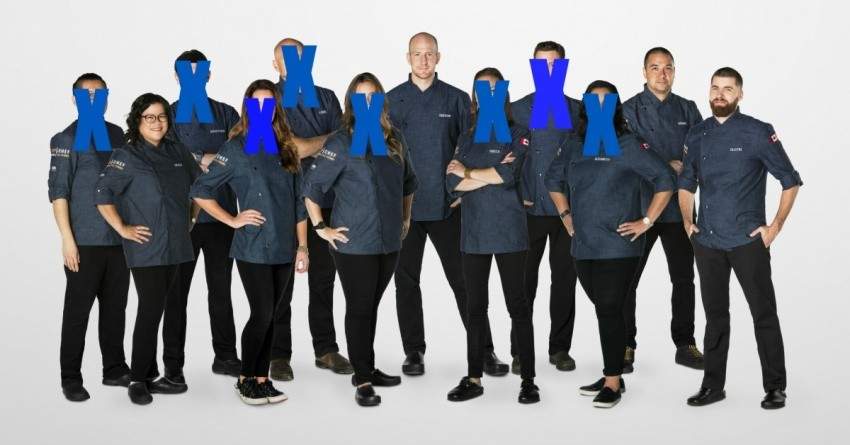 Sadly, it was the personable New Brunswick chef, Jesse that ended up packing his knives and leaving the Top Chef Canada kitchen. We are down to the wire with only four chefs left in the running for Top Chef Canada: All-Stars. On this Sunday's episode, all four previous season champs make an appearance to help the chefs out with their Quickfire challenge before things really get heated in the Elimination challenge.
Watch the second last episode of the series at 8 p.m. (MT) on Food Network Canada.