It's hard to believe that last night's episode of Top Chef Canada: All-Stars meant that we're only six chefs and four episodes way from finding out which alumnus is going to be crowned the culinary champion.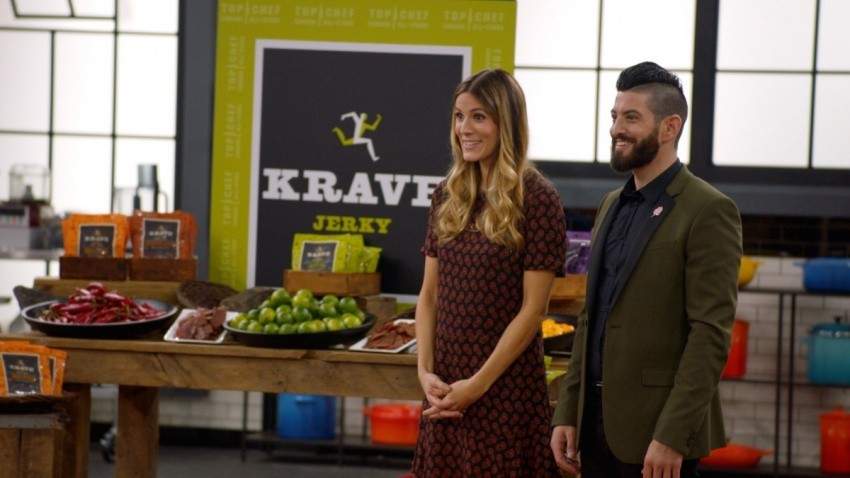 The Quickfire Challenge
In what is the most unusual Quickfire challenge to date, the seven remaining competitors were tasked with creating a delicious dish with beef jerky. Regardless of the key ingredient being more than a little strange (and almost a little too Chopped Canada-esque), the chefs went swiftly to work, whipping up some creative dishes, and with a $5,000 bonus prize in the mix, all of them hoping for the top spot.
Jesse Vergen's white asparagus and jerky dish turned out to be a flop with guest judge, Josh Elkin of Epic Mealtime fame, as did Connie DeSousa's Vietnamese-inspired salad, in which she opted for thin pieces of jerky in lieu of the traditional pork floss. Dennis Tay's jerky-filled hand-made dumplings looked pretty tasty, but surprisingly, weren't really commented on at all.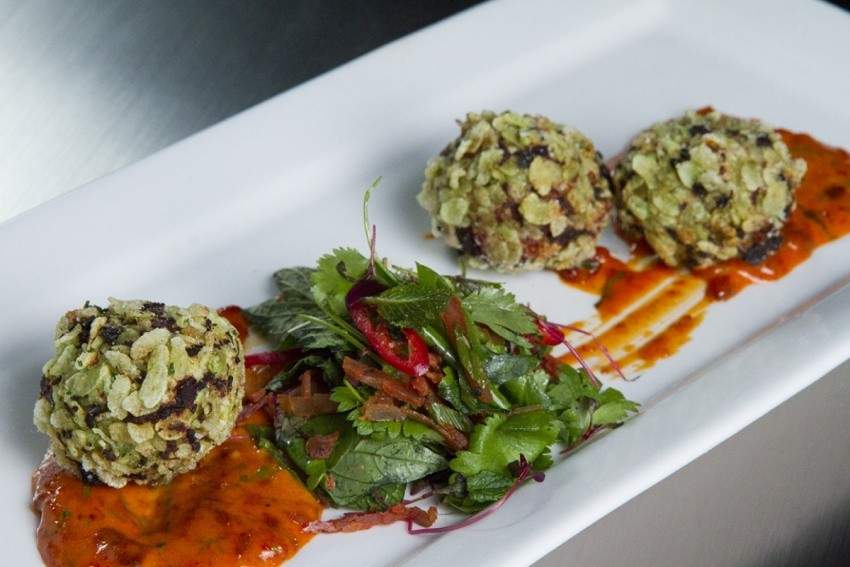 For yet another week, Nicole Gomes and Trevor Bird garnered favourable feedback from host Eden Grinshpan and the guest judge, with Nicole edging out over Trevor with her plate of jerky-crusted Asian arancini with a fresh herb and jerky salad and jerky aioli. Holy jerky, Batman! Nicole seemed fairly excited about being another $5,000 richer and although there is no immunity for Quickfire winners for the rest of the season, she seemed very confident entering the Elimination challenge, which saw each chef having to create a dish based around an important moment in Canadian history. Specific moments included the Birth of Canada (Dennis' assignment), victory at Vimy Ridge (Jesse's), Newfoundland entering Confederation (Curtis') and more. Talk about ambiguous!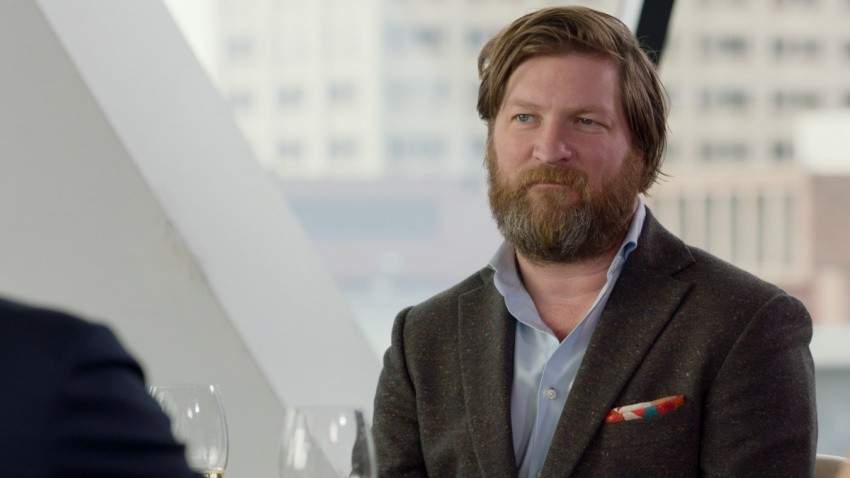 The Elimination Challenge
Once the chefs have had a few hours to prep in the Top Chef Canada kitchen, they packed up and headed over to the beautiful Royal Ontario Museum, which served as the setting for their multi-course history-inspired dinner. Further adding to the pressure, chef and owner of Raymonds in St. John's, Jeremy Charles, joined the table to help provide feedback, an especially nerve wracking situation for Curtis Luk and Dustin Gallagher, who both decided to highlight cod in their dishes. As Jesse Vergen remarked, "Jeremy Charles is the king of cod!"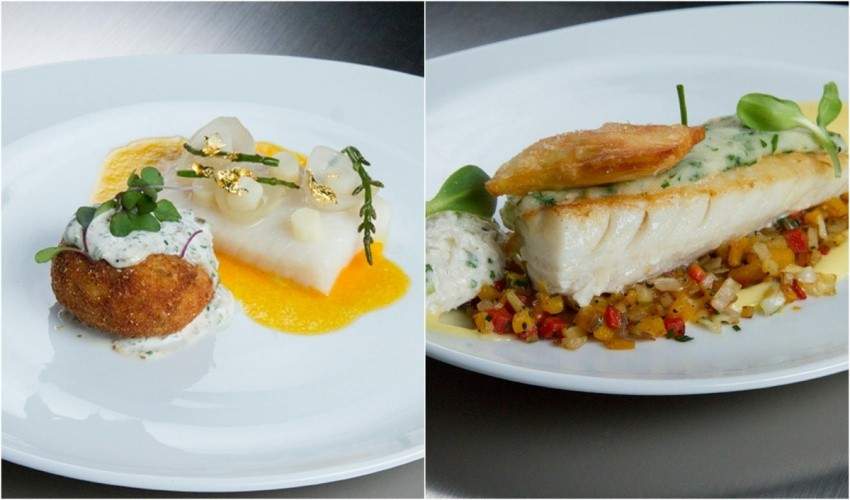 Chef Dustin Gallagher's Klondike Gold Rush dish of cod fritters stuffed with quail egg, baked cod, finished in a sea buckthorn vinaigrette (above left) was the first plate of the evening and received rave reviews across the board from resident judges Mijune Pak and Janet Zuccarini and head judge, Mark McEwan. Curtis' roasted cod with a brandade crust, crab salad, lemon hollandaise and root vegetables (inspired by Newfoundland entering Canadian Confederation), on the other hand, turned out to be quite the let down, being full of mushy textures.
The Result
There were other hits and misses throughout the dinner, including Dennis' bison carpaccio and Connie's butterscotch apple crumble with candied bacon (hits). Nicole's failed maple and rhubarb Paris-Brest (essentially a fancy profiterole that's shaped like a doughnut and filled with cream) saw her placed in the bottom three for the first time this season, and Jesse's short rib dish also let the judging panel down, being too tough to eat from insufficient braising. In the end, it was Curtis' roasted cod that disappointed most and sent the Vancouver chef packing.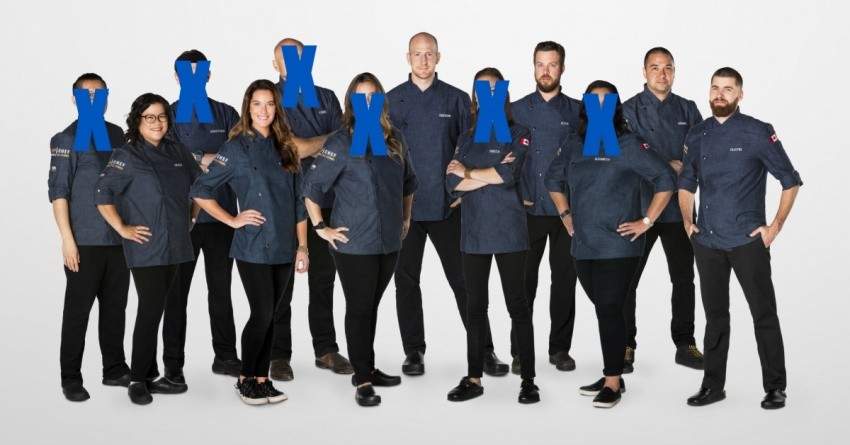 With Curtis headed home, six chefs are left in the running in Top Chef Canada: All-Stars. The seventh episode of the series airs this Sunday on Food Network Canada at 10 p.m. (ET) and sees the last handful of competitors serving canapes in a subway station to hordes of people. Yikes!