The anticipated finale starts with a quick cut of all the contestants, locations and ingredient. We are introduced to the four remaining chefs, all men, by being told that, "Four chefs stood out and pulled away from the pack." I guess I agree with that, but they could easily have subbed in Renée Lavallee or Sebastien Laframboise into that comment and it still would have worked. I wonder if host Eden Grinshpan will make a sausage party joke, because as the only woman in the room, she does stand out.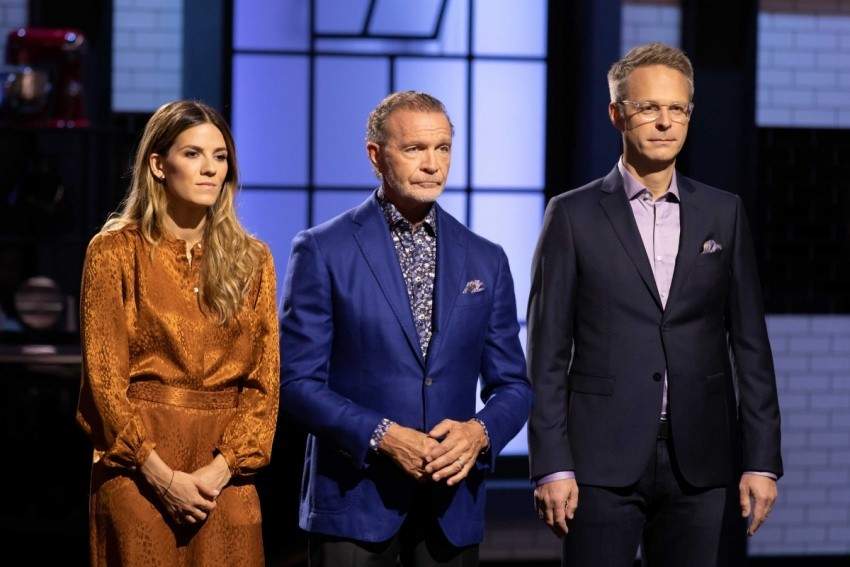 Chris Nuttall-Smith tells the judges that the four chefs in front of him are responsible for every winning elimination challenge dish, as if to confirm that the best made it to the end, but Hayden Johnston was also in the bottom of five of those seven challenges, though he did win one of them. Hayden admits that the competition hasn't gone as well as he had hoped.
Until now, Wallace Wong has increasingly become a threat in this competition. He is a good chef, but he is more of an entrepreneur than a restaurant chef and he admits that the money that comes with the title will change his life forever.
The west coast chefs are the most seasoned. Phil Scarfone says that his game plan was to take calculated risks and it appears to have worked, but we haven't learned that much about Phil, other than that he seems like a lovely, humble person and is one helluva chef. When he says out loud that he knows he is a really good cook, he seems embarrassed.
We don't expect that kind of humility from Paul Moran, and we don't need it. Paul has been the frontrunner since the beginning, and he can come off as monotone, but we actually know quite a bit about him: his commitment to cooking started at a young age, and foraging was a way that his family spent time together. He is known as the "competition chef" and for good reason.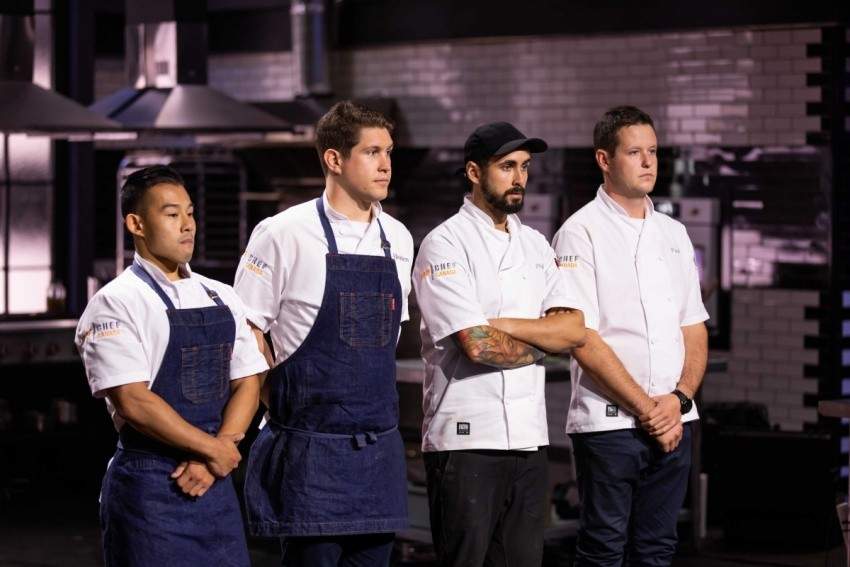 Quickfire Challenge
The Quickfire Challenge has some ingredients from the chefs' past winning dishes. The chefs get to pick one to cook with and the top two chefs will move on. Not surprisingly, the lichen of Hayden's past winning dish was left behind on the counter.
This is a stressful hour of cooking! Paul makes a favourite dish from his (vast) repertoire: two kinds of vegetarian gnocchi with roasted vegetables and morels. The judges absolutely love the diversity of the vegetarian dish. They easily agree that he has the best dish of the four of them and sails through to the finale.
Hayden serves his morels with beef and as soon as judge Mark McEwan bites into it, we know Hayden is done. The morels are "acrid" and lost in the dish and none of the judges are happy. Sorry, Hayden. See you at Richmond Station!
The elimination between Phil and Wallace looks to be far more difficult. Phil's duck was perfectly executed and nicely balanced with juice of burnt lemon, while Wallace's salmon let the flavour of black garlic shine through.
Who is the better competitor for Paul? Wallace would make for a more interesting competition. His flavours and textures are often far outside of the typical classically-trained chef. Phil is more par with Phil, though his food tends to be more homey and full of flavour.
Wallace is asked to pack his knives and Phil is in the Top Chef Canada finale.
Wallace tells the camera that this is just the beginning, and we will be seeing more of him. I would love to eat Wallace's food – but where? Wallace, let us know where we can pay you to feed us!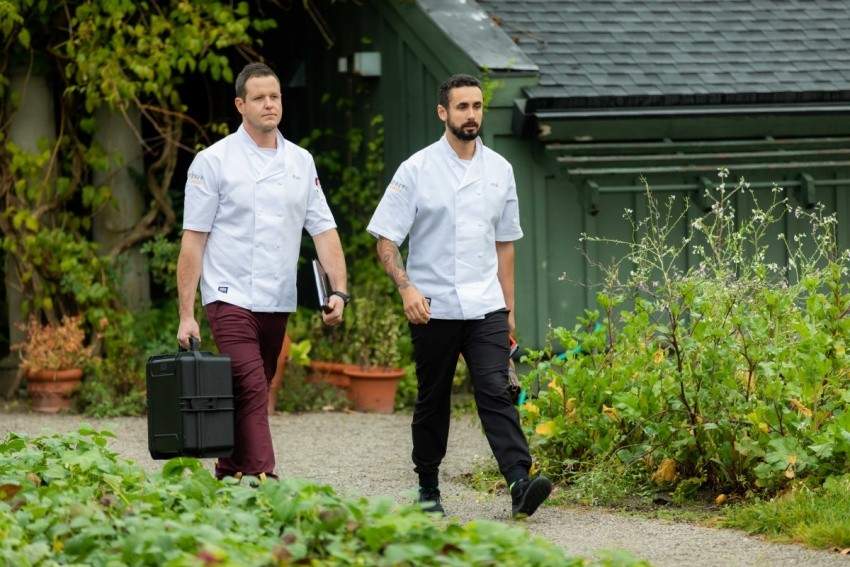 Elimination Challenge
The final dinner takes place at the beautiful Langdon Hall. The twist in the finale is the "extra help" in the kitchen. This year, it is the winner of Top Chef Canada season one, Dale McKay, who has also been the man behind many Top Chef Canada contestants, including this season's Benet Hunt. The other "helper" is last season's winner, Ross Larkin.
Paul chooses Ross because their style of food is similar. They are from separate coasts, but they are both committed to modern and their dishes give a sense of place.
Phil is partnered with Dale, which also seems like a smart choice. Dale knows the Top Chef scene and continues to be on other Food Network shows so he knows all about the pressures of reality television.
The chefs are tasked with creating a progressive five-course meal that shows who they are and their role in Canada's coming of age. Each chef creates an amuse bouche, an appetizer, two protein main courses and a dessert.
I expected Paul's meal to be all wild mushrooms and foraged produce from the West Coast, with a throw to Mexico, France and Asia. I am only partially correct. His amuse bouche has some of those things: geoduck in a tamaki-style cucumber, West Coast caviar, and parsnip skins, but it falls a little flat with the judges. His appetizer of side stripe shrimp with stuffed mushrooms is a winner, as is his play on veal and tuna (vitello tonnato). The chefs adore his confit and grilled pigeon (or squab), which is a difficult protein, but Paul has the French technique to pull it off. His dessert was a colourful plate of macarons, strawberries, goat cheese "snow" topped with a herbaceous sorrel sorbet.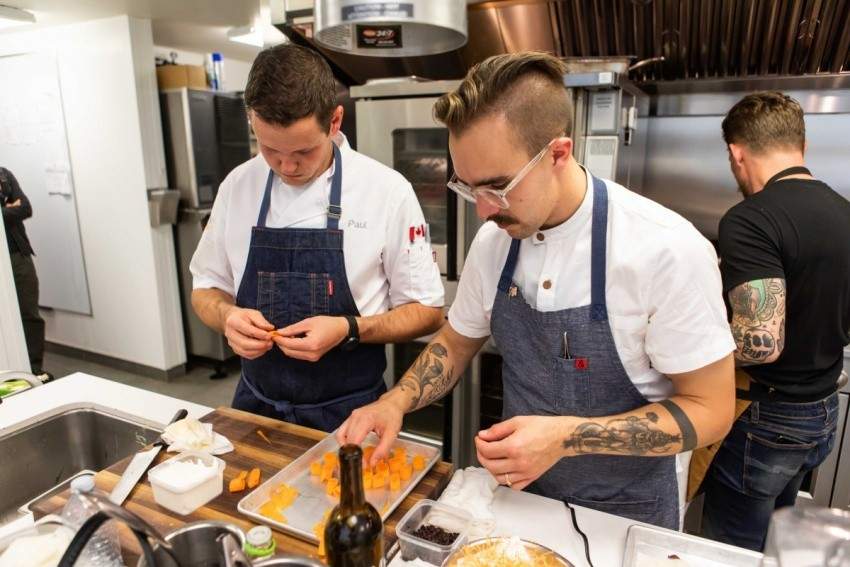 Judge Chris Nuttall-Smith was talking about its looks, until Mark told him to be quiet and taste it. I wonder how many times that was said on the set? Once the judges do taste it, they swoon over the refreshing sweetness of it.
Out of all his courses, Paul served one less-than-stellar course.
Phil's amuse bouche was a celeriac soup with crab agnolotti and some surprises built in. The judges love it. Compared to Paul's intricate dish, Phil's appetizer looked good, but was it Top Chef quality? Phil anticipated this question, telling the camera that his approach was to contrast Paul, who had a tendency to roll and stuff things. His apple salad was nothing crazy, but it is delicious. The judges agree, they loved the contrasting flavours, noting that it was a big risk.
The next course did not win them over as much. He grilled sturgeon, and possibly left it on the grill for too long because the fish was dry, but he redeemed himself with the next course of Ontario Lamb done two ways. The harissa-braised lamb neck was raved over by the judges, with Mark saying that it was the best dish of the entire season. His salted caramel pot de crème with pepper was a play on a packaged butterscotch pudding. It was served very simply in a bowl but Janet Zuccarini said she could serve it at her restaurant and it would be a bestseller. Mark would have liked to see the presentation upgraded slightly, but Phil was trying to show his true self, which is casual.
Judges' Table
It is an interesting dilemma. The point of the challenge is to tell the judges who you are, but an upgraded and fancy version. I don't disagree with either side on this issue.
Phil's meal had the top dish of the day (according to Mark) and the worst. Paul's had the mediocre amuse bouche and the very good pigeon (which was Chris Nuttall-Smith's best dish). So, who is Top Chef Canada?
It is Paul.
He was unstoppable from day one. I don't think there has been a less surprising outcome in recent years. That said, Phil was an extremely worthy opponent. His meal looked tremendous and his cooking throughout the season has been consistent and worthy of the competition.
Phil says it is a surreal moment. Not for the audience; we know that he deserves it. He is still the competition chef.
Kitchen Scraps
It was a well-fought finale to a solid, if not a little boring season. The chefs were all so nice and competent, it was hard to get our emotions racing at any point.
Paul did seem like the inevitable winner from day one, and I am noting my own hypocrisy here. It makes the show slightly less exciting when the best chef wins each week, and then wins the finale, but it also means the best chef won, which is a good thing. I think?
Some women told me that they weren't going to watch the finale because they didn't want to watch the all-male revue of chefs. The final episode had the all-male final four, plus chef McEwan and Chris Nuttall-Smith so that Eden was the only woman out of seven people. It doesn't just look bad, it is bad. I'm not saying that they should keep women on longer for viewership, but something needs to be done about the makeup of the show. I just can't believe that women and people of colour are not in the top chef category in this country.
It's always worth remembering that we don't know most of what goes on during filming. We don't know whose dishes were really terrible, who was difficult to deal with, whose food was amazing. These shows reflect who did the best work on a television show, not in a restaurant and not in your own kitchen. Each of these chefs did some amazing work and they all deserve our accolades, and our dollars.