This band of dynamic TV personalities share one thing in common: they have a serious fervour for food and dining out. They are a (very) hardworking bunch who are at the forefront of every food trend and will travel long distances just for a taste of the unexpected. You'll recognize them on regional and national food shows, sharing their culinary skills and wealth of knowledge, not just about where to get, say, the best macaron in the city, but also about the talented people in the kitchen. Whether they're creating mouthwatering dishes themselves or reviewing new restaurants, they are some of the top experts in Canadian food culture. We connected with these seven lovely TV personalities who shared their most recent memorable meal.
Pay Chen, TV and Radio Host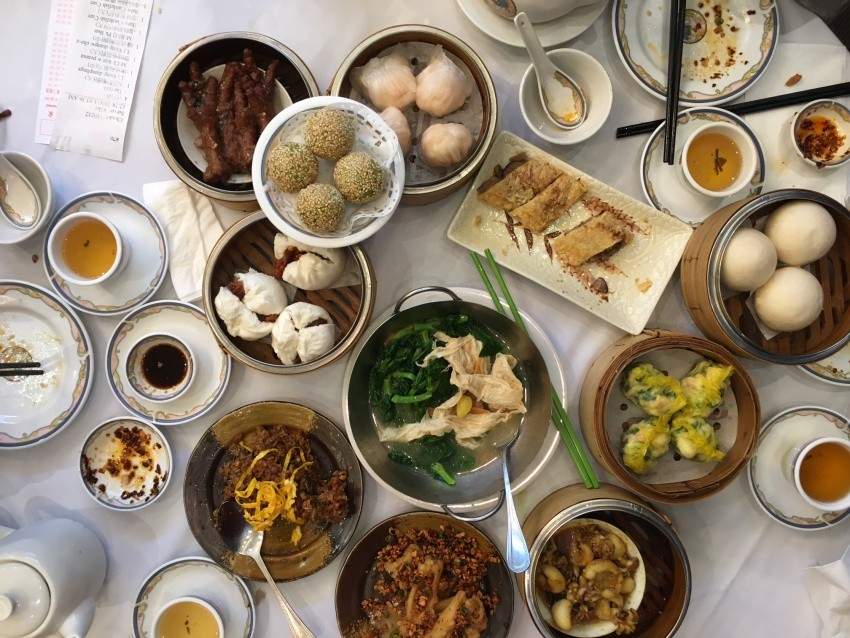 I've eaten a lot of dumplings in my life and after a while, all dim sum starts to seem the same. But while in British Columbia, my brother took me to Fisherman's Terrace Seafood Restaurant in Richmond, and it was an incredible and memorable meal. They have dim sum offerings that are slightly different and a bit more upscale than some of the quick-service spots. A dish of springy and perfectly chewy tofu sheets on top of snow pea shoots and ginkgo berries was a pleasant surprise, as was the not-too-greasy fried sesame ball with sweet black bean filling.
Dan Clapson, TV and Radio Culinary Expert
For whatever reason, I had not heard of Cinara, a phenomenal European eatery in Vancouver until a few weeks ago. It's hard to keep up with the ever-changing Vancouver food scene, but I try! The dish of braised rabbit leg and foie-gras-layered terrine wrapped in prosciutto arrived to at the bar where we sat and it was love at first sight —of Dawson and Joey proportions, if you will. House-pickled mustard seed and a fresh endive-fennel salad on top helped cut the richness perfectly—by far the best terrine I have tried in recent memory.
Jackie Kai Ellis, TV Culinary Expert and owner of Beaucoup Bakery
Since I live in Paris for part of the year, I have my favourite standbys, the bistros and cafés that I go back to time after time. The city is full of wonderful places to eat though, so I am always discovering new restaurants. Most recently, I went to a charming restaurant named Le Bon Georges in the 9th arrondissement. I fell in love with all of their beef dishes: the steak, tartare, and carpaccio, to name a few. In line with our greatest fantasies of French cuisine, it was the craft and care for the ingredients themselves that made it so good—simplicity on a pedestal. The beef was from a sixth generation butcher, Alexandre Polmard of Pollard Éleveur-Boucher, who is known for his revolutionary aging process (notably his 15-year rib steak priced at over $3,000) and for supplying some of France's best chefs like Guy Savoy and, of course, those at Le Bon Georges. Sitting at their counter with a glass of red, while admiring a collection of ancient Chartreuse bottles, coupled with a little French banter, it reminded me again of why I do love Paris so much.
Jonathan Collins, Chef and TV Host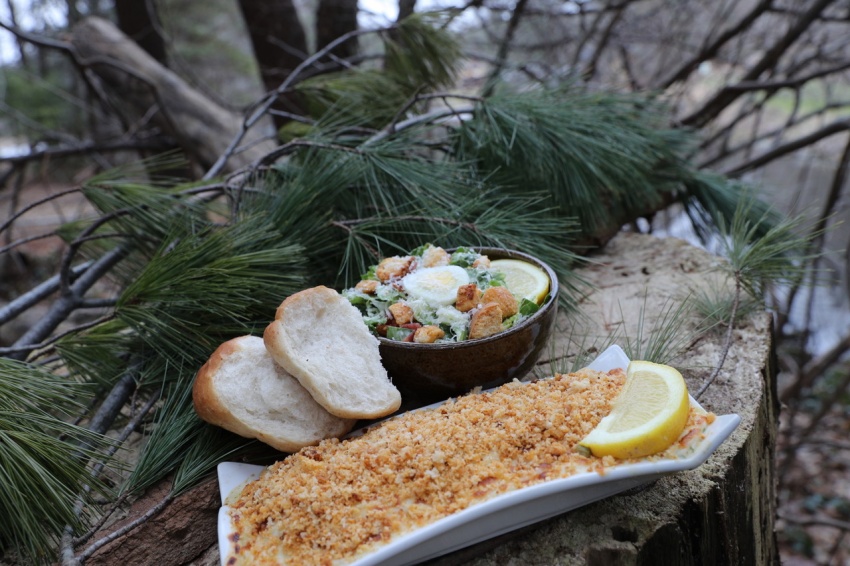 If capturing your heart and soul is as important as satisfying your appetite and taste buds, there is an enchanting pottery gallery and tearoom in Aylmer, Ontario that you'll want to visit. I dine at Pinecroft a lot and I'm as enchanted by their food as much as the beautiful family-owned estate. Pinecroft is nestled among 85,000 towering pine trees that were planted in the 1920s next to a lake that was dredged by a team of horses. Pinecroft kneads, proofs and bakes the most delicate, intoxicating bread that I've had in three counties. The bread is made every morning using local flour, and proofed and baked in the hand-crafted pottery made at the lake's edge. I think the taste truly comes from the water. Everything tastes better at Pinecroft's secluded escape. An unexpected favourite of mine this far inland is their seafood crêpe filled with shrimp, crab and fish. You can visit for the bread, but I guarantee you'll take a little piece of Pinecroft home in your heart.
Shelley Robinson, TV and Radio Chef Expert and winner of Chopped Canada Season 1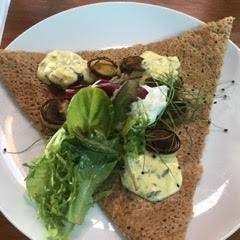 Café Linnea is a pretty new fixture to my neighbourhood in Edmonton. It's super close to my house and I couldn't be more thrilled! Edmonton can get pretty chilly, so having this bright open space to have a relaxing late breakfast before heading to work is right up my alley. It has a cool community feel with a really interesting mix of students, seniors, arty, trendy types all coming together for some stylish eats. The cafe also has a no-tipping policy instead focusing on living wages for staff! The cinnamon cardamom bun at Café Linnea is to die for, and the smoked chicken and pork pot pie with a poached egg is simple, hearty and yummy in my tummy. All the galettes are elegant with lovely textures; the sauce gribiche is the best I've ever had! I'm also in love with the simple lemon crêpe, which is not too sweet or lemony, just perfectly balanced.
Julie Van Rosendaal, TV Culinary Expert and CBC Radio Food Columnist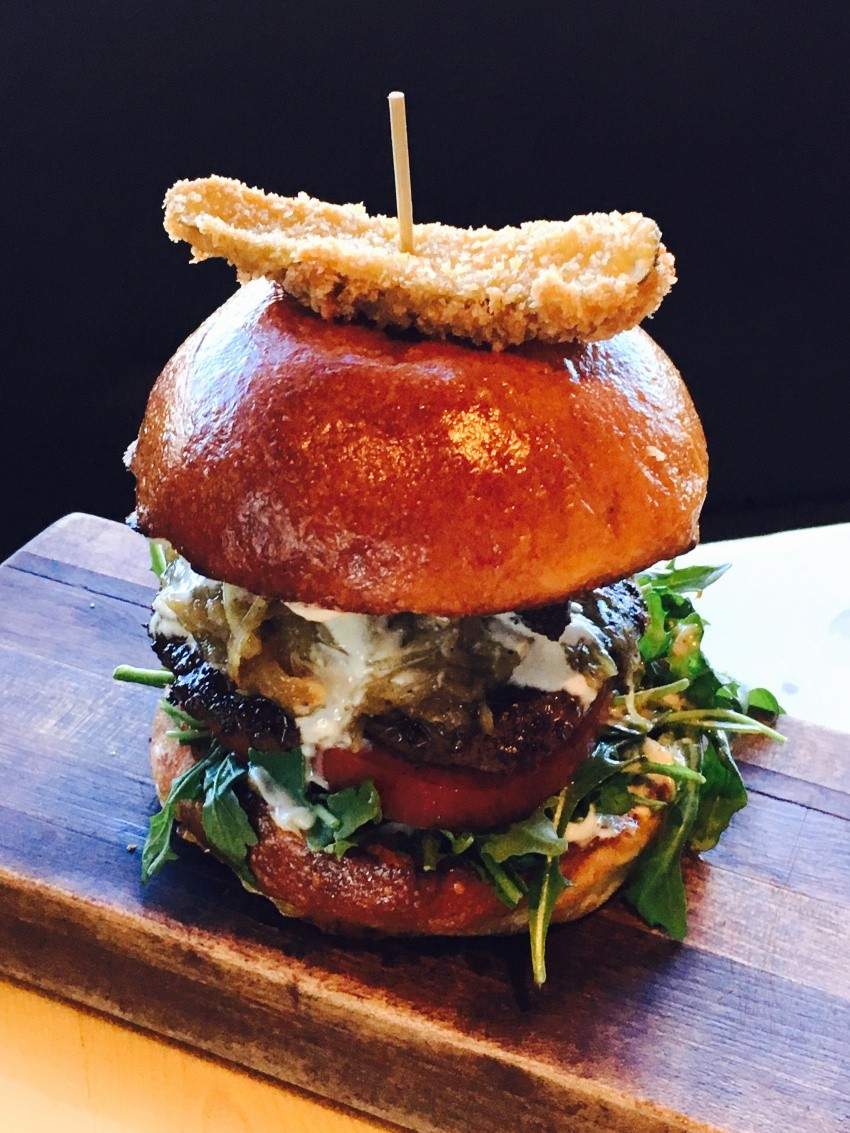 It's so hard to choose one thing, but I had an amazing burger at Bridges on First in Bridgeland, Calgary recently. It was made with ground Wagyu beef, topped with ultra tender braised beef short ribs and caramelized onions, arugula and a creamy blue cheese sauce, on a soft brioche bun baked with an ingredient I've been sworn to secrecy on. It's the kind of burger you have to lean into, preferably over your fries so that they catch all the drips. There's nothing like a really good burger.
Tammara Behl, TV Chef Expert and Finalist on MasterChef Canada Season 1
The gem in my eye is Han's in Calgary. It's a family-run restaurant of authentic Mongolian and Szechuan cuisine. This is far from fine dining but the food speaks for itself. My favourite is the hot and sour handmade wontons. The balance is perfect and hits all the right spots on the palate to keep you coming back for more! A shout out to the spicy eggplant with minced pork, which is also an incredible dish. I typically like to support local restaurants who know how to knock traditional dishes out of the park!
Connie De Souza, Finalist on Top Chef Canada Season 1 and owner of CHARCUT
For late night eats, my co-chef John Jackson and I often hit Shokunin in Calgary for all my favourites: chicken kara age, Humboldt tempura squid, and definitely a big bowl of shio ramen with handmade noodles. Darren MacLean, the chef and owner, is a friend of ours and he never disappoints. He sources seasonal, local ingredients and applies traditional Japanese techniques that will blow your mind.