Potted plants, trays of herbs and sprouts, and trees of mandarin oranges, avocados and figs, all thriving in full daylight. No, this isn't the Mediterranean or the tropics, it's Skye Café & Bistro in Regina, SK.
Bright and beautiful, Skye is a welcoming oasis where executive chef Louise Lu expresses her limitless creativity.
The beautiful and bright space bursts with Lu's art: the pottery and paintings, the whimsical pastel-coloured vines on the windows that gives the bistro an art nouveau feel, and not to mention, the food, right down to perfectly-placed delicate herbs.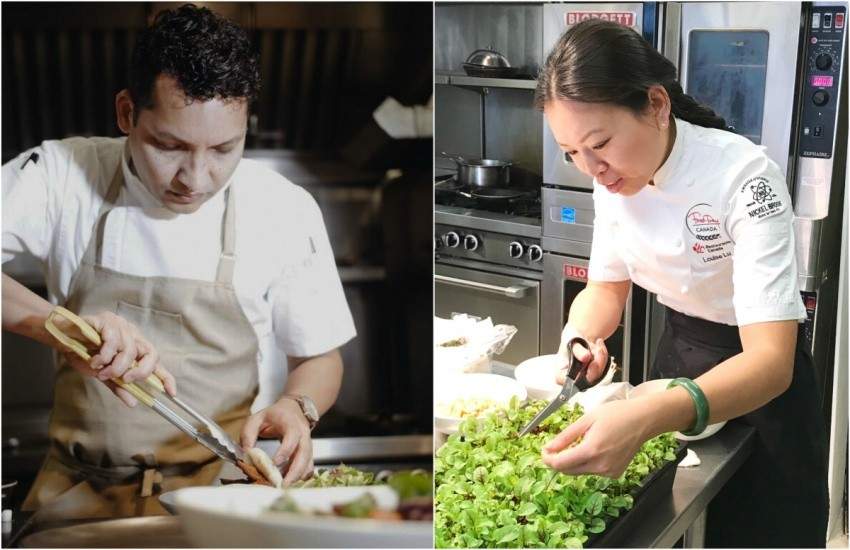 The seed-to-plate concept is a family affair, co-owned between Lu, who excels at pastries and breads, and her husband Milton Rebello, who operates Rebello Food Studio (catering company for corporate and private events) as well as the bistro.
"That's where we complement each other. She takes care of the areas I'm not good at," he says.
In addition to balancing the workload between the two, the couple is careful to balance work with home life, providing their daughters, Skye and Livia, their own play area in the office. This family-oriented value is conveyed throughout the menu as well as the space, where they intend for it to be a place where families come to relax.
While almost everything on the menu is hyper-local and organic, Rebello says Skye isn't a "local food" restaurant–because that's expected. Even the children's menu includes homemade chicken fingers with vegetables and from-scratch ketchup.
"You don't have to say you're local. It's becoming a sales pitch, but I think it's an expectation to have local [food]. At least 50 per cent [of a menu] should be local," he says.
The menu of nourishing foods is inspired by the couple's global travels and their heritage (Rebello is from India, while Lu grew up in China). The Szechuan-style beef ramen has Lu's touch and, served with chili oil on the side, has become a best-seller.
The Skye Bowl, with its warming combination of lentils, beans, curry and grilled vegetables topped with a fire-roasted lentil papadum has Rebello's touch. It's a heartier dish, so the creamy raita provides an ideal balance.
Currently, the delectable vegan ravioli is filled with winter's wild mushroom and pine nuts; but over the summer, it'll lighten up, with roasted cauliflower, sweet peas, and a kale and mint pesto. Enjoy it on the patio then, where vines growing up the low fence provide a lush green backdrop for views of Wascana Lake beyond.