There are small breweries in Canada and then there's Two Pillars Brewery in Calgary.
Nestled in a strip mall on Centre Street in the Crescent Heights neighbourhood, this burgeoning nanobrewery has been churning "once it is gone, it is gone" batches of beer since 2019 and opened their cozy 40-seat taproom last summer. While Calgary's craft-brewing scene can be a crowded one these days, Two Pillars sets itself apart by brewing an array of unique Belgian-style beers...that and you won't find any IPAs–or double or triple IPAs–on the menu.
Being from the United Kingdom and Hong Kong respectively, Two Pillars' co-founders Jacob May and Boaz Leung have their own separate stories in terms of how they found their way to Alberta. Leung immigrated to Calgary with his family in 1996, whereas May moved from the United Kingdom because of his wife–who is originally from Calgary.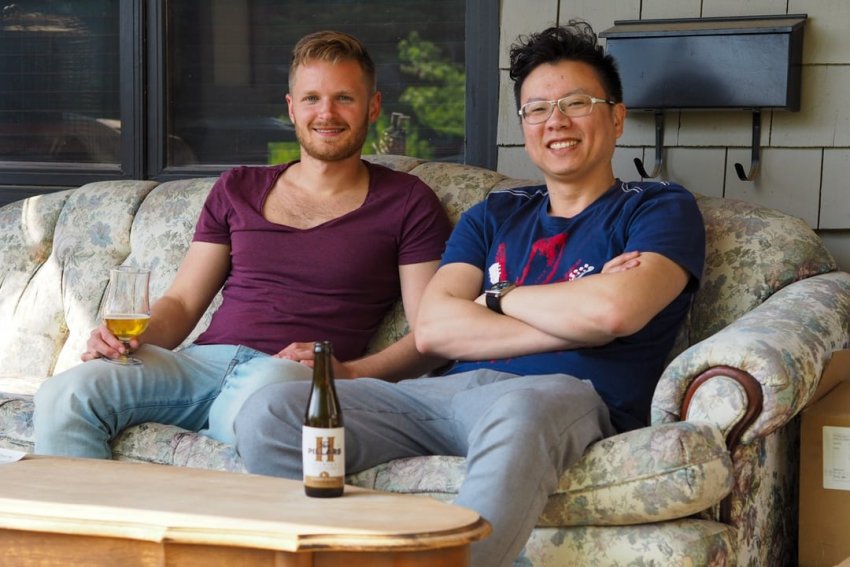 The two would up meeting by chance through an interview at a car dealership and when the topic of beer came into play, an instant connection was made. At the time, May was a home brewer creating his own libations and he is still experimenting today, just as Two Pillars' head brewmaster.
The brewery launched with its zippy Golden Strong, a peppery and citrusy creation which quickly became its flagship beer. Wit, Blonde, Amber and Dark Strong followed and now comprise the brewery's core lineup of beers. When asked about their process and approach, the co-owners explain that they lean towards Belgian-style brewing which typically yields end-result beers that are pleasantly yeasty and aromatic.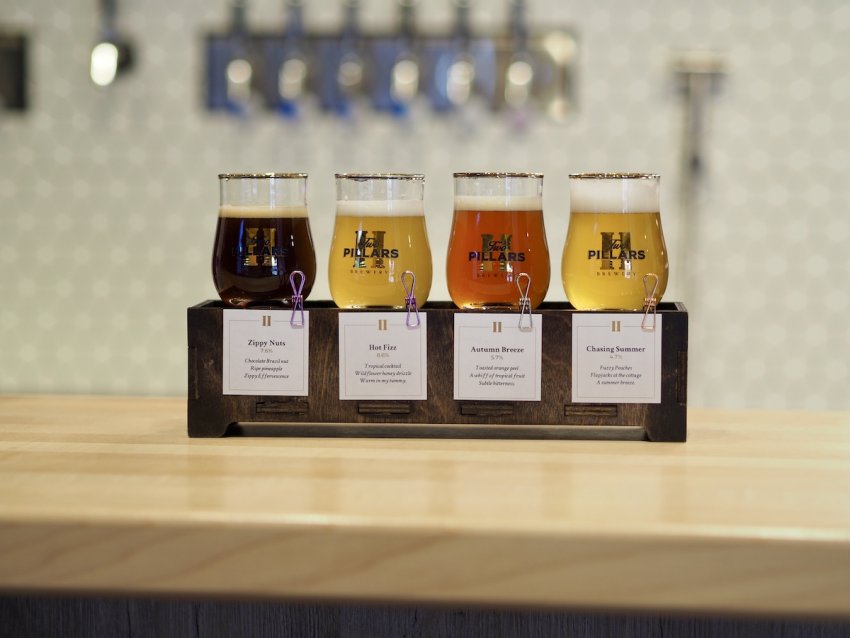 In fact, Two Pillars is one of the only breweries in Western Canada that creates Belgian-style beers on a regular basis and–to the co-owners' knowledge–the only one in Calgary doing so. On top of that, May brews in very small batches. It's partially to do with the humble size of the nanobrewery itself, of course, but also to keep things exciting with each passing week.
May, he believes that beer is "creative and simple", where the sky's the limit. What started as a creative hobby for him, has grew and become an exciting career.
On the other hand (in a complementary way), Leung believes that beer is charmingly social in nature. "It can easily connect with people", he says.
As the brewery continues to grow in popularity, the two say that they are working on updating their food menu, as well as establishing a beer subscription program to give customers old and new a chance to try their ever-changing lineup of small-batch beers.
Two Pillars Brewery is open Wednesdays to Saturdays with indoor and outdoor seating options–though indoor service is currently paused due to pandemic-related restrictions.