This may be surprising to some, but Canada has a rich and colourful history as one of the world's great whisky producing countries. The Hiram Walker & Sons distillery was the first to put Canadian whisky on the map in the mid-to-late-19th century with their Club Whisky, which was popular in gentlemen's clubs throughout the U.S. and Canada. To protect the market share of American whiskies, a law that required all imported whiskies to list their nation of origin was enacted. Thus, Canadian Club was born.
The rise
Canadian Club (CC) gained international acclaim through the beginning of the 20th century. Queen Victoria was an avid fan, and CC may have pre-dated the martini as James Bond's drink of choice (consumed by 007 in the 1958 novel, Dr. No). In fact, during prohibition in the United States, massive stock of Canadian whisky was smuggled across the Detroit river, quenching the thirst of such famous clients as Al Capone and the Purple Gang. The success of Canadian Club was followed by other strong brands such as Crown Royal, Alberta Premium and Gibson's.
The popularity of Canadian whisky was due in great part to its supple texture and smooth character, achieved through extended aging in oak barrels and careful blending. Rye grain, which grows exceptionally well in our rugged climate, adds a distinct spice note to Canadian whisky that further separates it from that of the rest of the world, leading to the terms "Canadian whisky" and "Canadian rye whisky" being used interchangeably. This classic Canadian export later became known simply as rye.
The fall
Although Canadian whisky continued to be a strong seller internationally, its reputation here at home began to slip in the later part of the 20th century. Cheap, lower quality rye flooded the market and rye came to be considered as a drink best mixed with a hefty portion of cola rather than a quality spirit, worthy of contemplation, that could be sipped neat or on the rocks.
In recent years, however, Canadian whisky has begun to reclaim its status as one of the worlds great spirits.
The resurgence
Several factors have played into this rye renaissance. The resurgence of prohibition era cocktails has consumers reaching for rye-forward classics such as Manhattans and Old Fashioneds. Larger existing distilleries are starting to create premium, quality-focused brands, while a new wave of micro distilleries across the country are creating small batch rye whiskies. There are even large American brands that are shipping barrels of Canadian whisky south and bottling them under their own labels. With more choices for consumers and bartenders, new craft distilleries are opening their doors on a seemingly weekly basis.
For those looking to challenge their perceptions and to see the diverse range that our great Canadian whiskies can offer, here are five rye whiskies worthy of a place in the liquor cabinet.
(Prices listed for Vine Arts in Calgary, Alberta)
Dillon's White Rye – Beamsville, Ontario $42
This un-aged whisky is 100 per cent rye and demonstrates the supple texture and complexity that a skilled distiller can coax out of this hearty grain even without the influence of oak. The Dillon's White Rye delivers a malty sweetness, with a round texture and notes of banana, honey and toasted oats.
Try this in a white Manhattan, with two parts Dillon's White Rye to one part Cocchi Americano, two dashes of grapefruit bitters and a twist of lemon. Delightful.
Pendleton 1910 Rye Whiskey – Oregon/Canada $52
This is a great example of an American company showcasing the potential of Canadian whisky. The Pendleton 1910 is a 12-year-old whisky, aged in charred white oak barrels and produced from 100 per cent rye. While Pendleton does not release the source of the whisky, many rumours point to Alberta Distillers in Calgary, Alberta as the source. This is a rich, decadent whisky boasting bold flavours of maple syrup, fudge and baking spices. Dessert in a glass!
Alberta Premium Dark Horse Rye – Calgary, Alberta $32
Located in the grey surroundings of a Calgary industrial park, the Alberta Distillers facility may not be much to look at, but it has been consistently producing some of Canada's greatest whiskies for over 50 years.
The flagship Alberta Premium bottling has long been one of the few examples of 100 per cent rye whisky available on the market, and has caught the attention of many whisky critics including the internationally renowned whisky writer Jim Murray, who is a very vocal proponent. The Dark Horse Whisky, which was released by the distillery (now owned by Beam Suntory) last year, continues the legacy of dynamite rye whisky and is aimed squarely at the recent rye renaissance among younger enthusiasts. You would be hard pressed to find a better option for a Manhattan or other classic cocktails.
Bottled at 45 per cent alcohol, Dark Horse is a blend of 12-year-old rye whisky married with a 6-year-old small pot still rye, along with a smaller percentage of corn whisky to beef up the richness.
This is a dense, spicy whisky with notes of vanilla, burnt sugar and cracked peppercorn.
Forty Creek Confederation Oak Reserve – Grimsby, Ontario $70
One of the faces at the forefront of the recent Canadian whisky revival is John K. Hall of Forty Creek Distillery. Originally trained as a winemaker, Hall founded Forty Creek in 1992 and has since elevated Forty Creek to be widely considered as one of the country's top distilleries. The Confederation Oak is part of the distilleries reserve line of spirits, and takes the Canadian content of this whisky to the next level by aging in Canadian oak barrels, sourced from forests located a mere forty kilometers from the distillery. These Canadian oak casks create a medium-bodied whisky with a unique flavour profile featuring roasted nuts, orange rind, white pepper, honey drizzled Cornflakes and ripe banana. Although Forty Creek was purchased by spirits giant Gruppo Campari earlier this year, the Confederation Oak Reserve still delivers Canadiana in every drop.
Century Distillers Lot 15/25 Rye Whiskey – High River, Alberta $34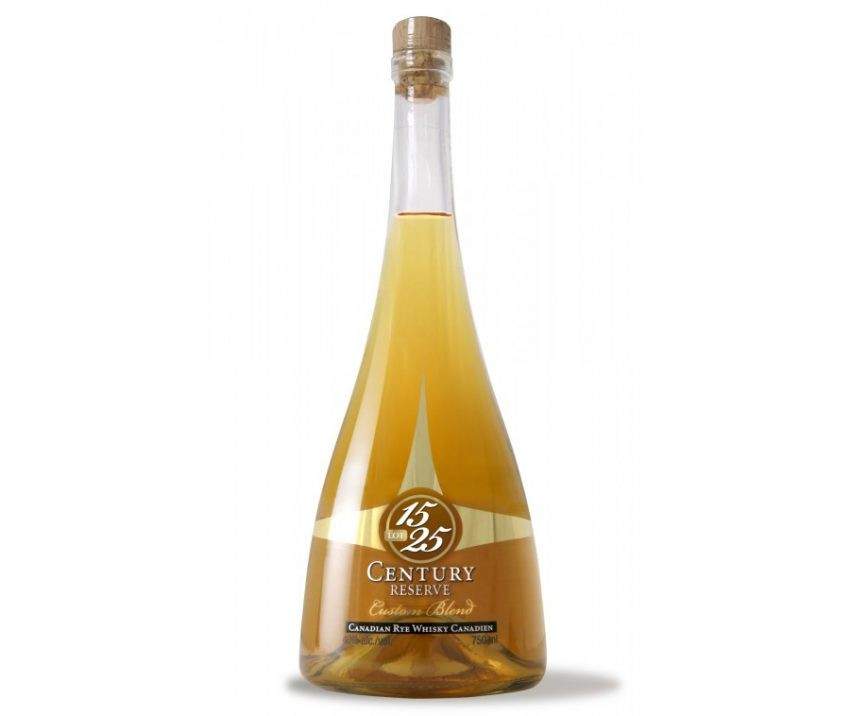 For those looking for a lighter, fresher option in the category, Century Distillers Lot 15/25 may be just what the doctor ordered. Bottled at Highwood Distillers in High River, Alberta, the 15/25 features some long aged whiskies that – you guessed it – range from 15 to 25 years of age. This light golden whisky features notes of meyer lemon, honeycomb, freshly cut cedar and cigar wrapper. An elegant, stylish option for those looking to ease into whisky drinking.