Joshua Beach's career trajectory took quite a different direction when he went from his IT job to becoming the master distiller for the Wayne Gretzky Estates Winery and Distillery in Niagara, Ontario. Throughout the process, he's come to be an aficionado in all aspects of the whisky making process, from distilling to blending, and everything in between. He even co-founded Odd Society Spirits in B.C. As for what it's like to work for a Canadian icon, Beach simply notes:
"I wouldn't tell him how to play hockey so he won't tell me how to make whiskey."
What got you into distilling?
I was always into home brewing and even a bit of home distilling. At the time, I was working an IT job. I'd had enough of it and wanted a career shift so I enrolled in the masters in the Brewing and Distilling program at Heriot-Watt University. There's nothing like being in Scotland to get you deeply entrenched in whisky.
How did you get to be the Master Distiller at the Wayne Gretzky Distillery?
After school, I worked in beer for a bit, in Germany working with Guinness. Then, a friend I did my masters with was opening a distillery in Vancouver, so we launched Odd Society Spirits and I was master distiller there for three and a half years. I'm from Ontario, so when the opportunity came up with Wayne Gretzky, it made sense to come back home.
For those who are not familiar, what distinguishes Canadian whisky from whisky from other countries?
The first thing is our history of rye. It's a northern climate country, so that's what's left over at end of harvest. Second is that we keep all of the grains separate throughout the process, so at the end, you have each grain that you use a tool to blend. Third, we generally create a nice light whisky. It's a clean spirit that's spiced up with the rye.
What would you say differentiates the No. 99 Red Cask from other Canadian whisky on the market?
We're using predominantly corn and rye, so you get that spicy rye note. To differentiate and use synergy with our winery, we finish the whisky in cab franc, cab sauv, and merlot barrels to create a unique flavour. You see whisky finished in port or sherry barrels quite frequently, but not wine because you need a pretty large quantity of barrels to do it, which we have available.
What are the tasting notes of the No. 99 Red Cask?
I get the oak coming off first. Vanilla... really that barrel shines through. Then, you dig deeper and the rye shows itself. Floral, citrus. The bottom layer is where the wine shows through with fruity, berry notes. It's the Canadian tradition of rye and corn whisky, finished off with red wine spice.
What's your favourite way to drink the No. 99 Red Cask?
I always drink my spirits neat. To each their own though. You bought it, drink it the way you like it.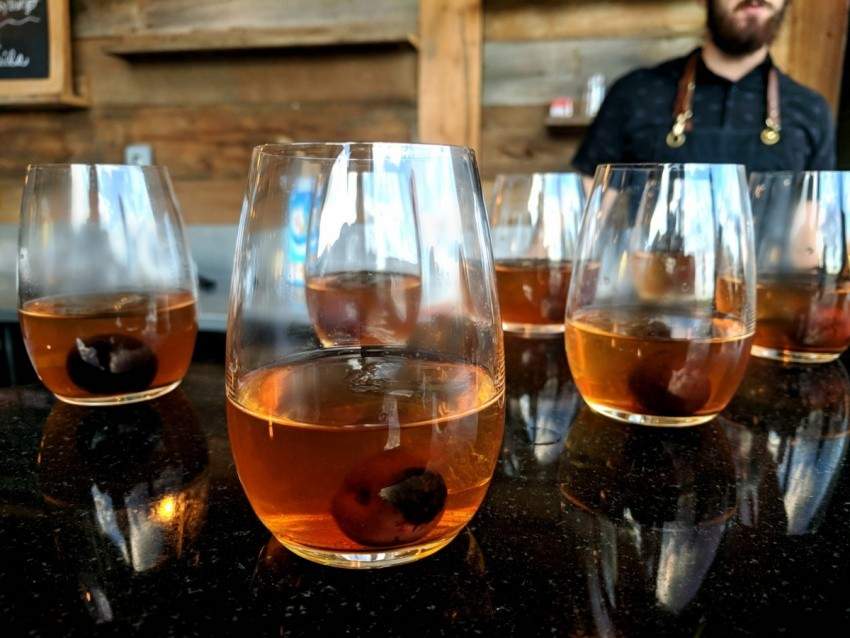 Given that the holidays are fast approaching, do you have any suggestions of festive ways to enjoy the No. 99 Red Cask?
Our bartender here has come up with a bunch of cocktails. We've got an outdoor bar, right next to ice rink we're setting up. One of my favourite options is the "Canadian Breakfast" made with maple syrup, Red Cask, our whisky cream, coffee, and a burnt cinnamon stick.
Tell me more about the whisky cream.
It's made with 100 per cent Ontario cream--natural, fresh from the farm; as close to source as you can get. Then, it's infused with the Red Cask whisky. It's more nutty than Baileys, and has a thick, creamy feel to it.
What other spirits or whisky does the distillery offer?
We really wanted to showcase Niagara and distil local produce, so we've distilled three different grape varietals: vidal, muscat and gamay. They're made in very small volumes and only available at the distillery, but they showcase the area and white spirits in general. In a sense, they are similar to brandy, but brandy is not usually made with only one expression and is usually made from what's left over (after the winemaking process). We wanted something that retains the character of the varietal, and also wanted to make it sippable. The vidal is very clean and fruit forward. I drink it on its own. The muscat is fuller in character and lends itself more to mixing. You can make a great muscat and tonic.
As for whisky, we have two others: the ice cask, aged in ice wine barrels; and the 99 Proof, aged exclusively in cab sauv barrels.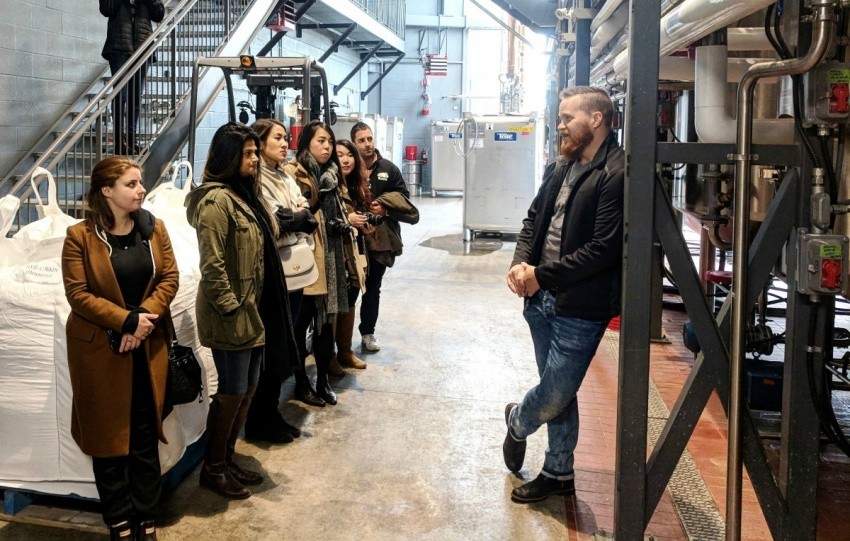 Whisky making seems like a daunting process because you don't really know how it will taste after aging. How do you get around this concern?
It is a bit daunting at first. Training is really important. You need to know that what you are doing is decades old and if you do things the right way, it will turn out. Solid training and background removes the guesswork. Also, our Canadian way of keeping the grains separate really helps. Then you can blend them later to get the flavours you want. Producing larger volumes also helps with this. If you have 100 barrels versus a single barrel, you have a lots of possibilities to draw from when blending.
I take it The Great One is a whisky drinker? What's his favourite way to drink his own whisky?
Yes, it goes without saying that Wayne's a fan. He likes whisky. He wouldn't be getting into it if he didn't like it. I've never asked him but have seen him drink it with ice. I think he's an on-the-rocks kind of guy.
what direction do you think Canadian whisky and spirits is heading? What excites you about the future of Canadian whisky and spirits?
It goes back to those tools, the way we do our whisky. We always have these independent grains, corn, rye, wheat, etc. I see a general trend towards bigger and bolder whisky. We have a history of doing a lighter approach, but profiles are changing. People are liking bolder and bigger. The big names are playing competitively and you see it on the craft side as well. The whole industry is going there, from small to big.
Written by Mallory Frayn.