When a new restaurant opens, it's hard to imagine longevity in an industry that can be quite fickle. Now, imagine turning 30 years old and still be one of the city's most popular places to have dinner? Surely Cilantro, Calgary's Italian institution on 17th Avenue, has been doing something right these past three decades.
Time travelling back to the 1980s, Calgary was nowhere near the dynamic culinary centre it is today. Steak, potatoes and white linen-clothed french restaurants was the name of the game in a city that was making preparations to host the world's biggest spectacle in 1988, The Calgary Olympic Winter Games. This was the year that would put the growing city on the map.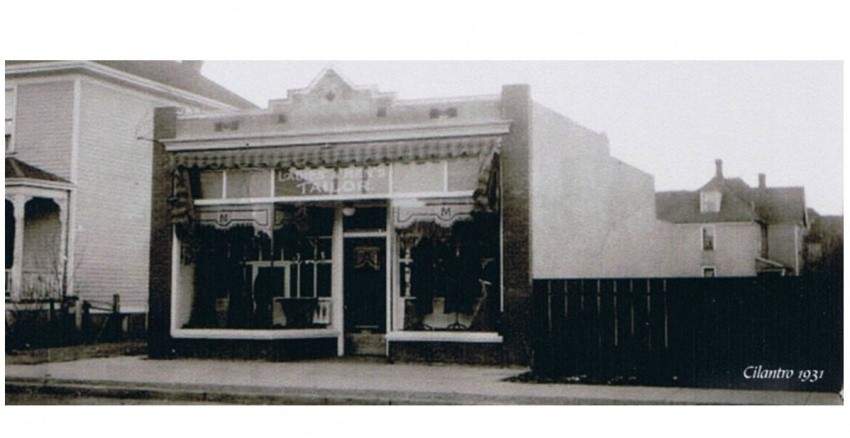 (pictured: Cilantro's building in 1931 which was originally a men's tailor shop on a much less populated 17th Avenue)
It was also the year that Cilantro (Canadian Rocky Mountain Resorts' first property) opened its doors, redefining the steakhouse concept in the heart of beef country. Items on restaurant's old menus included specialties such as cream of fennel with banana and ouzo or grilled red snapper fillet served with strawberry, blackberry and pineapple salsa. This might sound a tad odd to a diner these days, but back then, dishes like these highlighted just how distinct the restaurant's offerings were compared to the rest of the Calgary pack.
In addition to forward-thinking menu development, the restaurant was the first in the province to use a clay forno oven, which was imported from Italy and used to make a variety of dishes including its signature wood-fired pizzas, and it's the longest-running eatery in Alberta that makes its pasta from scratch (since day one), both of which are now cornerstones of the restaurant's popularity.
Long before it was the "cool" thing to do, Cilantro was a leader in the farm-to-table movement, relying for years on the farmlands run by CRMR that offer quality proteins including interesting game meats such as Alberta bison and wild boar. Today, you'll still find the same farm-raised meats on the menu and featured in plenty of from-scratch pasta dishes and pizzas, like the wild boar sausage pizza. As well, the restaurant's charcuterie (produced down the road by CRMR's butcher shop Urban Butcher) has long been some of the best in the province.
A large reason for the success of the CRMR restaurant comes from its staff, many of whom have made life-long careers through Cilantro and its parent hospitality company.
"Pat and Connie O'Connor have created such an amazing environment for staff to work," says Cilantro's general manager, Ryan McCleish. "We have staff that have been here for over 20 years, both in the kitchen, as well front of house, which is [almost] unheard of in this industry."
"Cilantro has made me who I am today. I'm proud of the management, all the staff and myself over the years, as we worked there when there were very hard times--such as the first recession in Calgary--as well as the good [and very busy] times when everything was booming," says Ken Canavan, former chef at Cilantro for more than 20 years and currently CRMR's kitchen facility manager.
Of course, Cilantro has had face lifts over the years to keep up with the times and its most recent renovation made the multi-level space look more sophisticated and cozy than ever. Regardless, the clay forno oven with its ever-crackling fire inside, remains the eye-catching focal point of the entire space.
This month, Cilantro will launch its Winter Dinner Series, a monthly dinner event (happening January 23, February 27 and March 20) which sees chef Lancelot Monteiro combine forces with CRMR wine director Brad Royale to create a unique four-course menu brimming with Alberta-grown and raised ingredients with interesting wine pairings drawn from the restaurant's extensive wine cellar.
Needless to say, we wished we looked this good at 30 years old.