By now we are well into the harvest season, but markets are still teeming with local produce from coast to coast. With the days of fresh tomatoes creeping to an end and the bounty transitioning to root vegetables like cabbage and potatoes, celebrate the cornucopia with these harvest dinners across the country. Event dates are coming up quickly, so get your tickets before the best of the local produce is gone until next year!
*And of course, we have our own upcoming Prairie Grid Dinner Series happening in four cities across the Prairies, starting in Calgary on September 29th. Buy your tickets now,
Foxglove Farm Later Summer Harvest Dinner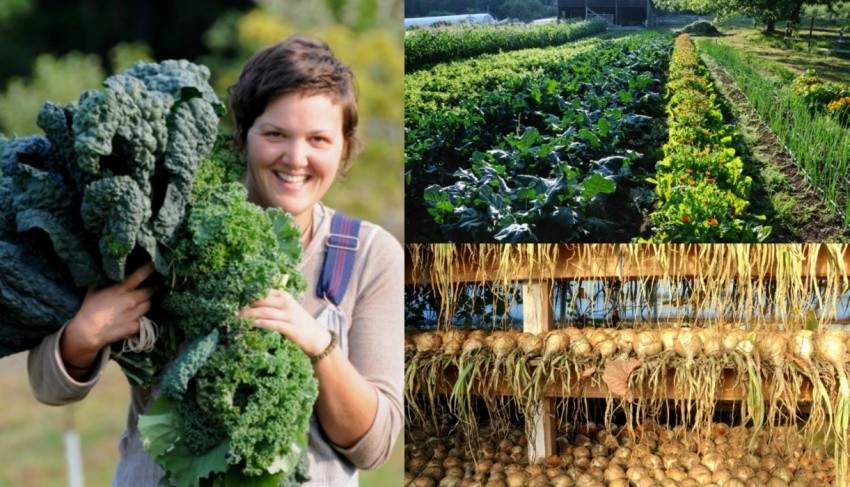 If you haven't already booked your trip to Salt Spring Island for this event on September 30th, you better get on it. Renowned Vancouver restaurants Farmer's Apprentice and Osteria Savio Volpe are teaming up with Foxglove Farm to highlight local produce in all its glory. You can look forward to dishes like spit-roasted lamb with fire-roasted eggplant and peppers, and homemade pasta with goat milk ricotta.
Participating chef, Mark Perrier says:
"I'm excited to collaborate with Michael Ableman and David Gunawan for the dinner. I respect what they stand for and I believe our values are truly aligned when it comes to food, farming and community. Harvest time on Salt Spring Island is a very special time of year and I'm looking forward to cooking outdoors in a wood oven and spit roasting local lamb over a wood fire"
Tickets are $149, which includes B.C. wine pairings!
Harvest Dinner by W. Galen Weston Centre for Food
Harvest dinners often feature well-known, if not celebrity chefs, but this one is run by students, for students. The meal will highlight the talent of up and coming culinary, hospitality, special event, farming, and food science students from the W. Galen Weston Centre For Food. On top of that, proceeds will go toward bursaries to fund students enrolled in the Centre For Food's various programs. Given that celebrating the harvest is all about fostering relationships between farmers and chefs, it's natural to encourage this mentality from the incipient stages of students' careers across these domains.
The dinner will be held on September, 21st in Whitby, Ontario, and tickets are $125.
Harvest Season at Au Pied de Cochon Sugar Shack
Martin Picard's Au Pied de Cochon Sugar Shack isn't just about the early spring sugar season. The restaurant also hosts dinners during harvest season, running every weekend, starting August through to October. The fixed price is $65 (not including drinks, tax, or tip), which is still pretty reasonable, given the vast array of menu offerings. This year's meal is fairly Italian-inspired, starting with homemade burrata and seasonal fruits, all the way to braised tripe ragout. Tickets aren't easy to come by, but you can always put your name down on the waitlist and keep your fingers crossed that a spot frees up.
EAT! Harvest
On Friday, November 10th, the EAT! Vancouver Food and Cooking Festival will be hosting one of the most heavy-hitting harvest dinners in the country. EAT! Harvest features the creations of 18 renowned chefs from across the country, including Top Chef Canada All Stars winner, Nicole Gomes, Mallard Cottage's Todd Perrin, and Amanda Cohen of New York's Dirt Candy. The event will emphasize fall flavours, all paired with premium wines, naturally.
Tickets are $115 plus tax and include food, wines, and dessert.
Feast on the Range Harvest Celebration
Dust off your cowboy boots and head to Cypress Hills on September 23rd for this harvest dinner in the heart of Saskatchewan's farm and ranch lands. The outdoor long table dinner will be prepared by chef Garrett "Rusty" Thienes, of Shaunavon's Harvest Eatery and Fresh Market, and includes four courses, each showcasing the best that Saskatchewan has to offer. Plus, you get to enjoy views of the endless prairie sky while you eat your meal. Tickets are $175 per person, and be sure to pack a hat and sunscreen!
Harvest Dinner with Bohemian Spirits
Calgary's Klein/Harris Restaurant isn't putting on just any harvest dinner; rather, they're showcasing both local food and local booze by pairing all four courses of the meal with Bohemian Spirits distillery gin cocktails. Located in Kimberley, B.C., Bohemian Spirits uses all local juniper for their gins, and offers varieties like Colossal Pink Gin and the Forester Single Malt Oak Aged Gin. As owner Christina Mah puts it, "At K H, we love to host dinners like this so that we can continue to build stronger relationships within our community. We pair members from our culinary and bar teams together to let them engineer new ideas alongside each other when it comes to these types of dinners. We have so much fun presenting seasonal favourites in a new fashion through cocktails and food for our guests that attend."
Whether you're in it for the food, or the cocktails, you can't go wrong at $89 per person for this event on September 28th.