Food halls are becoming an increasingly popular way to dine out, and Montreal is soon to get a big one. The space, named Le Cathcart Restaurant et Biergarten, will be located in the heart of downtown, replacing Place Ville-Marie's old food court, a step up from typical food court fare, no doubt.
One of the partners in the project, chef Antonio Park of Park Restaurant, notes that much of the motivation behind the project is to bring something new and exciting to downtown Montreal's food scene, which he views as presently dominated by massive corporations like McDonald's and Thai Express.
"We want to look to the next 60 to 100 years to make sure the city does well and brings in visitors, and to give them a different perspective on what Montreal is and what it can be," Park says.
The project, which Park hesitates to call a "food hall", but rather, a collaboration of restaurants, will be comprised of about 18 to 19 businesses, which have yet to be confirmed at this time. Three, more formal, sit-down restaurants are also slated to open in the vicinity to give patrons plenty of dining options. Despite sealed lips on more concrete details at present, given that Antonio Park is a partner and the restaurant group A5 Hospitality (of Kampai Garden, Jatoba, and more) are behind the project, there's no doubt that high-end, fast-casual eats will be the priority. The space is being designed by Sid Lee Architecture, the firm behind other big projects like the recent renovation of the Fairmont Queen Elizabeth Hotel.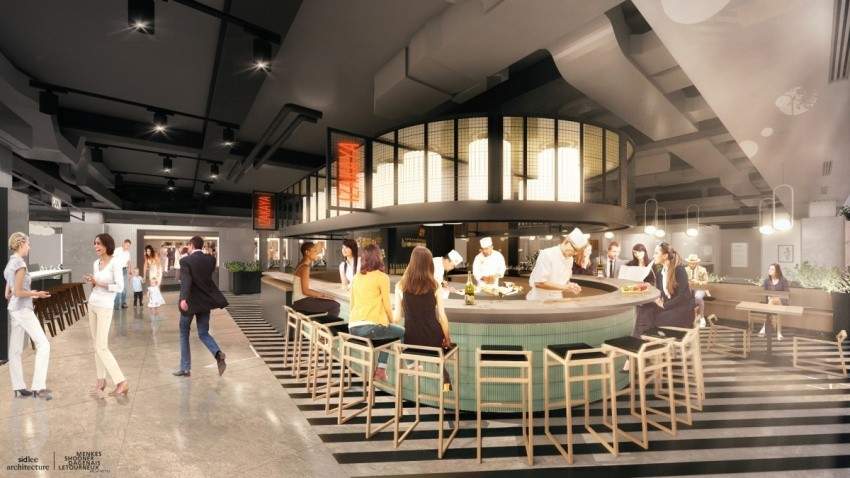 "You wouldn't take a first date to a food court, but you'd take them to a food hall," Park jokes. He also notes that one aspect of the project that he's most excited for is the opportunity to collaborate with other chefs and restaurateurs. "There are lots of chefs involved, so it allows us to share with each other and learn from each other. It gives us a lot of chances to work together as a team," Park explains.
The announcement suggests the continued popularity of the food hall concept and big name chef collaborations. Recently, the Joe Beef group and Derek Dammann of Maison Publique teamed up to create McKiernan Luncheonette; not a food hall per se, but leaning in that direction with its 5,000 square-foot catering and events space. Close to the upcoming Le Cathcart Restaurant et Biergarten is also Marché Artisans at the Fairmont Queen Elizabeth Hotel, which was inspired after the likes of the Eataly franchise.
"The trend is massive," Park says, "More and more people are knowing what they are eating and are knowledgeable about what they are putting in their bodies. We live in a world where we progress; ingredients become better, recipes become better, and food becomes more of a collaboration, a sharing of cultures."
What better way to facilitate this sharing than a 47,000 square-foot space in the heart of downtown Montreal, where locals and tourists alike pass through on the daily? Plus, right across from Le Cathcart is the McGill University campus, whose diverse student body hales from around the world.
Le Cathcart Restaurant et Biergarten's late 2019 to early 2020 opening date is still a ways out, but it is undoubtedly worth looking forward to and a welcome addition to downtown Montreal's somewhat lackluster food scene.