A sit-down interview with Ian Harrison, associate editor at Ricardo magazine and the man who introduced Anthony Bourdain to Montreal, is not really intimidating, but not exactly laid back either. He knows food, especially Montreal's food. And as the former editor of Eater Montreal, he should; but his previous position also entailed conducting numerous interviews himself, so he knows what it's like to be on the other end of them.
Egotists are not lacking in the culinary world, and thankfully, Harrison isn't one of them. Making small talk on everything from the lack of "social" in social media, to the hell that is shopping at the local grocery store, PA, on weekends, made apparent that Harrison is just a guy who knows and appreciates a lot about good food.
No pretence, a touch of irreverence, and a lot of insight—that's what you get from talking to Ian Harrison, not to mention the inside scoop on some of the best places to eat in Montreal.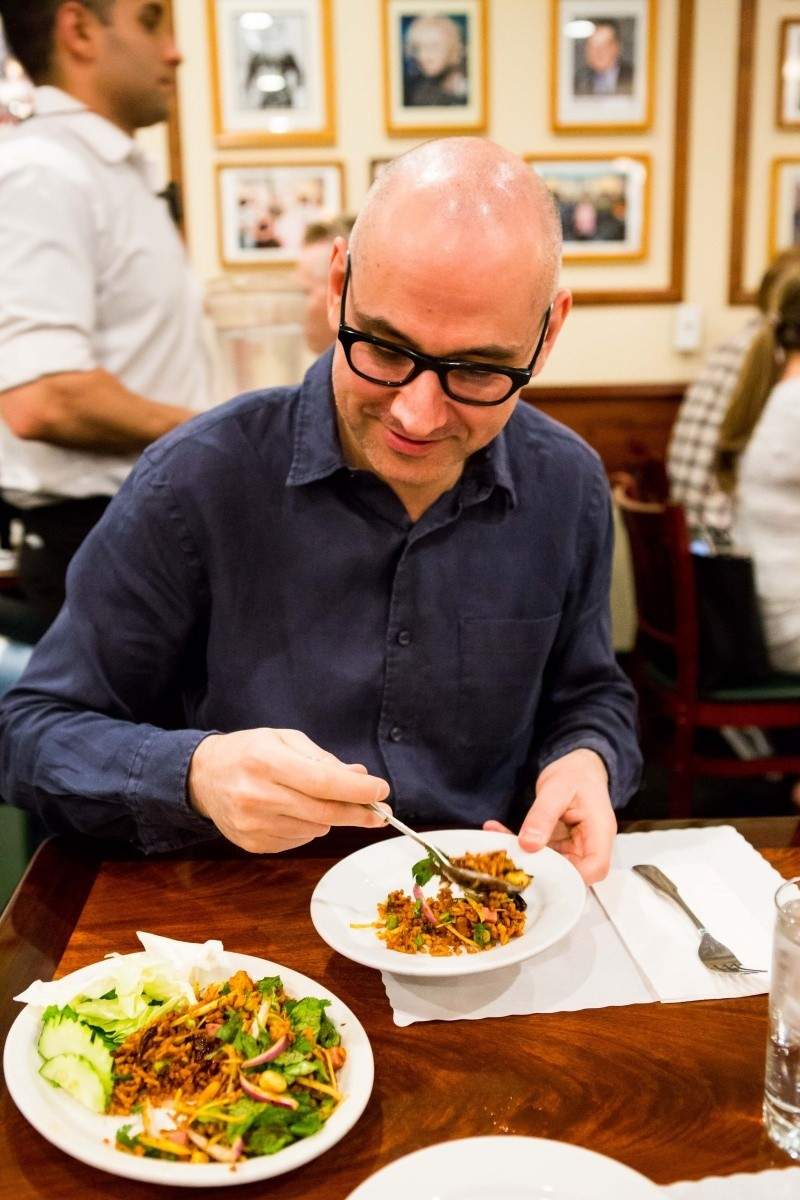 How has your dining out life changed, moving from your role at Eater to Ricardo magazine?
I have so much less pressure now to discover every new thing. It's quite liberating. I can pick and choose, and go back to places I really like. There's zero pressure to keep up with the Joneses. That's one of my quibbles with food media in general; there's this underlying peer pressure to know exactly what's going on every minute of the day, and to stay up to date. It's just not tenable. I like going out and discovering new places, but not when it's imposed on me to do so.
So when new places are opening, what in particular draws you to go eat? What are you looking for?
What I'm looking for right now are really small places that are opening up not too far from where I live in Mile End, like Café Denise, a Vietnamese restaurant on Beaumont or Jiep Jiep near Jean Talon. I like those little hole-in-the-walls that have a lot of character and are run by maybe one owner or chef-owner. I'm much less drawn to places with enormous design budgets and lavish cocktail menus and so on. Once and awhile yes, but week to week the ones I mentioned are what I'm more drawn to.
How has the transition from Eater to Ricardo been in terms of the style of work?
It's a complete 180. Eater was a lot of spontaneity, day to day. I'd write and publish stories the day of. Ricardo, there's none of that. We're working on three issues at once sometimes. It's not atypical for us to know what we are doing a year and a half down the road. It's a different way of organizing yourself.
The big difference too is that at Ricardo, I have a team. We're a team focused on a single goal of setting out a magazine every couple of months. At Eater, it was pretty much just me. That's a huge adjustment.
Do you prefer that, being in a team versus being a lone wolf?
I like change. I like the discovery of a new challenge. That's what I like about Ricardo. I've also always loved print, so it's nice to work on a print magazine. There's also something nice about the challenge of translating Ricardo's vision into English Canada, a new market that he's trying to break into. That's one of the responsibilities on my shoulders, to move the magazine to have greater success in Toronto and westwards.
How do you find being a predominantly Anglo food editor or writer in Montreal?
The great thing about it is that I get to work in one of the best food cities; that's wonderful. It has its challenges but I'm bilingual, which is a big asset. You sometimes find yourself in an enviable position of knowing the Quebec market because you grew up here, but also having one eye on what's going on in the rest of Canada and the U.S. That's not to say that unilingual Francophones are insulated from that, but there is a bit of an insulation there with the linguistic barrier. As a bilingual Anglophone, there's a bit of an advantage, that sometimes you can play up.
What is it about Mile End in particular that draws you to the neighbourhood?
I've lived everywhere in the city. You can name a neighbourhood and I've probably lived there. I think I always had an eye towards the Mile End because I have roots here. I'm Jewish on my mom's side. She grew up here with five siblings. My grandparents grew up here, my great grandparents grew up here. I've always had a strong sentimental attachment to the neighbourhood.
When I moved here I was still working from home. This is an ideal neighbourhood for that. It's so full, so alive, with a great density of cafes and restaurants. It's also a great walking neighbourhood. I'm a walker, so this is an ideal place to be.
How would you describe the food scene in the area?
I think it's pretty cutting edge. I was giving an interview recently after Ruth Wilensky passed and I don't think you can call yourself a great food city unless you have some old established places that have stood the test of time, and then a mix of newer places like this that draw a lot of people. That's what I like about Mile End, it's kind of a microcosm of Montreal. You have places like Wilensky's, this old Jewish lunch counter, and then you have a new Jewish lunch counter like Hof Kelsten. Then, you have Larry's, which is whatever you need anytime of day, it's open and doing it really well. You don't have to walk very far to find a great meal.
You mentioned Montreal as "one of the best food cities". For you, what puts Montreal on the map?
It's that old cliché that everyone whips out. It's the fact that it's so unique, linguistically, in North America. You have the influence of French culture here and I think that's helped create a strong chef culture, restaurant culture. Our cooks and chefs are always really well trained, we have great cooking schools here, we have a great stage system with restaurants in France. The ease of cross-pollination is beyond anywhere else in North America because of the language. That creates a real talent pool that gives us a leg up.
We've got some great classic restaurants, and we've got new meccas of food. People come here specifically to eat at Joe Beef, or Au Pied. When you're drawing tourists in just to eat at a specific restaurant, that's a sign.
From low to high end, it's a pretty strong food scene. I think there are a lot of things, economically, that are sad about our city; it's always by the bootstraps. We may not have the lavish openings that some other cities do, but that definitely makes us scrappy. I think we punch above our weight in terms of the size of our city and the economy we have. That can only benefit the customer. I think it can be frustrating as a restaurant owner, but for clients, it's great.
Ian Harrison's top spots: breakfast and lunch
If it's breakfast, I'm usually here at Larry's. If you ask me where I go for lunch, I'm probably here too. It's so close to me, it's such a wonderful place to have next door. I love their breakfast sandwich when I'm feeling really hungry. I usually substitute smoked salmon for sausage, but what makes it is their homemade English muffin.
Ian Harrison's top spots: classics
I love L'Express and Leméac, they're classics. I also love any restaurant that Joe Beef owns; I'm going to the new one [Vin Mon Lapin] tonight.
I often fall back to places that I like. I love Nora Gray. It's such a strong restaurant. They came from Joe Beef where the X-factor has always been their service. The service at Nora Gray is exactly what you want, and the food is just delicious. They don't fuss around too much.
Ian Harrison's top spots: local haunts
When I want a random beer in my area, I go to Snack N' Blues. Sometimes I'll go to Maïs with my daughter for tacos, but I recently had tacos at La Capital in Chinatown. Man, that place is amazing. Olive and Gourmando in Old Montreal is terrific. And I love Hof Kelsten.
Ian Harrison's top spots: coffee
Coffee-wise, I like this place [Larry's] obviously, but I also like Pikolo a lot. You know where I send people to a lot too is Café Parvis downtown. It's so in the pocket of what that area needed, I'm surprised that no one did it earlier. Whenever I'm in the area, I will stop in for something.
Ian Harrison's top spots: pho
I love pho, this is a great pho town. If I get a nice bowl of pho, I'm a happy camper. I like Pho Tay Ho on St Denis, we go there a lot.
Ian Harrison's top spots: Middle Eastern fare
I love Sumac, it's one of my favourite restaurants in town. I can't believe I didn't mention Sumac yet. I could eat Sumac once a week, easily. I love that food.
Ian Harrison's top spots: overall
I'm always looking for a nice hole in the wall that's serving something authentic and different. I love Thai Sep on Jean Talon. They have part of the menu that's clearly catered to unadventurous white people, but that's not even in their wheelhouse. But what they do really well is Northern Thai food. They make the most amazing fermented sausages that are out of this world. They do a dry cured beef that's almost like a jerky, and larb, the Thai dish with rice in lettuce wraps. It's not much to look at but it's so good. I'm always looking for places like that.