What does it take to produce 700 bûche de Noël, or yule logs, over the course of the holiday season? For Patrice Patissier, it means months of preparation, hundreds of pounds of chocolate, and countless hours spent baking cakes, preparing fillings, and assembling buche. We sat down with Patrice and his partner Marie-Josée to learn about the intricate process from start to finish.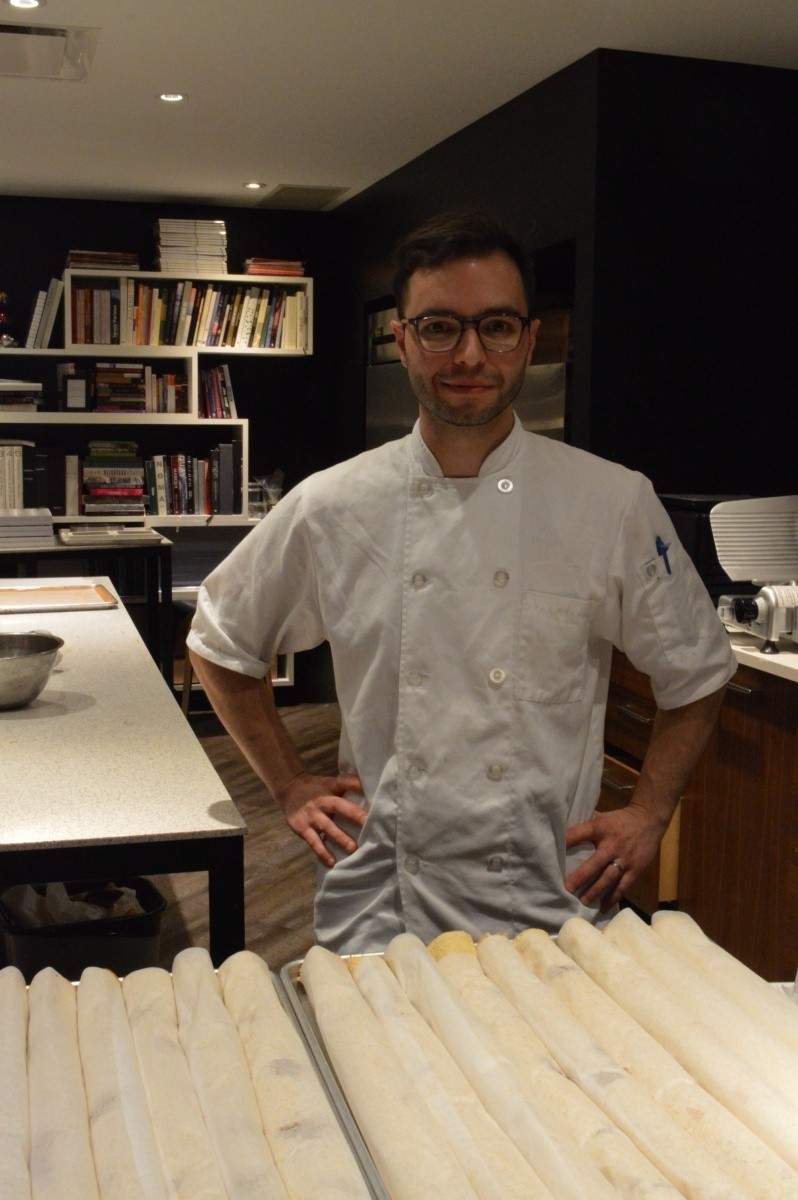 The beginning
By the end of August, beginning of September, Patrice Patissier has already pre-ordered all of the Valrhona chocolate they will require come December. In total, they will end up going through about 180 kilogram of chocolate. To give you a visual, that's almost 200,000 100-gram chocolate bars that's typically offered at grocery stores. In other words, it's an insanely large amount of chocolate.
Come fall
Recipe testing and experimentation for each of the three varieties of bûche that Patrice offers typically starts in September and October. Patrice explains that he gets his inspiration from various forms of food-related media: blogs, magazines, restaurant critiques, and general trends in the culinary realm. He notes that he typically doesn't get too crazy with his bûche. "With individual pastries, I can be a bit more adventurous but during the holidays, you want something that everyone will like." This year, the flavours that they landed on are a chocolate banana bûche, a coffee praline bûche (Patrice's signature one after three seasons of bûche production), and a lemon white chocolate bûche.
Off to the races
After pictures of the finessed bûche are taken by mid-November, the yearly flavours are released to the public, and the phones start ringing with excited customers eager to place their orders. Bûche production itself starts by December 1 at the latest. Patrice makes so many bûche that they actually have to rent an extra freezer to keep behind the shop to store all of the individual components. In case you had any preconceived notions about what the production would look like, let me elucidate you on a few things. First of all, producing 700 bûches one by one would be impossible, and frankly, terribly inefficient. Rather, Patrice and his staff will spend entire days exclusively preparing individual components for each bûche. "We spent a whole day just doing banana cake," Patrice explains. Then they might spend a day doing the caramel banana cream filling, followed by the lemon cake, then the lemon curd, and so on.
This way once they have a stockpile of each individual component, they can assemble dozens of bûche all at once. By December 15, about two-thirds of the bouche mise en place is complete and ready for assembly. "The bûche are always finished the night before the customers want to come pick them up," Patrice says. Some bûche are requested fresh to be consumed right away, and other ask for their bouche frozen to save for later in the holidays.
The other important aspect of freezing is that it is a necessary step for some of the techniques involved in making each bouche. Freezing allows for them to retain their shape in order to be properly unmoulded. For components like chocolate mousse, it's crucial that they are firmly set before unmoulding, otherwise you're likely to end up with more of a "soup de Noël" than a "bûche de Noël." Any given component is only frozen for a maximum of two weeks so the quality does not degrade and the technique demands this step.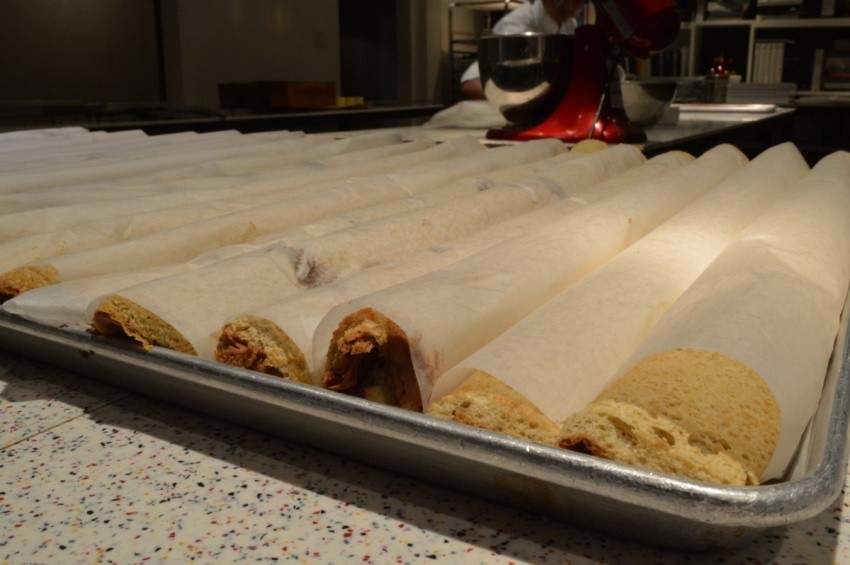 The nights before Christmas
Marie-Josée estimates that about 140 bûche will go out the door on December 23 and a whopping 300 bûche will be picked up on December 24.
"I'll be at the shop from 6 a.m. on the 23rd until 2 a.m. on the 24th getting everything prepared," Patrice says. "Then I will grab a couple hours of sleep and be back at 5 a.m. on the 24th."
Luckily, he's not alone. Regularly, his team includes four other people, but during the holidays, he doubles his kitchen staff with the addition of commis and stagiaires. When asked about the hardest part of preparing bûche de Noel for the holidays, Patrice says that it's definitely the quantity. "We've got so many people you have to be constantly checking to make sure that mistakes aren't being made."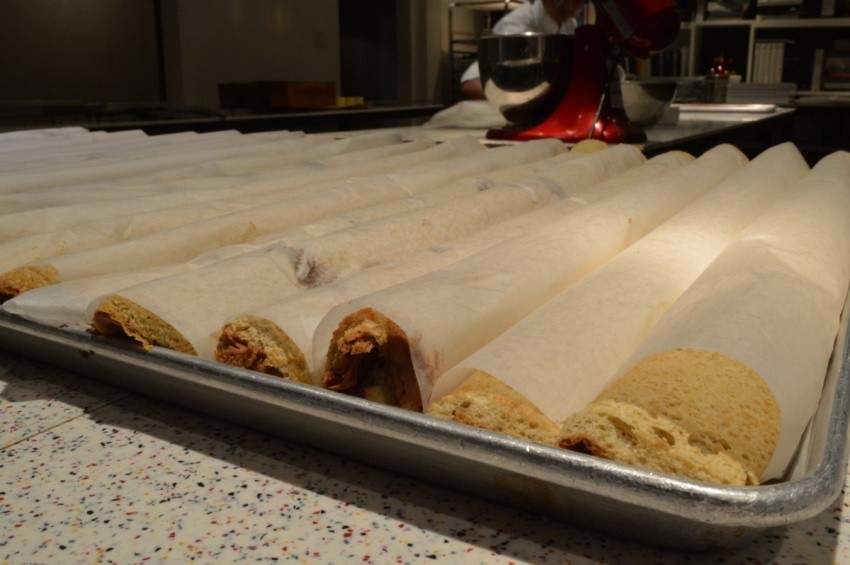 Something as simple as forgetting to add gelatin to a batch of mousse will prevent it from fully setting and ruin the batch, but it's an error that could go unnoticed until the customer cuts it open and it pools out onto the plate. Consistency can be difficult to achieve, but after three years of bûche production, they are basically a well-oiled machine by now.
"On the 24th, we will have a separate table set up just for people coming to pick up their order," Marie-Josée describes. A runner will be racing back and forth grabbing the bûche needed for all of the arriving customers, each of which is listed alphabetically in her meticulously organized binder and spreadsheets. "I call it my master sheet," she laughs.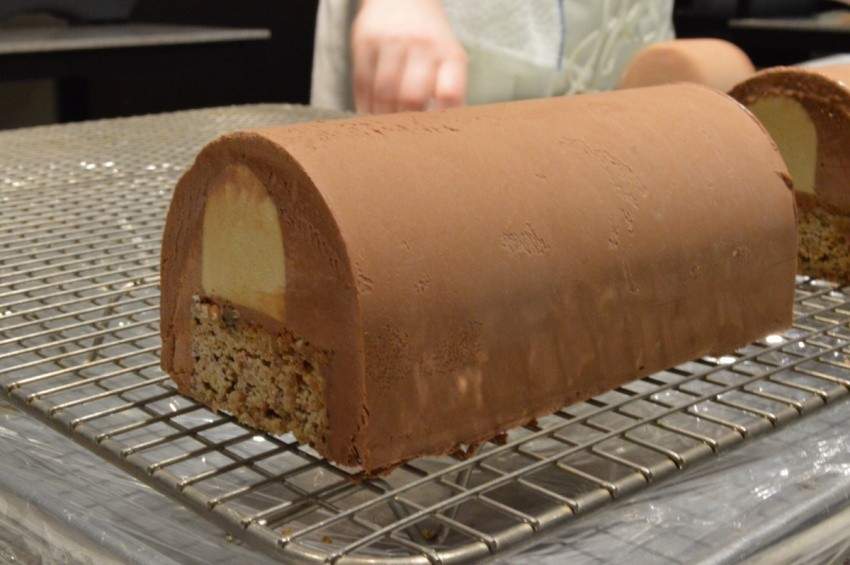 The aftermath
Once Patrice, Marie-Josée, and the rest of the staff are finished pumping out desserts for the holidays, they will close the shop and take a much-needed break. "We're going to travel somewhere warm and sleep," they joke. It's a well-deserved rest no doubt after supplying holiday joy in the form of sugar and chocolate to thousands of Montrealers.
*To order your bûche this holiday you can go to Patrice Patissier at 2360 Rue Notre-Dame Ouest or call 514-439-5434. This year they are offering:
1. A coffee praline bûche with hazelnut cake and milk chocolate chantilly.
2. A chocolate banana bûche with buckwheat flour banana cake, banana caramel cream, and chocolate mousse (this one is gluten free and nut free).
3. A white chocolate lemon bûche with lemon cake soaked in lemon syrup, lemon curd, and white chocolate mousse infused with clover.
All bûche come in 2 sizes, a small which feeds 6 ($36) and a larger which feeds 10 ($60).