The biggest conundrum for Laura MacLeod in opening her new concept TOA After Dark, an evening counterpart to her popular bakery, was what to call it. It's not a café, and not exactly a restaurant. It's certainly not a bar either, rather, it's somewhere in between them all.
MacLeod jokingly refers to it as "the evening situation".
The entrepreneur is well known in Halifax for her bakery The Old Apothecary (TOA), which opened back in 2015 and has a cult-like following for its wide array of delicious baked goods. In January, she moved her bakery from its original location on Barrington Street to the historic Alexander Keith's building on Lower Water Street, in the heart of the waterfront district. When she first looked at the location, she realized the back kitchen–double the size of the one she was working in–could work perfectly for a small restaurant.
Upon signing the lease, the plotting and menu testing began. After almost three months of refining menu items and wine pairings, MacLeod was ready to dive in. But this is 2020; the year of COVID-19. The year of delayed plans and dashed dreams.
The government of Nova Scotia declared a state of emergency and essentially shut the province down on March 22, two days after she received her liquor license. It was a swift blow to the gut.
Luckily, she is not one to let adversity stand in her way, pandemic included. After initial pandemic-related delays in the spring, MacLeod finally opened up TOA After Dark in October with the help of her daughter Katie. Her daughter–who MacLeod says has been instrumental in the TOA journey–also manages the bakery and the brand.
With a seating capacity of just 14, TOA After Dark is small. In addition to its size, the bakery-by-day-drinks-by-night concept offers something different for Halifax.
Laura's menu for TOA is eclectic, there is no particular theme or order, and relies on things she simply enjoys. It's seasonal and local and sees ingredients sourced from some of her favourite producers like Hutten Family Farm, Ratinaud, Getaway Farmers & Butchers, and Liquid Gold.
Of course it features her baking in a variety of dishes, like challah with the chicken liver paté, focaccia with the mushroom soup, and baguette which replaces the bowl of her twist on french onion soup. Her knack for pastry shines in savoury dishes like her tomato tart, and in sweet dishes like the mille feuille. The food here is all presented well, neither fussy nor formal, but with flavour and finesse, something she's known for.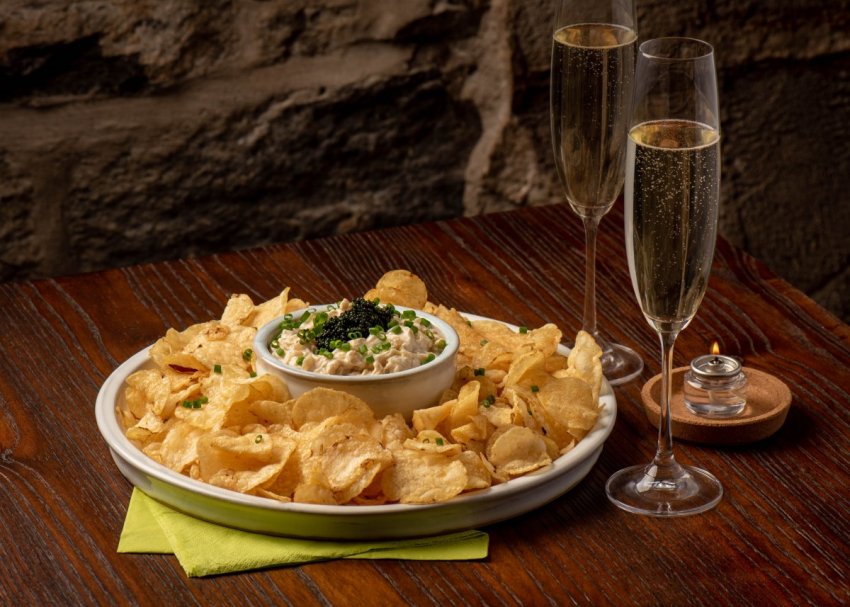 photo by Michelle Doucette.
The menu also boasts nods to her childhood with a "fancy" French onion dip–an upscale homage to the Kraft dip her grandparents used to prepare every Christmas–and to her travels by way of a crème brûlée infused with tonka bean, something which she first discovered in Paris.
Was she nervous about opening a spot during a pandemic?
"Hell yeah," she says, adamantly. "Sometimes you just have to bloody go for it."
And so she has.