If you're not being blasted daily with subscription ads for meal kits on Facebook and Instagram, do you even exist?
Like most living, breathing humans, come dinner time, you're tired, strapped for time, perhaps missing key ingredients, fresh out of ideas, or maybe just not all that great of a cook to put a proper meal on the table.
Congratulations! You're a meal kit company's dream.
Meal kits are easily one of the hottest food trends right now. What better tool for people who still want the satisfaction and reward of cooking, but want to reduce the prep time and squeeze more activities into their lives?
In case you've been without Internet for the past five years, here's how it works: you sign up for a weekly delivery of pre-portioned ingredients and step-by-step recipes, all ordered online, and they get delivered fresh to your doorstep. The best part? The meal can usually be whipped up within 30 minutes or less. Although they are convenient and align with the growing digital food world and app culture, they can be pretty pricey. But so far, convenience seems to trump cost for many customers.
The meal kit business is among the fastest growing food segments in the Canadian marketplace. According to a recent study conducted by The NPD Group, the meal kit industry in Canada has roughly doubled since 2014 and is expected to exceed $400 million in the next year as the segment continues to experience dramatic growth.

Around back to school season, there is a rise in usage by Canadian families. In fact, 67 per cent of the meal-kit users surveyed described their lives as hectic, and cite convenience as a key factor in ordering them. The research states that households with children have tried meal-kits at double the rate of those without. The kits also strongly appeal to men, who come in at 62 per cent of the users.
Each of the 20-ish Canadian companies playing the game offers a different variety, quality, freshness, dietary preferences and price, but ultimately, the gist is the same. Kits are being marketed with any and every buzzword that might connect with any given customer: Chef-inspired, sustainable, low carb, dietitian-driven, paleo, local, farm-to-table, healthy, hormone-free, high-protein, vegetarian.
To add to that, while not exactly in the meal kit market, other businesses are popping up around the country, capitalizing on the informed consumers desire for sourcing local, healthy ingredients, all conveniently delivered straight to their door, just not in the form of an entire meal.
So, if you're thinking, "Yup, send me a box yesterday!" then here are a few of the big players to check out in Canada.
Goodfood
Based out of Montreal, Goodfood delivers from coast to coast. It's currently rated number one in Canada in terms of meals delivered per month, and holds the highest recipe rating in the country. To stand out above other meal kit companies, it elevates their recipes with unique ingredients such as globe carrots, black garlic, chioggia beets and green jade rice that can be hard to find in most grocery stores. This challenges subscribers to cook with new ingredients and eat outside of their wheelhouse. It also recently introduced a premium recipe collection called L'Artisan. Each recipe features a high-end protein like filet mignon, New York strip steak, and lobster at a much lower cost than what you would pay at a high-end restaurant, so you can experience the luxury of epicurean cuisine from the comfort of home.
Chefs Plate
Chefs Plate launched in 2014 in Toronto and now delivers across the country. It heavily emphasizes farm-to-table eating and supports a sustainable food system by building direct partnerships with local farmers and suppliers. It promotes responsible farming by giving customers access to some of the freshest, highest quality ingredients at great value and take pride in helping to eliminate wasteful steps in the food chain. It has even partnered with like-minded celebrity chefs like Vikram Vij and Ned Bell to create responsible, sustainable and restaurant-worthy meal kits for their members. In another effort to stand out in a fast-growing competitive market, Chefs Plate recently partnered with MasterChef Canada to bring winning dishes from the hit show into consumers' kitchens.
Hello Fresh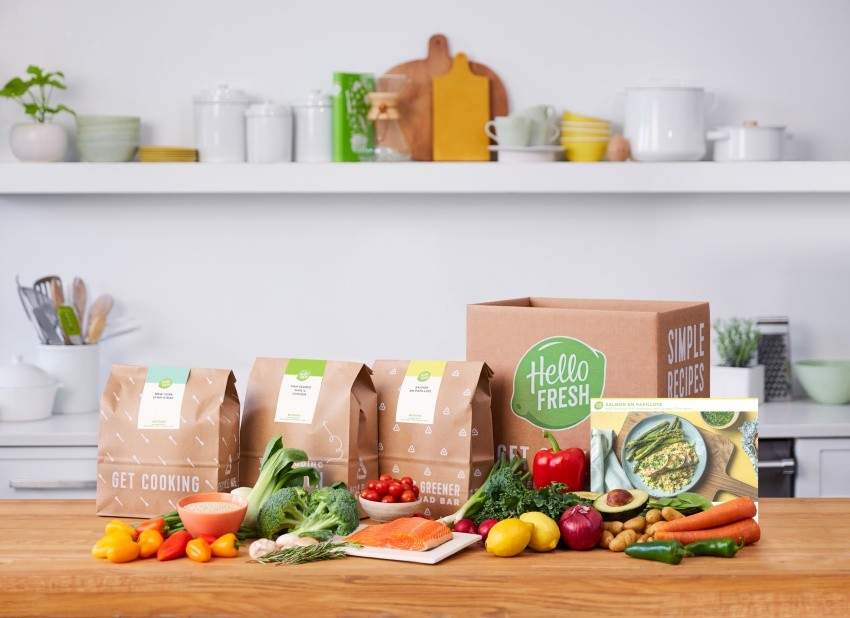 Although technically not a Canadian company (founded in Germany), Hello Fresh opened a Canadian distribution center in Edmonton in 2016. To appeal to the local market, it works directly with local suppliers to deliver fresh produce, antibiotic-free meat, and local or sustainable fish that's nearly a week fresher than grocery store products.
"This is the food that we prepare and share with our families and friends, using the highest quality, locally-sourced ingredients, which lead to the most delicious meals," said Ian Brooks, CEO and founder of Hello Fresh Canada. "There is no denying that many Canadians are skipping the trip to the grocery store."
Based on where you are ordering from across the country, the majority of ingredients in your kit will come from that province, with the goal of shortening the supply chain from producer to customer as much as possible. HelloFresh uses many small, local retailers who are well-known in certain regions but not necessarily from coast to coast. The distribution of the meal delivery boxes gives said suppliers a broader geographical reach and customers across the country a taste of what's going on in other cities. For example, anyone from Calgary knows that Spolumbo's Fine Foods & Deli and Byblos Bakery are beloved culinary landmarks, and they're currently on Hello Fresh's supplier list, thus receiving more national recognition.
Fresh City/Fresh Meals
Fresh City can't get any fresher. The Toronto-based farm and e-grocer is a certified B Corporation and the largest organic grocery and meal-delivery company in Canada. The company runs two farms in Toronto and sources directly from more than 80 farmers and makers across Ontario. It has recently joined the meal kit game, a natural progression as the demand for convenient yet healthy dinner options has risen drastically. It has launched a new line of made-from-scratch organic meals called Fresh Meals: all chef prepared, nutritionist approved, and delivered across the Greater Toronto Area. In addition to meal kits, Fresh City delivers produce, recipe kits, salad jars, smoothies and hundreds of groceries, including artisanal bread, certified-organic milk, local free-range eggs, and fair-trade coffee.
MeatMe
Co-founded by Top Chef Canada alumni Trevor Bird, Meatme.ca connects consumers to a network of local family farmers in B.C. who raise their animals on natural pasture in a very honest and humane way, using natural feed, and never using antibiotics, chemicals, or hormones. It provides consumers with easy access to local, high quality, ethically-raised meat products and have recently broadened this vision by partnering with Haida Wild fishery, giving customers access to wild, sustainably-caught fish from the waters of Haida Gwaii.
"We don't see meal kit companies as direct competition," said co-founder Victor Straatman. "Consumers are definitely looking for more convenience in how they run their households, but are mainly getting more conscious about the food they are eating. Meatme is servicing a growing group of people who want to eat healthy food and understand how that food has been produced."
The Vancouver-based company allows you to buy specific cuts or subscribe to a Meatme box. Products are flash frozen, vacuum sealed to maintain freshness, and portioned for easy family dining. It currently services southern B.C. but has plans to eventually expand to other regions in North America.
truLOCAL
Much like Meatme, Kitchener-based truLOCAL is filling a niche for a very specific demand across Ontario (and have recently expanded to Alberta) from educated food consumers looking for sustainable, locally-sourced and high-quality meat delivered to their door in convenient and affordable ways. The company offers fresh boxes with a wide range of choices, sourcing everything from bison to wild-caught salmon to grass fed beef burgers to whole, free-run chickens. Because the meat comes refrigerated, customers don't need to be home to receive the order.
"We started truLOCAL as a way for people to easily access locally-sourced meat products across Ontario," its website states. "If you're already with an amazing farmer or butcher, perfect, but for everyone else still looking for an alternative to the grocery store, you've found the right place."