Her name means lightning in Hindi, and after spending a few minutes with Damini Mohan, you know that her parents—although they couldn't have possibly known at the time—chose the name well.
Damini and her family left behind the food-centric city of Lucknow in Northern India for Canada in 2003. As she matured, she experimented with cooking the food of other cultures, leaving the cooking of traditional Indian dishes up to her mother, father, and brother.
In 2012, government cutbacks left Mohan with no job and a lot of spare time on her hands, the hours of which she filled with cooking—not Indian, but Mexican, Chinese and Thai food. The lack of job opportunities worried her and daily, she expressed her concerns to friends and family until one day her niece heard enough.
"We're tired of your tears. Start doing something with your cooking!"
A cousin chimed in, and convinced Mohan to put her culinary talents to use.
"The next day, I told my mom we were going to make Indian food and sell it at the farmers' market. She thought I was crazy."
But, lightning, as one knows, charts its own course, and it's best to just stay out of its way.
Mohan got down to business learning the family recipes for kebabs, chana masala, pakoras, samosas, and naan bread. Thai curries, whose ingredients are like those found in Indian cuisine, also made their way into the lineup. In 2012, she launched Mini Kitchen, and invested $2,000 in permits, booth rental, and food to be a vendor at the city market in city hall from November to May.
"We made $198 that first day. We had no signage, no tablecloth, just fresh food. The concept of frozen food never even entered my mind. Why would I sell frozen food if I could offer it fresh?"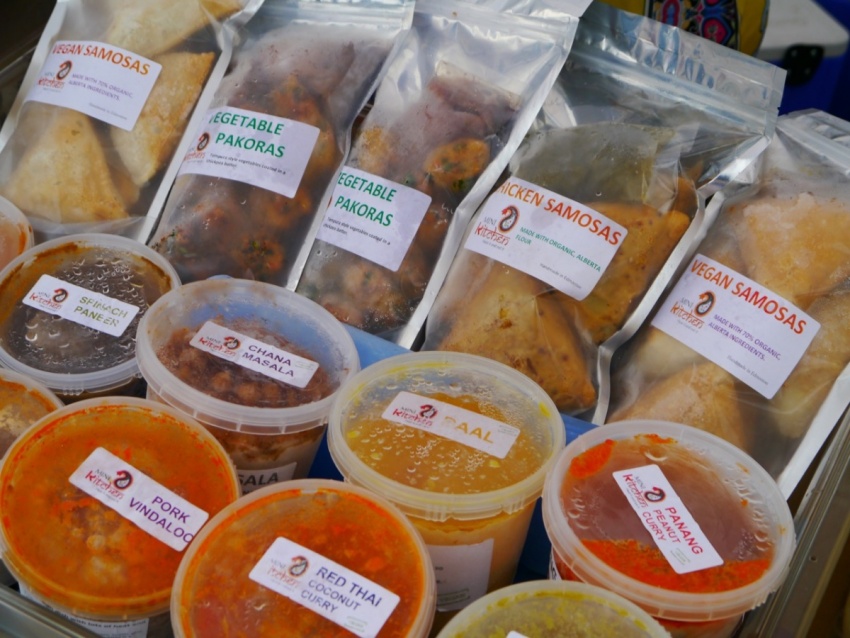 The farmer's market gave Mohan a quick lesson in understanding customer wants and needs. She realized people liked the convenience of taking home frozen food and having it at the ready when they needed it. She also realized people liked butter chicken, a dish she was morally opposed to making.
"It's not a traditional Indian dish but one invented for the North American palate. I wasn't going to make it, but a year later, there I was selling butter chicken. Sometimes you need to give the people what they want."
The butter chicken is one of her best sellers. You'd be hard pressed to find anything that doesn't sell well, in fact, Mohan now sets up at several farmers' markets (including Red Deer and Fort Saskatchewan), and 10 retail outlets province-wide.
You'll find her mom there, too, smiling at her daughter's success, and at the public's acceptance and demand for their items made with (mostly) local, organic, and non-GMO ingredients.
Check for Mini Kitchen products at Amaranth in Calgary and Edmonton, or have the products delivered to your door in Edmonton through SPUD, and Alberta through The Organic Box.
Butter chicken for everyone!