With the opening of The Butchery by RGE RD, partners Blair Lebsack and Caitlin Fulton are hoping that some old-world charm will help ease the stress of what has become our new normal.
Thanks, COVID.
Fulton and Lebsack, owners of the award-winning Edmonton restaurant, RGE RD, opened a 4,000 square foot butcher shop on November 18, a few months later than planned due to delays caused by–surprise, surprise–the pandemic.
"We've been fielding a lot of calls and doing take-out boxes for a while," Lebsack said while giving a small group a tour of the shop. "We take that as a good sign that customers are as anxious to open as we are."
While many people will still have groceries delivered or ordered online from big corporations, Lebsack and Fulton are confident that a good number are ready for a personalized experience.
"We want to provide an antidote to this digitized life. We want shopping here to be an experience where it's about unity; where you can interact with people," adds Fulton.
Along with strict safety protocols in place, the spacious room allows for proper social distancing. You'll want to get up close and personal, though, with the Wall of Meat where hunks of beef in various stages of dry ageing are presented like pieces in a jeweler's showcase.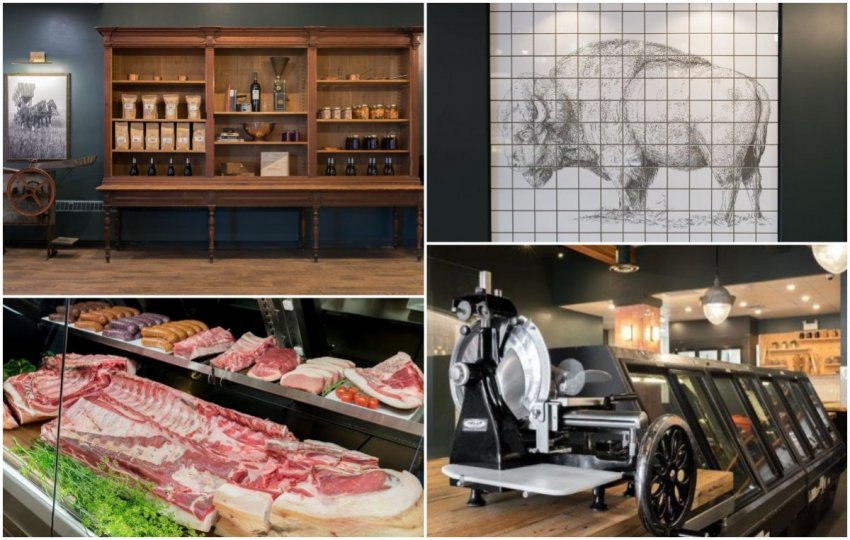 Three glass-fronted cabinets display mounds of sausages, rows of shmaltz (rendered animal fat), rillette, pate and locally made cheese along with proteins with cards showing their provenance: Lakeside Farmstead beef from Sturgeon County; Nature's Green Acres pork near Viking, Alberta; Paradise Hills bison from Barthel, Saskatchewan.
Need fresh-baked bread? The Butchery provides that, as well.
The sum of the details, both large and small, make this new butcher shop a space you want to spend time in. From the smoky teal paint on the walls, to the family heirlooms and pictures placed throughout, and the nearly 7 ft x 7 ft tiled bison display on the wall, there's a look to take in outside of the meat-filled glass cases.
For those requiring a grab-and-go lunch, fresh sandwiches and soups are offered daily, and frozen items like tourtière, sausages, savoury pot pies or homemade broth will help to make quick work out of dinner any day.
The open space is made cozy by warm woods and antiques including a general store-like cupboard packed with canned goods and Gold Forest Grains products for sale.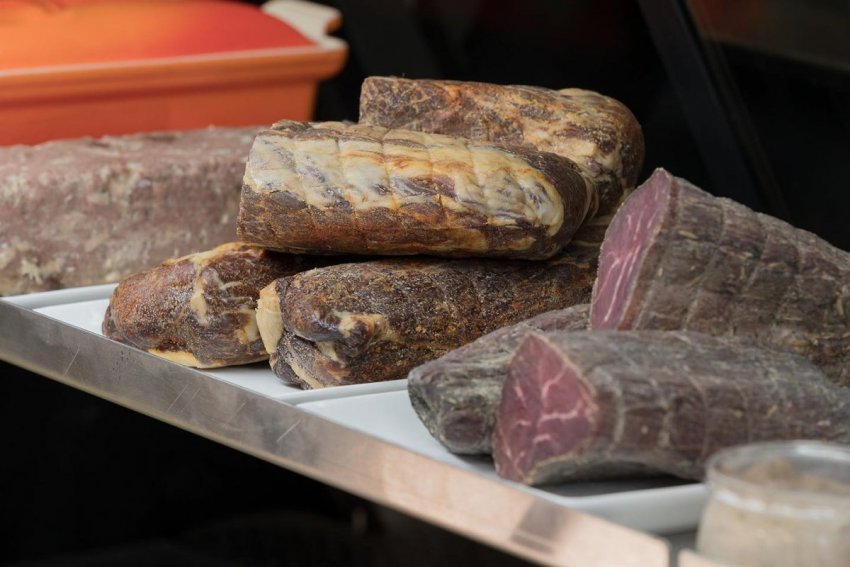 Wine and beer will also be available here soon. Yes, Butchery is licensed, so not only will you find bottles of wine for purchase (expected to be available by Christmas), but you'll be able to sip on wine and beer while you wait for your roast to be tied or capicola to be sliced.
"We wanted to create a European vibe that Blair and I experienced in our travels," Fulton explains.
As I sit here, properly distanced from the others during this preview, I really do feel like I've been transported to Europe.
Ah, yes, to dream.
The Butchery by RGE RD is open Tuesday to Friday, 10 a.m. to 7 p.m., and Saturday 10 a.m. to 4:30 p.m.