After one too many Cognacs at a New Year's Eve party, restaurateur Kevin Cam and his friend, Justin Hill, tossed around the idea of opening a cocktail joint that served small plates of Asian food. By the end of the night, they were planning their dream venture—one that would marry the best features of their favourite restaurants: Dailo in Toronto and Bao Bei in Vancouver. That was two years ago. Today, their dream will become reality with the opening of Baijiu in the Mercer building on 104 Street.
In China, Baijiu is the name of a common liquor. In Cantonese, the word means booze, so when Kevin and Justin were thinking of a name for their new venture, Baijiu seemed like an obvious choice. What customers will need to know is that the name is pronounced as if you're saying goodbye to your dear friend, Joe, as in, "Bye Joe".
Inspiration for food, drink and aesthetics came from a few research and development missions that took place in Japan, Hong Kong and Shanghai. It was the seedy old-world speakeasies that made the biggest impressions on Cam and Hill. They returned to Edmonton armed with ideas and inspiration. A vacancy in the historic Mercer building provided them with the perfect canvas for their masterpiece. Renovating the 110-year-old space, however, caused endless stress for the duo. Cam and Hill found out that the city has very strict rules and regulations for people wanting to kit out a commercial kitchen in a historical space.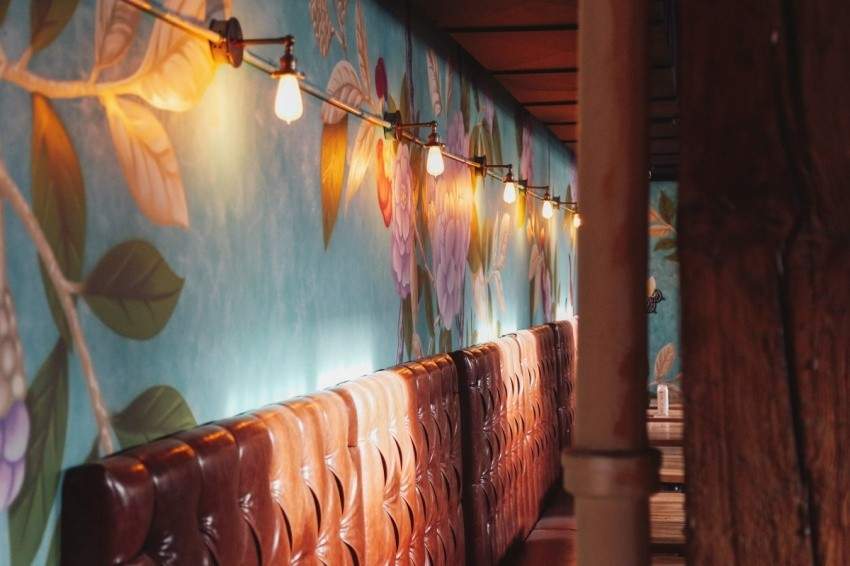 Now that it's all said and done, both are elated with the results. The room is a mix of old and modern; 1930s Shanghai meets 2016 Ice District—not too many places can make that claim. An entire wall is covered with a hand-painted peacock mural by a Spanish tattoo artist; a long wooden bar seats 25; hot pink neon, low lighting, Victorian era floral wallpaper in the washroom; a painting of a 1920s pinup girl at the end of a hallway; the air is heavy with incense and intrigue, and then there's the food.
Cam extols the virtues of head chef, Alexei Boldireff, who, he says, is a natural fit for Baijiu. Boldireff's understanding of the flavours and nuances of Asian foods is unparalleled. His savoury dishes like spicy stir-fried cabbage, Sichuan confit chicken, char siu fried rice, XO squid noodles, and whole fried perch will appeal to those peckish or famished, and the fried bao ice cream sandwiches and five-spice mandarin orange pavlova are perfect for people Jonesing for something sweet.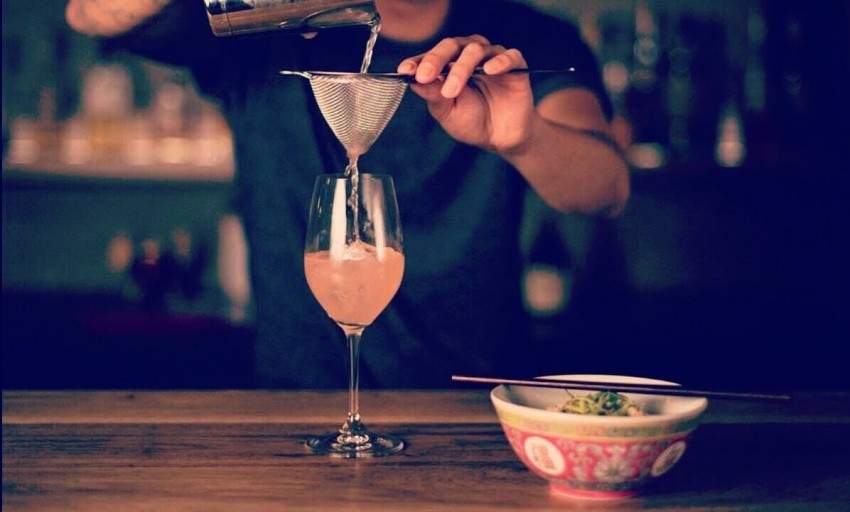 If its booze you've come for, take a seat and hang on. Head cocktail creator, Tommie Cheng, has curated a very intriguing libation list meant to pair with the flavour-packed plates. The Nipo-Brasileiro wowed this crowd during a test run. We loved the fruitiness of the papaya puree and lime, the heady pandan syrup and plum bitters, and the cha-cha-cha of the cachaça base spirt. Get ready to get down with the cognac based Kowloon Shakedown, or the Happa/Grappa Flip that combines sake, scotch and honey grappa. Baijiu's tagline, by the way, is "keeping it boozy", and they certainly are with these concoctions that have been made to pair with the food—or, your mood, or that sexy sequined number you might want to wear. Baijiu's cocktails go with pretty much everything.
Food and cocktail-loving Edmontonians have been chomping at the bit, waiting for Baijiu to finally open its doors. We're tired of delays; we're tired of waiting. We're tired of permits and paperwork and bureaucratic red tape barring our way. As Andrew Braham, a far-away fan from Chicago, so aptly stated on Facebook, "Why can't the city just let bye Joes be bye Joes?
We know how you feel, Andrew.
Baijiu is set to open Wednesday, February 1 at 10359 – 104 Street. Find them on social (Instagram or Twitter: @baijiu_yeg) for more information.