Alex Bruveris wasn't quite sure what to think of the girl wearing a "dishwasher shirt, hilarious black leggings and a bandana like Tupac" when he walked into the kitchen of Enoteca Sociale, a Toronto trattoria regarded by many as one of the best Romanesque restaurants in the city.
He had recently worked in an upscale catering company where white jackets and tall hats were de rigueur. This girl, a sous chef, he was told, surely couldn't be taken seriously.
Oh yes, she could, and boy, did she show him how.
That girl with the bandana a la Tupac, was Edmonton-born and NAIT Culinary Program-graduate, Becky Ross, who was helping to run one of the busiest restaurants in the city, pumping out 250 covers each night.
"It took about three minutes for me to realize she was good—incredibly good, not just at cooking but managing people as well."
The two hit it off, and when Bruveris found a job at the Mediterranean restaurant, Malena, Ross followed. A brief interlude in 2013 on the show, Top Chef Canada, had the couple in separate kitchens, but when Ross exited the show (of her own volition), she and Bruveris were side by side again finding each other jobs around Toronto that offered them—according to Bruveris—"varying degrees of success and happiness".
They considered opening their own restaurants but real estate in Toronto was so high they simply couldn't afford to set up shop.
Meanwhile, back in Alberta, Ross's dad noticed a restaurant for sale in Elkwater, a community in Cypress Hills Provincial Park. The Landing had survived by serving mostly deep-fried foods to a captive audience. The space was old and tired and hardly inviting, but it did intrigue the couple for other reasons.
"The wide-open space of the area was attractive. There is the freedom to create, and unlike anything in Toronto, the price was right."
With all their belongings in a U-Haul, they headed west in the summer of 2014 and set to scrubbing, cleaning and decluttering The Landing in time to open on one of the busiest weekends in July. They renamed it Camp Cookhouse and began to serve the cuisine they loved: simple, fresh, made-from-scratch meals but with interesting and globally inspired elements.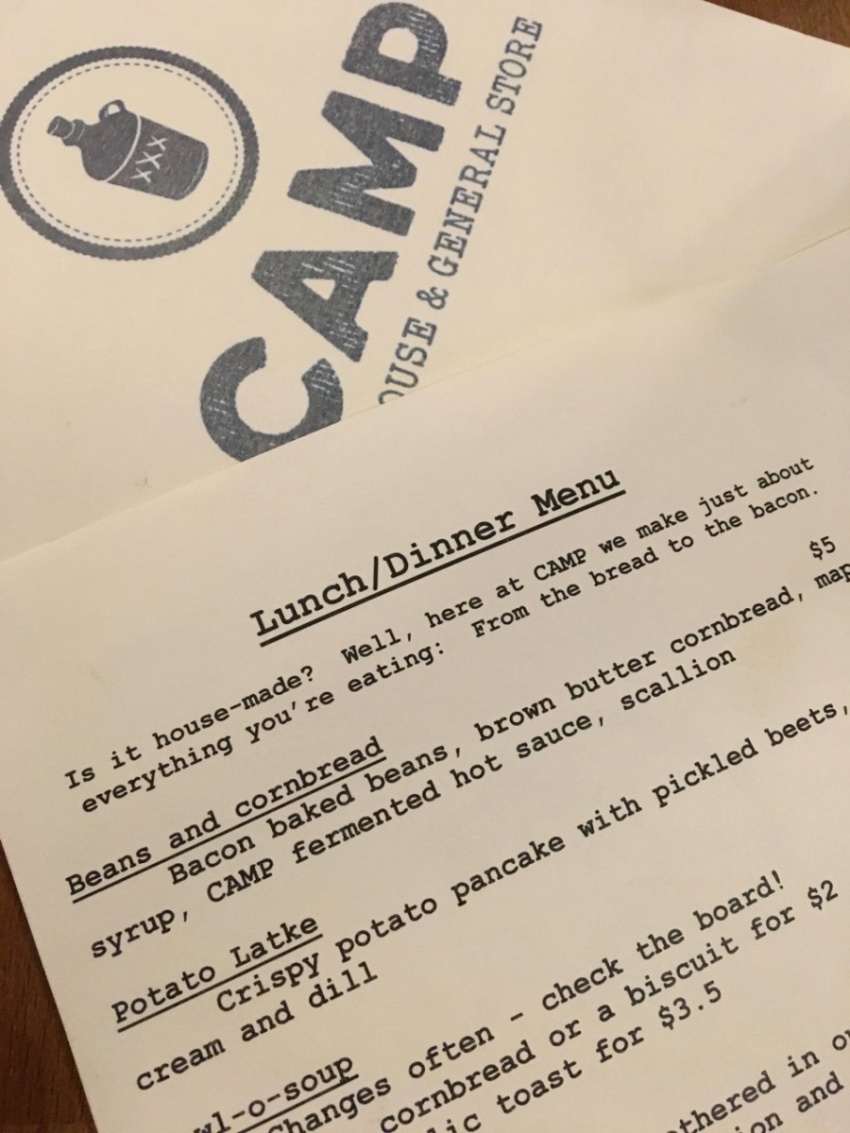 Ross and Bruveris grow many of the vegetables on their quarter section just outside of Elkwater but also source locally and regionally as much as possible.
It is late in October when I stop by. The tables are decorated with pumpkins and Hallowe'en decorations. Fall is definitely in the air.
I start with a salad of arugula, beets and apples all delicately coated in a light vinaigrette. There is deep expression of earthiness in every bite while pickled mustard seeds lend a mildly acidic jolt with each pop. The salad is refreshing and exactly what I need after driving for six hours from Edmonton.
Ross brings a small cast iron skillet containing a sizzling chickpea pancake called socca, a street food inspired by her travels through France. Next up is a succulent pork chop with a golden crispy fat cap snuggled up to a mound of luscious mashed potatoes, fresh garden carrots and peas. I feel like I'm 12 years old and sitting in Grandma's kitchen.
I'm moaning my appreciation to Bruveris, who is visible beyond the kitchen's pass. Ross stands at my table with hands on her hips and her three-month-old baby strapped to her chest in a fabric sling. "We want to serve food like it's meant to be served. Like you've just worked a day in the fields, or hiked the back country and are ravenous."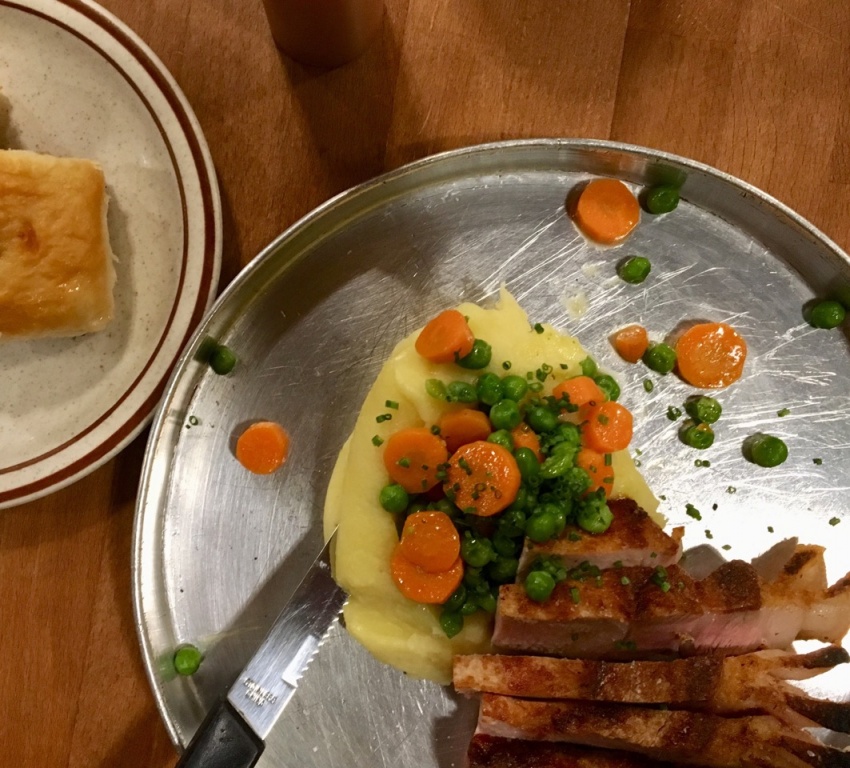 This is good news to me, having just hiked 30 metres from the parking lot to the Camp Cookhouse door. I take her advice and without any guilt whatsoever, eat every bit of that crackly, crispy fatty goodness.
I'm stuffed and in no hurry to leave. The mid-afternoon sun is lowering itself into the hills and shining through the windows of the cozy, wood-panelled room. Before I fall asleep at the table, I force myself to get up and go for a walk. There were a few cabins with "For Sale" signs out front that I noticed on the way in. Seems like a nice place to put down roots and stay awhile.
Find the Camp Cookhouse in Elkwater, approximately 70 kilometres south of Medicine Hat or 600 kilometres south of Edmonton—and totally worth the drive. Go hungry.
44 Lakeview Drive, Elkwater, AB, Canada
(403)-893-3930