If you have spent time in the Similkameen Valley–the tract between the Cascade Mountains just west of Osoyoos and east of Princeton–you'll know well of its captivating qualities. For those of you who haven't, I encourage you to make a point of visiting, especially if you like good wine.
In 1999, George Hanson, newly retired from a career with Northwestel in the Yukon, arrived in the valley intent on turning his dream of winemaking into reality. He bought a 20-acre parcel near Cawston and planted it entirely with Bordeaux varietals. In 2003, with the assistance of Lawrence Herder, a recently transplanted California winemaker, George released his first vintage.
He learned quickly and the vines prospered. A few years later, George built a formal winery and named it after the valley's seven ancient rock formations used by people of the Syilx Nation as landmarks and gathering places. It didn't take long for the wines at Seven Stones to garner the attention, awards and accolades that would establish George Hanson as one of the most respected winemakers in the province.
In 2019, George listed the winery for sale in hopes of retiring and enjoying the spoils of two decades of hard work. He certainly deserved it.
On February 7, 2021, he passed away suddenly from a heart attack and news of his death sent shockwaves of grief and disbelief to all who knew him. He was 63.
"George was one of the good ones," said Christa-lee McWatters, "Everybody liked him." Christa-lee's admiration of Hanson runs as deep as her community roots. She is the General Manager of TIME Family of Wines, a business that stems from the many accomplishments of her father, the late Harry McWatters, a legend in the B.C. wine industry.
My roots are not as deep. I spent a good chunk of my life in Kelowna, visiting my grandparents and parents who moved from Saskatchewan, but it took me until 2013, well after the Similkameen had received its own designated appellation under British Columbia's VQA law, to learn of its existence.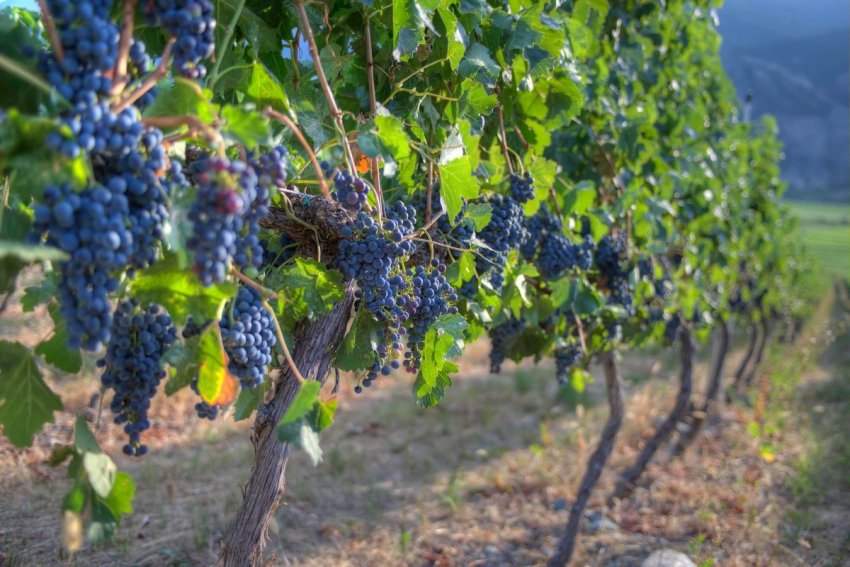 While attending a food and wine event in Osoyoos, I picked up a bottle of Herder 2010 Meritage—made by the same winemaker who assisted George with his first vintage—and was smitten at first sip. The artwork on the label caught my eye but so did the wording, Similkameen Valley, below it. I had no idea where that was.
John Schreiner knew. In 2010, this prominent Canadian wine author had already proclaimed George Hanson's winery as "one of the jewels of the Similkameen" and in 2012, enRoute Magazine called the valley "one of the five best wine regions you've never heard of."
When I asked my B.C. wine friends who I should contact for more information on this mysterious region, the answer was unanimous: George Hanson.
George replied to my request for an interview with an invitation to visit. I drove the 20-minutes west, through the Richter Pass, and found him waiting outside the tasting room with car keys in hand. "Hop in," he said, "and I'll take you for a tour." So, I did.
We headed north from Seven Stones with George providing a history of the area and pointing out wineries tucked down gravel roads. We passed hobby farms and vineyards, and even though it was April and not yet noon, the air was heavy and warm. I rolled the window down and breathed in a lungful of sagebrush and vegetation. It was intoxicating.
We continued my Similkameen 101 lesson over lunch at Benji Thai in Keremeos.
Sitting in a thriving Thai restaurant in an old west-style town titled "Fruit Stand Capital of Canada" by its 1,100 residents was intriguing—but not as intriguing as listening to this ex-Yukoner talk about glacial till and Syilx folklore in a valley many people outside the province didn't even know existed. It was a lot to take in.
George loved telling stories, but he made conversation easy by being open and genuinely interested in what a person had to say. My idea of a growing olives in the south Okanagan was met with an "anything is possible" and years later, when I presented a more conventional business idea, he said that the timing was good, given the amount of attention the Similkameen was getting.
This "attention" he mentioned was largely due to his own relentless championing.
As Chair (and later, member) of the Similkameen Independent Winegrowers (SIW), George tirelessly advocated for its registered wineries and cideries. He also knew that wine production was only one facet of what the area had to offer.
"George was an ardent supporter of the entire Similkameen region," says Christa-lee McWatters who sat with George on the boards of both the Okanagan Wine Festival Society and the Thompson Okanagan Tourism Association (TOTA). "But, beyond that, he continually raised this whole industry to a world class stature. Dad had huge respect for anyone who did that."
Michael Clark, current Chair of the SIW, says one of George's most admirable qualities was his belief in the collective force to improve the Similkameen wine industry.
When Michael first looked for land to purchase for wine production, he researched the subregions of B.C. and queried George about the Similkameen landscape.
"He struck me as a thoughtful and sensitive person," Michael recalls of that first conversation with George in 2012. "He was forthcoming with info, and very giving of his time. I'm not sure he'd remember that conversation, but it made quite the impression on me."
After Michael became winemaker and owner of Clos du Soleil, he and George worked together on strategic matters to promote the uniqueness of the Similkameen to a broader audience.
"The wines of the Similkameen have an instantly recognizable terroir. For a winemaker that's what you hope for—to make a unique product that stands out and speaks about the land from where it comes. That happens almost automatically in the Similkameen. You don't need to coax it out; it's very apparent."
This makes me think of my first Similkameen wine, the Herder Meritage, and my second, a flight of Seven Stones with George in his tasting room. There is something to Michael's claim.
While growing conditions in the Similkameen are similar to those of the south Okanagan, the terroir is entirely different. Hot winds, higher elevation and stony, mineral rich soil are responsible for the instantly recognizable terroir of which he speaks. It's what drew George to the area in 1999.
"George was a visionary," says Christa-lee, "He pushed people to think outside the box. If you want to advance an industry, you need people like that."
The caves at Seven Stones, the first of their kind in the Similkameen, are a good example.
The 3,500-square foot space was built to age and store wine in French oak barrels in a humidity- and temperature-controlled environment. Playing soft, classical music 24/7 helped to nurture them, George said when I toured the caves in 2018. The space was also built to cater to his joy of music, food and conviviality. Many a winemaker's dinner and special event were hosted in the caves which were fully equipped with a commercial kitchen and dining area.
George was rightfully proud of Seven Stones and the crew he assembled to make award-winning wine bearing its provenance on the label. He would often say he felt fortunate to live a dream where work felt like play.
His intent was to make noteworthy Bordeaux-style wines, and he did; right from the first vintage with Lawrence Herder, to each Meritage that evolved thereafter along with elegant, single varietals, and the iconic Legend.
The Legend, made from the best of the cellared barrels, was perhaps a foreshadowing of George's legacy, one that now finds its place to settle in the valley, amongst the legends of the ancient Seven Stones for which the winery was named.
The legacy of George Hanson remains in the people who now carry the baton. People like Jesce Baessler, who George hired to work in his tasting room even though she had zero knowledge of the industry.
"I didn't even know the difference between varietals," she says, recalling that April day. What they had in common was a connection that transcended experience, and George knew at once he could trust this young woman from Nunavut.
George's job with Northwestel had him flying into remote communities of Nunavut (Northwest Territories at the time) and the airline he often used was Adlair Aviation. Jesce knew the company well—she not only worked for them, but her family also owned it.
"People of the north rely on each other," she explains, "We had both lived by that rule, and when we realized that, we had an instant bond."
In the ensuing months, George taught Jesce everything she needed to know about the business. "He loved sharing knowledge. He was a wonderful mentor," Jesce says.
Jesce and her (then) boyfriend, Charlie Baessler, later started their own micro winery and in 2015, to expand their operation, acquired a non-operational winery with a grand residence and spectacular view of the valley.
Every community has ties that bind and places like Cawston and Keremeos are no exception. The winery that Jesce and Charlie acquired and renamed Corcelettes was once the Herder Winery, whose winemaker, Lawrence, helped George Hanson make his first wine in 2003, and also the spectacular Meritage that turned my head in 2013.
The B.C. wine industry lost a good man in George Hanson—a skilled winemaker, an earnest listener, a pioneer and a gentle but unyielding advocate.
"I hope he knew that everyone loved him," says Jesce Baessler. "And I don't think he's ever going to really leave this valley—at least that's what I say to console myself. His heart and soul will always be here."
When you visit the Similkameen Valley, please stop in at any of the wineries and raise a glass in memory of George Hanson.