Harold Steves describes his 3,000 square foot home as a museum of all the things his family has always stood for.
"Everything that is here is the same as it was when my father moved in, and it has all just accumulated over the years," Steves says.
Flies crawl over Steves' weathered plaid button-up, but he does not flinch. Nor does he acknowledge the musty smell from remnants of gutted tomato plants his wife, Kathy removes seeds from for hours every day, or the mild odor of manure from the scuffs of his shoes.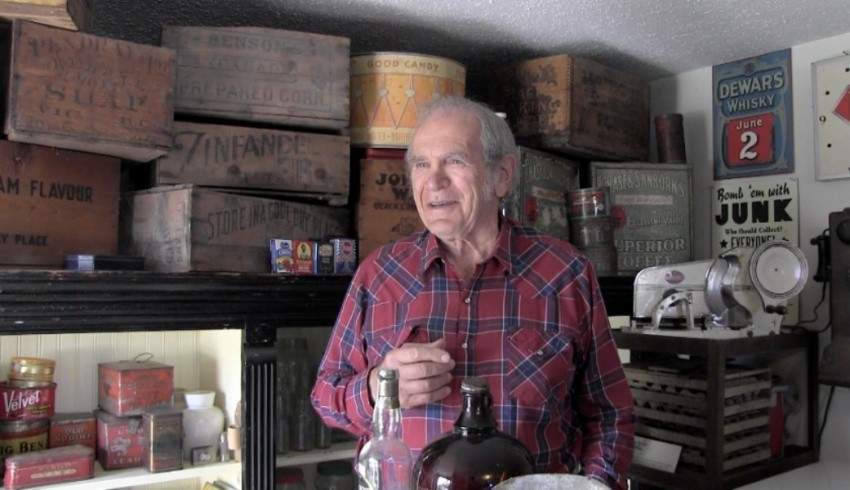 photo by Cass Lucke.
Long-time Advocate
Though he is currently the founder of the B.C. Agricultural Land Reserve and Farmland Defence League and a long-time city councillor, Steves' story began in 1917 when his grandfather moved into what locals now know as Steves Farm, teaching his son everything he knew about farm life, and everything his son would teach Harold.
Steves' commitment to being nature's advocate was sparked the morning his father told him they would need to sell their family's farm after their farm had been rezoned. This meant they had to convert from a dairy farm to a lower-income beef farm, and were soon unable to afford their livelihood.
Before long, realtors, hungry for the profit and housing potential the farm's vast land could deliver began calling, and the lines have not stopped ringing.
Harold received a phone call the morning of Sept. 27; blaring drills and hammering from the construction site next to his home making it difficult to hear the voice on the other end.
"Why would I move to a beach in Florida when I live with my family, in my family home, on a beach in Richmond?" Steves said and hangs up the phone.
Steves walks toward the kitchen where his wife, Kathy, stews a bubbling pot of tomatoes on the oven near neatly sorted beans, ready to be packaged and sold to locals.
"I'm actually conducting an experiment right now," Steves says as he motions toward four chile pepper plants on the window sill.
"Each of these plants have been cared for equally and for the same amount of time, the only difference is the soil they are growing in."
Steves shifts his fingers through the soil of the tallest plant, pointing out one plant that has been growing in good soil from his farmland, and one sitting in sandy soil like what was brought to Garden City lands that Kwantlen Polytechnic University students are set to farm in 2018. The latter is the smallest shrub.
"The intent was to add topsoil to make it more realistic to the soil students will farm in the future if agriculture industries continue the way they are, but look at the difference," Steves swings his arm toward the windowsill.
"I'm going to take a picture of this to show the city. They know they can farm on mediocre land but they don't know how much produce they will be sacrificing," Steves said.
The number of agricultural operations in B.C. has dwindled from 19,759 in 2011 to 17,528 in 2016 according to Statistics Canada's Census of Agriculture. The census also states that British Columbia had the highest incidence of off-farm work, as well as the highest proportion of farms with total sales under $10,000.
"Just over half (51.1%) of farm operators in British Columbia reported receiving a wage or salary from another job or operating a business unrelated to the farm," the census reads.
Michael Geller, a planning a real estate consultant based in Vancouver, says he believes growing food could be viewed as an industrial activity, rather than simply a historic agricultural activity.
"You can have all kinds of automated growing… in enclosed structures," Geller said. "There are lands currently in the ALR that should come out and be put to either industrial or residential use because they are very much surrounded by urban areas."
Geller has previously advocated for two properties to be taken out of the ALR as they were already surrounded by urban areas. He also says, though, that there should be conversations discussing alternatives to growing food on things other than agricultural land.
"There should also be a concerted effort to start making better use of all the rooftops in Richmond, Burnaby and Surrey, which could be used for agricultural purposes," Geller said. "All these single story buildings could, in my opinion, have greenhouses on top of them and you could dramatically increase the available land area."
Limits and Loopholes
In 2010, Richmond City Council tried to restrict house sizes but ran for cover after receiving backlash from landowners and developers, according to Steves. Earlier this year, the city voted to advance the proposed limits of farmhouses on half-an-acre to about 11,000 square feet. Steves says 11,000 square feet is better than having no restrictions at all, but he and Coun. Carol Day rallied for a limit of no more than 5,000 square feet.
"This house, when Kathy and I moved here, for a while we had five children and my mom and dad, and we had nine people in the house, and it's only 3500 square feet and we didn't feel crowded," Steves said.
"We just don't understand why you have to have a big house, bigger than 5,000 square feet, you can get five or six or seven thousand square foot houses in larger lots in Richmond already, so there's no reason to be buying farmland."
Richmond's laws regarding agricultural land, development and rezoning can be found on the city's website and are very specific in regards to what is and is not allowed.
Geller said he believes people have found a loophole in the government's rezoning plan, and views it as a form of abuse.
"It's just like developers will take a little piece of land, put some community gardens on it and suddenly they don't have to pay much in property taxes," Geller said. "These things are outrageous… I'm a developer and I think it is outrageous that we let other developers get away with this."
Steves believes as long as there are public opinion polls feeding politicians, development will continue, but if one was done on farmland, there would be a different outcome.
In July of 2014, The Real Estate Foundation of BC and Vancouver Foundation released the results of a public opinion study on attitudes toward agriculture and food in BC.
The results were the following:
- 95% of respondents say the Agricultural Land Reserve (ALR) should be preserved for green space and growing food.
- 76% either agree or strongly agree that the ALR is important, not only for protecting farms, but also for protecting valleys and green space needed for wildlife habitat and recreational enjoyment.
- 80% are concerned about dependence on other countries for our food security.
- 73% say the ALR is a cornerstone of food security and the BC economy.
When asked what priority uses for land in British Columbia were, respondents identified "natural freshwater systems" (83%), closely followed by "farming and growing food" (81%).
Despite over 60 applications for development on current home clusters and farm properties in Richmond according to the City of Richmond's 2017 Development Application report, Harold Steves and his family's dedication to preserving their family farm won't be changing any time soon.
"My son next door is going to be holding onto (the land) for as long as he can, so hopefully it'll be here for another hundred years," Steves said.
This article was a winning submission in the agricultural production category of our 2018 Rising Awards.