Set in a picturesque area above the river valley, Black Fox Farm and Distillery is the perfect pastoral setting from which to take liquor production back to its roots, the humility and purity of time-honoured traditions.
Owners John Cote and Barb Stefanyshyn-Cote used to own a grain farm in Leask before deciding to take a sabbatical in Mexico and Chile, renting out their farm, for two years. Upon returning to Canada, they continued to farm for a couple of years, but decided they wanted to do something that brings them closer to the customer.
"Grain farming is really good," says Barb, "but you don't have a real handle on who your customer is. You're not selling directly, face-to-face, with people. And that's the human interaction that we really like."
Knowing there wasn't a big enough population base in Leask to carry out their dreams, they sold the family farm, which as Barb notes (and anyone from the prairie knows), "is almost unthinkable." They were lucky enough to find some land in a perfect location on Valley Road outside of Saskatoon.
Black Farm has two major product streams: the distillery and flowers. Flowers are another conversation, but suffice to say that I saw a wonderful set up when they gave me a tour of the operation. It's also worth noting that they use some of the flowers at the distillery, like in making their gin.
Speaking of gin, let's skip to my favourite part--the booze. So, why did Black Fox decide to focus on spirits instead of something like wine?
"We're not wine people," says John. "Marketing-wise, we think the prairies should be known for spirits, because we can grow terrific grain. We lease 60 acres across the highway where they grow the grain for the distillery. We grow specialized varieties just for distilling and you can make some special products. That's where the distillery idea came from."
What sets Black Fox apart is the fact that it grows almost every single ingredient on its farm (it sources one or two locally). Unlike many similar distilleries, it doesn't reprocess spirits that have been made elsewhere; all the alcohol is produced on the farm.
When you walk into the tasting room, you can see the distillery behind glass, a great majestic showcase for the beautiful copper equipment.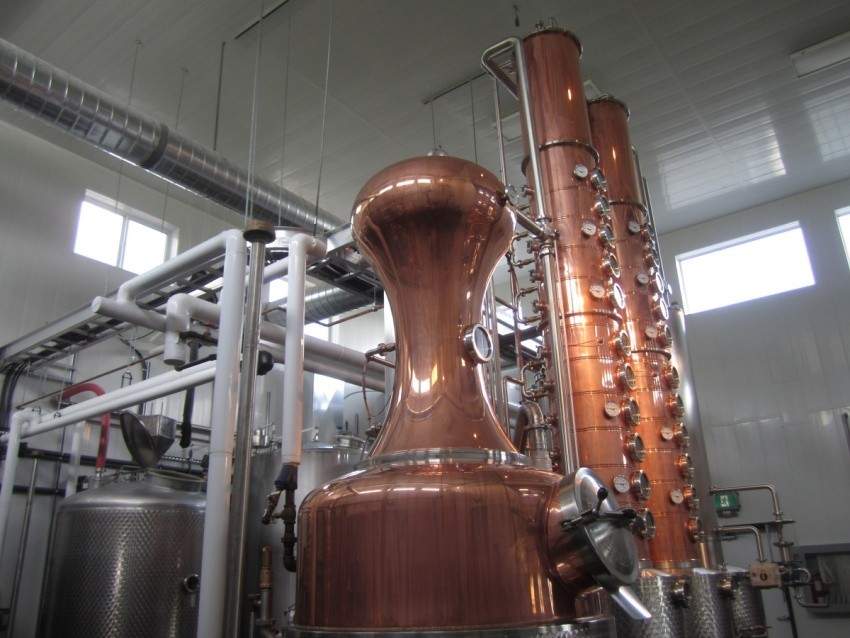 As he shows me the stills, John tells me of oats and vodka, mead and haskap, eventually talking about the core values of what they do. They're very much into being part of the slow food movement, the cool little guy on the corner.
"We like to consider ourselves to be really, really concentrating on the craft," says John.
A lot of people in the food and beverage production industry use platitudes like that. We've all seen the restaurants that brag about being local or farm-to-table, thinking that we don't notice the Sysco truck unloading in the mornings. But Black Fox truly lives it; not only with the farm-grown ingredients that go into its spirits, but also in terms of its standards. Last year, the Cotes made haskap liquor that wasn't to their standards, so they threw it out (well, they repurposed it for fuel).
"If we have a batch that we think is less than stunning," says John, "why would we even think about putting that in the bottle? That's not what we're about. If we wanted to make lots of money, we could just buy [ingredients] and repackage it. That's not where the fun is."
After the tour, though it's only 10 a.m., I can't resist the offer of a cocktail in the tasting room, made from Black Fox gin and haskap berry juice. Yup, the haskaps were grown on the farm. I even tasted some fresh from the ground on my tour. The cocktail is a revelation of flavour, the freshness of the berry in union with the clean, flowery taste of the gin.
Black Fox Distillery products are increasingly showing up at liquor board stores, but I would also suggest the short trip to the farm to see where your liquor was created. After all, meeting you is why Barb and John and their family followed this dream to its delicious fruition.