It's been a long time coming, but the home base of all things Alberta beef (and I mean that fairly fondly) is finally getting a plant-based fast food concept. Perhaps not surprisingly, Calgary hasn't seemed to actively embrace the massive tidal wave that is the vegan food trend. Some might even say that we've tried to buck it, but a trend as strong as plant-based food is going to arrive whether we (Calgary) are ready or not.
V Burger is the brainchild of young entrepreneur Ryan Wesley and will be opening the doors to its first location at 819 17 Avenue S.W. this Saturday. The concept's simple menu consists of things like burgers, "chicken" nuggets, milkshakes and "poutine". Dining at this new vegan eatery wouldn't be classified as completely healthy-eating, but with everything being plant-based, it does make a fast food meal more guilt-free... right?
Sure.
As usual, with plant-based versions of meaty creations, the proof is in the pudding. V Burger's consulting chef Andrea Harling (formerly of Made Foods) has spent months perfecting recipes for the fast-casual spot for burger patties, "chicken" burgers, soft serve and more. And, after having a few bites of this and that, it appears like the chef's hard work has paid off.
Her "Lil cheeseburger" is a cheeky take on one of the world's most recognizable cheeseburgers in terms of looks, but offers a bit more flavour when it comes to an all encompassing bite. The "chicken" burger patties (pictured below) are nearly indistinguishable from what you'd get at a standard fast food spot. I never thought I'd be applauding a vegan protein for tasting remarkably like processed chicken meat with breading and, yet, here we are.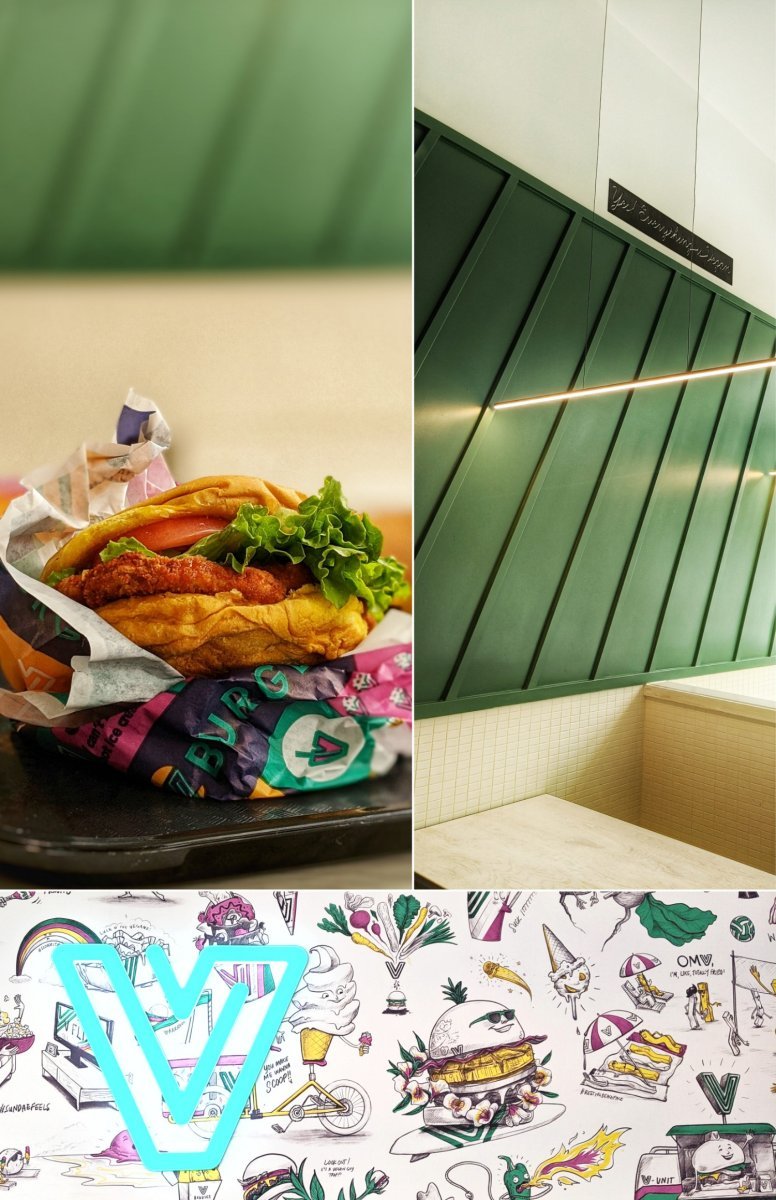 V Burger also gets a boost to its cool factor by way the interior design done by Sarah Ward Interiors (pictured above). White subway tile lines one wall below forest green, diagonal wood panelling, while cool, slender lights beam down on light beech wood table tops. The opposite wall boasts a custom wallpaper with playful illustrations paying homage to all things plant-based.
Did McDonald's ever look this cool?
Jokes aside, I'm looking forward to seeing how V Burger fares in Calgary. Many other major North American cities have had similar facsimiles for several years, if not longer (Boon Burger's original location in Winnipeg was the country's first contemporary vegan burger joint and opened in 2010), but here's to hoping Calgarians will embrace the concept as warmly as it might be in other places.
V Burger opens at 11 a.m. on Saturday, July 11.