Next week, Vine Arts and Victoria Park Business Association will present the inaugural Shake, Stir and Strainbow: a fun-filled LGBTQ2+ fundraising initiative in Calgary in support of the Skipping Stone Foundation. This fun, Pride-inspired fundraiser cocktail campaign involves 30 restaurants and bars across Calgary and will run from Saturday, August 18, 2018, until Sunday, September 2, 2018.

During Shake, Stir and Strainbow, patrons can order unique cocktails from great establishments like Model Milk, Una Pizza, Anéjo, Ten Foot Henry, Brasserie Kensington, Cannibale, River Café and many more.
"One of the things I love most about our restaurant community here in Calgary is how willing people are to work together and support one another. We have an amazing cocktail community and a cocktail culture that's growing stronger every day," says Jesse Willis, proprietor, Vine Arts Wine and Spirits. "I'm excited to see the creativity and ideas that the participating bartenders come up with and to work together to help support a great cause. I love this city and Pride is always an amazing time of year!"

One dollar from the sale of each feature cocktail between Aug. 18 and Sept. 2 will be donated to Skipping Stone Foundation, a Calgary-based not-for-profit organization whose mission is to support and empower trans and gender diverse youth and their families in the province of Alberta.

"As an entirely volunteer-run organization, it's been so amazing for us to see what's possible when folks come together. Through that unity, we've been able to send extremely vulnerable youth, who are often isolated, a strong message that there is a whole community of people standing with them," says Lindsay Peace, co-founder of Skipping Stone Foundation. "As a result of that generosity, we have been able to provide youth with desperately needed services and resources such as mental health and medical services, social and community-based support and so much more. Timely access to desperately needed and essential services is making the difference between life and death for many of the clients we see."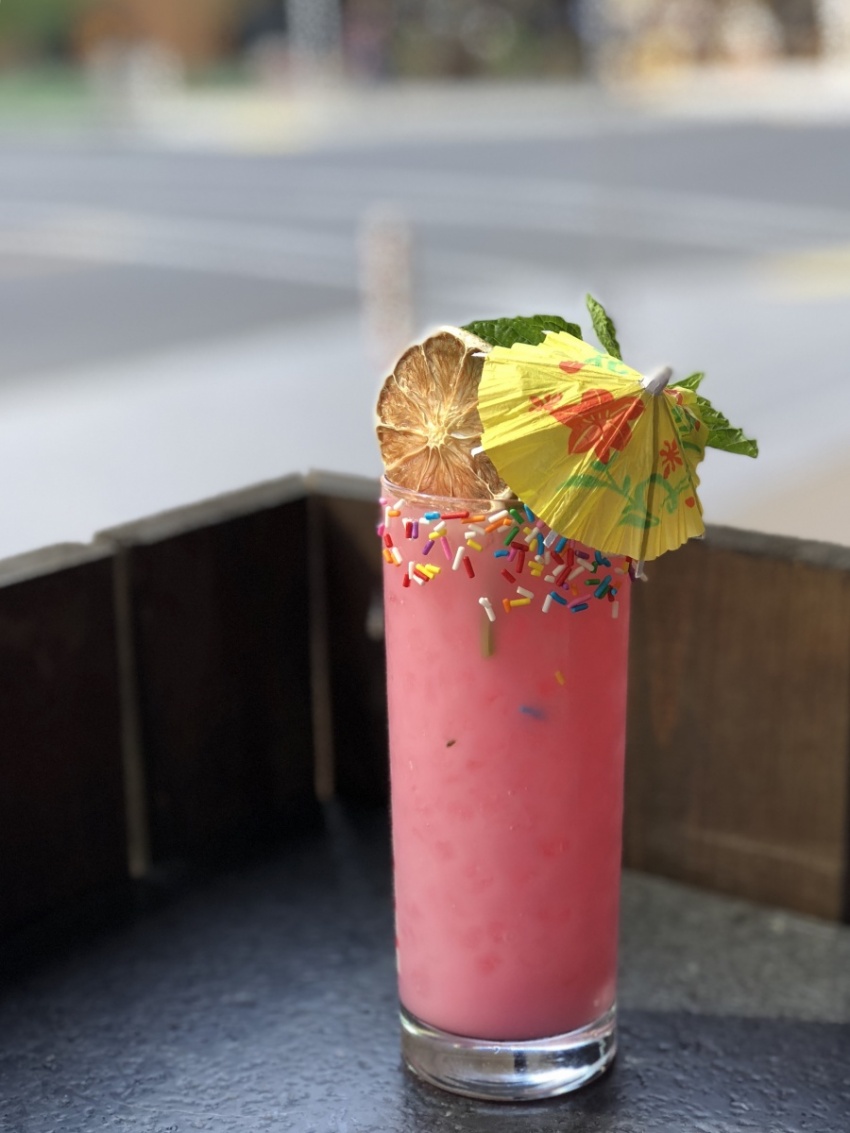 With equal parts liquor and love, the drinks that have been created like the "Miss Vanjie" cocktail by Proof bartender Makina Lebrecque (pictured above) are bright, fun and full of Pride! Come and sip away to promote diversity, respect, and equality in Calgary, and to do it colourfully for a great cause!

A complete list of participating restaurants and bars can be found at victoriapark.org and featured cocktail recipes can be found here on EatNorth.com throughout the month of August.
People are encouraged to get involved in the conversation on social, sharing pictures and thoughts about the feature cocktails around the city using the hashtag #tastethestrainbow.