It was announced today that one of Food Network Canada's top-rated shows, Top Chef Canada, would be returning as of April 8th. Following last year's popular all-stars format (which saw Calgary's Nicole Gomes as its champion) and a return to the show's regular format, this sixth season featured a line-up of 11 young and formidable chefs, including Vancouver's Felix Zhou (chef/owner, Heritage Asian Eatery), Jinhee Lee of Foreign Concept in Calgary, Ross Larkin of the acclaimed Raymonds in St. John's and others.
Like in previous years, the chefs will be cooking off against one-another in a series of challenges to win $100,000 cash from Interac, a $25,000 Monogram-equipped kitchen, and a new prize of $5,000 worth of Cuisinart products has been tacked on as well.
Eleven seems like a bit of an unusual number, though, especially considering that all previous seasons featured anywhere from 12 to 16 competitors. It makes you think of shows like Big Brother or RuPaul's Drag Race where competitors have been introduced while the competition is already in play, or times when previously eliminated competitors are given a shot at redemption. We'll have to wait and see what happens, but after chatting with the show's executive producer, it doesn't appear that either is the case.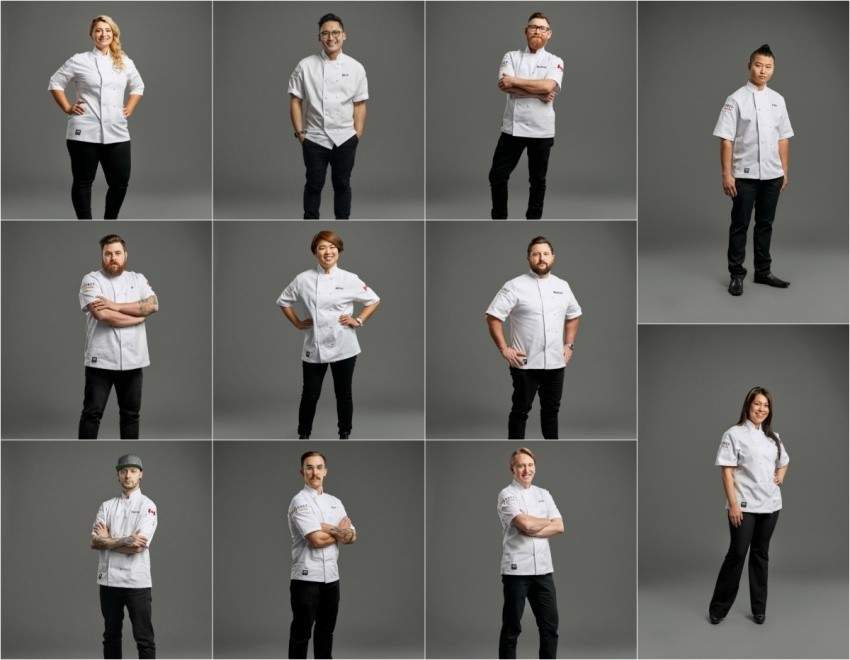 "Choosing the cast is a complicated process that involves finding the right balance of talented chefs that represent the right skill level to be competitive in the competition as a whole. We feel the cast we've put forward will dazzle and impress the judges with what they create week after week," explains Top Chef Canada executive producer, Mark Lysakowski. "After all of these seasons, we [decided we] don't want to overcrowd the kitchen just for the sake of putting chefs on the show... We still want to tell their stories."
Filmed in late fall 2017 by the Insight Productions, who has handled the Canadian franchise of Top Chef since day one, vice president Lysakowski seems more excited for the this new season than ever before.
"On the heels of a great all-stars season, we wanted to take the show back to its roots, [which was] finding the next generation of chefs and tell their stories as they compete for what we consider is the most prestigious culinary competition in the country," explains Lysakowski on their casting process for Top Chef Canada. "When you look at the series as a whole and what it's done in terms of helping launch the careers of so many talented chefs, [I think] it's great we are going back to the original version."
The judging panel for this year consists of the same four experts: chef Mark McEwan, Chris Nuttall-Smith, Mijune Pak and restaurateur Janet Zuccarini, as well as returning host Eden Grinshpan. In addition to these familiar faces, celebrity chefs like Lynn Crawford, Toronto's Rob Gentile (Buca) and Nicole Gomes will appear as guest judges throughout the season.
Eat North will also be launching its own (though unofficial) Top Chef Canada podcast beginning April 2nd. Hosted by Edmonton writer Phil Wilson and Toronto writer Emma Waverman, the series will feature exclusive behind-the-scenes interviews with producers, judges like Mijune Pak, eliminated competitors and more.