I'm not sure I fully realized what exactly I was getting into when I started planning a fundraiser drag brunch in the spring of 2018. After a couple of preliminary meetings with the director of Calgary Pride, the Eat North team and I started to assemble a structure for Drags Benny. The initial success of the brunch event last June allowed us to venture outside of the city, first to Winnipeg, then Edmonton and soon, Victoria. The last nine months have been a wonderful whirlwind of creative food, drinks and artistic drag performances.
Now, we have the opportunity to bring it all home. Well, to my hometown anyway, of Saskatoon.
On behalf of Eat North, I am genuinely elated to announce that we will be bringing our unique concept Drags Benny, a lively pop-up drag brunch in support of Canadian Pride initiatives, to Saskatoon this May. The brunch will be held on Sunday, May 5, 2019, inside the much-celebrated Remai Modern on the city's riverfront.

The dynamic event will begin at 11:30 a.m. on Sunday, May 5 with a morning cocktail and brunch canapé hour on the Remai Modern's second level atrium, followed by a multi-course brunch by Shift Restaurant inside the museum's beautiful event space. Talented bartenders on-site will also be serving up an innovative and vibrant brunch cocktails using Lucky Bastard Distillers spirits, which will draw inspiration from the drag artists taking the stage during brunch.
Headlining the final stop on our inaugural Drags Benny tour (don't worry, our second "season" will begin in late June) is the Chicago-based celebrity drag queen, Laila McQueen. The performer is best known for her appearance on season eight of the Emmy Award-winning reality competition series, RuPaul's Drag Race. Since her time on one of the world's most popular television shows, McQueen has become a favourite among Drag Race fanatics.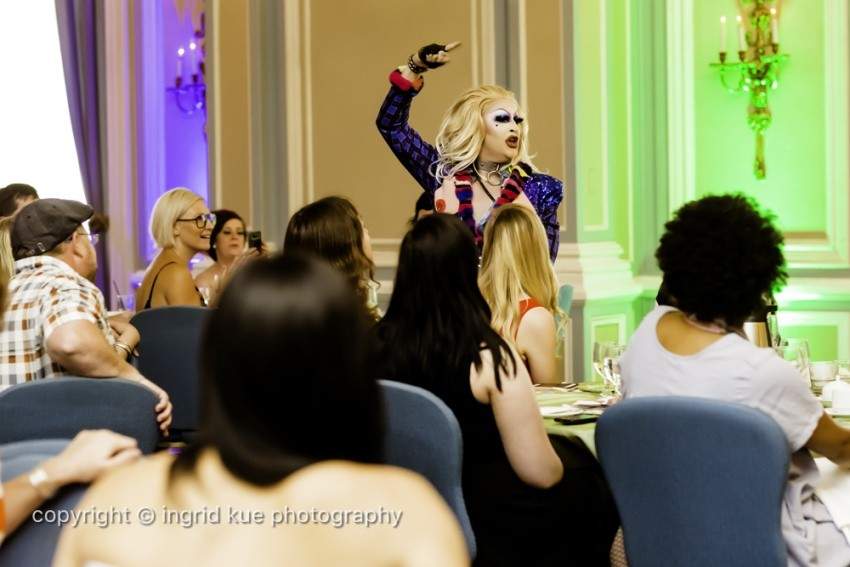 "I've loved getting to explore Canada with this brunch event series over the past year," says McQueen. "I'm happy to have headlined this tour and helped to raise money for important local causes. Alright Saskatoon, let's drink all the mimosas!"
Canadian talents performing with Laila McQueen are Saskatoon drag queens Iona Whipp and China White as well as drag king Stony Mac and Winnipeg's Satina Loren.
"As a restaurant group, we are very committed to supporting the local community whenever possible, " says John Costanzi, food and beverage director for Oliver and Bonacini in Saskatoon. "I jumped at the opportunity for us be a part of this event to help raise awareness and funds for Saskatoon Pride."
Like usual, the brunch will also feature a 50/50 raffle and a silent auction full of interesting culinary packages, such as a brunch for four at Shift Restaurant and more. All proceeds from the 50/50 and silent auction will go towards Saskatoon Pride in addition to partial proceeds from ticket sales.
General tickets start at $65 (includes welcome cocktail, canapés, brunch and performances) with VIP tickets starting at $80 (also includes premium seating, limited edition Laila McQueen illustrated print and a VIP meet-and-greet experience with McQueen and local performers).
People are encouraged to join the conversation on Instagram and Twitter using the brunch series hashtag #dragsbenny and tagging @eatnorth, @remaimodern, @shiftresto and @OUTtv.