After a successful premiere in Calgary in June in support of Calgary Pride, Eat North's LGBTQ+ fundraiser brunch, Drags Benny is heading east to Winnipeg this fall. The all-ages event will kick off at 11:30 a.m. on November 4 with a morning canape hour, followed by a three-course plated brunch, created by the Fairmont Winnipeg's executive chef Tim Palmer and VG restaurant chef Daniel Davyduke. The brunch will also feature a cocktail menu with unique drinks inspired by each drag performer.
"We are pleased to partner with Eat North to host their Drags Benny fundraising endeavour this year," says Mr. Jean-Francois Vary, Fairmont Winnipeg's general manager. "The LGBT community is a vital part of our city's fabric and we are proud to support it. This event also fits well with our brand dimensions, as diversity and inclusion are at the heart of AccorHotels' core values. And besides that, it's going to be a lot of fun!"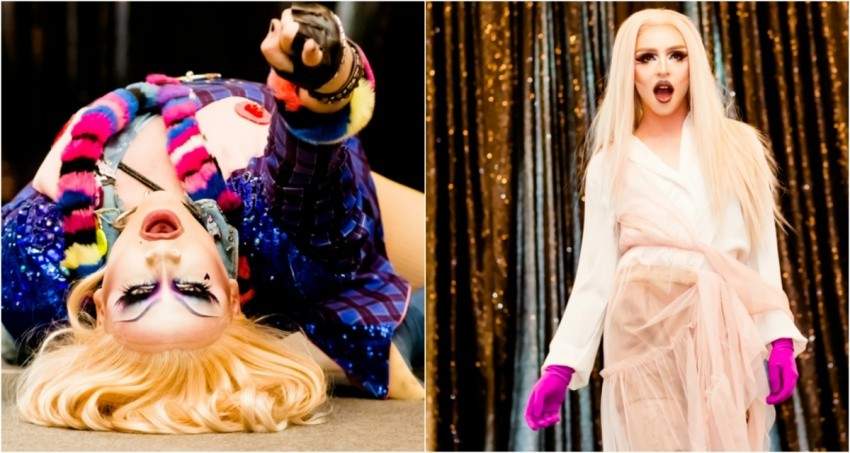 Laila McQueen and Perla Coddington performing during Drags Benny Calgary on June 24, 2018.
Headlining the drag performances for the afternoon will be Chicago's Laila McQueen. The talented performer rose to international fame after appearing on season eight of the Emmy Award winning reality competition series, RuPaul's Drag Race. The local talent set to perform alongside Laila McQueen are Satina Loren, Cake and Lita Takeela, as well as Calgary's Perla Coddington.
"It was an honour to be a part of the inaugural Drags Benny in Calgary and I'm so excited to go to Winnipeg to perform alongside the city's top drag performers," says Coddington.
Winnipeg's Satina Loren is equally excited for the event. "Drags Benny is sure to be a great event! Brunch, drag queens and fundraising for Winnipeg Pride? What's not to love?"
The unique brunch event will also feature a silent auction of one-of-a-kind packages, such as exclusive overnight stay in a Fairmont Winnipeg luxury suite with a dinner for two, prepared by chefs Palmer and Davyduke. All the proceeds from this auction will go towards Pride Winnipeg.