It's not too often a little mountain town like Canmore, Alberta sees an exciting new culinary business opening its doors, but it certainly did in late November when a renowned Edmonton-based chocolatier opened up shop. The town was, and still is, rightfully abuzz because Jacqueline Jacek and her almost-too-beautitul-to-eat creations at Jacek Chocolate Couture have been celebrated in numerous publications from Avenue to Canadian Living, and many in-between.
"We used to go skiing over New Year's Eve in the Rockies when I was a kid, so have many fond memories of being in the mountains," Jacek explains on her decision to open her third shop up in Canmore. "It is such a joyful little town, and I am always filled with happiness when I am there. It has been a dream of mine to have a business in Canmore, and I am so excited to have found a perfect space within Stonewaters Home Elements."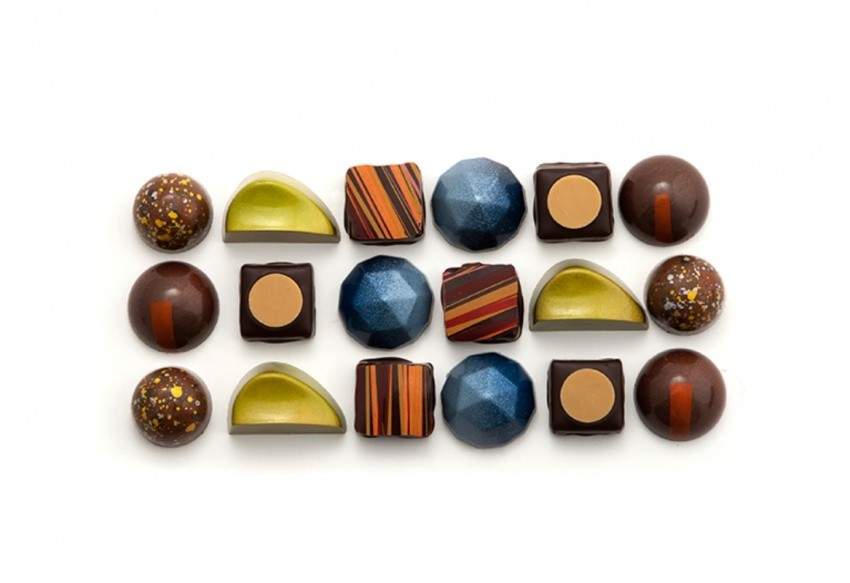 Jacek's approach to creating chocolates takes inspiration from how fashion designers debut their collections, in the spring/summer, fall/winter format. The blue-hued confections (pictured in the collection above) from her newest line hold an Earl-Grey-infused milk chocolate ganache and are encased in painted dark chocolate. It's a fun take on things and one that keeps Jacek inspired throughout the year.
After 2017 kicks off and the Canmore shop is on track, the hard-working chocolatier is planning to unveil a series of chocolates that are exclusive to her Rocky Mountain location. Will they be worth the drive? It's too early to tell, but if you've bitten into any of her edible works of art before, the answer will likely be yes. Well, at least for Calgarians anyway, seeing as how driving to Canmore from downtown Calgary can take only as long as driving to the city's deep southeast neighbourhoods.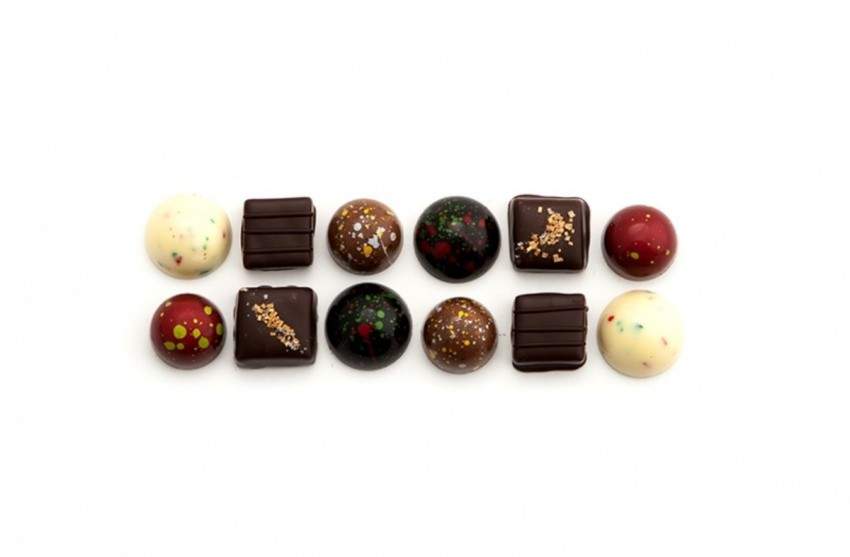 The current holiday collection features a miniature version of Jacek's famous "Claus bar": peppermint white chocolate with chunks of candy cane (top left and bottom right)
Until the specialty mountain chocolates make their debut, Albertans can expect the same skillfully speckled truffles, bars and even an advent calendar. (We may be a few days into December already, but when eating chocolate, it's always pretty easy to catch up.)
After spending more time in Canmore while opening the new Jacek Chocolate Couture location, she's clearly gotten excited about what the small, but mighty food scene offers.
"The food scene is one of the many reasons that I think Jacek is a great fit [here]. I think it's a foodie town filled with gems like The Trough...Great new eateries such as PD3 by Blake and Where The Buffalo Roam have just opened. The focaccia bread at Bella Crusta alone is worth the drive! I love how you can be in the majestic Rockies and still have many options for great food, which is especially rewarding after a day hiking or skiing."