Nineteen years ago, calling someone's drink "gay" at the bar was an insulting siren call for bystanders to laugh at what's in your hand. Trust me, I remember sipping on Rev when it first hit the market almost 20 years ago, not that the "gay-ness" stopped my teenage self from drinking it, obviously. These days, the "gayest" drink in the room is usually the most fun one and one well worth sipping.
Speaking of things queer and potent, a couple of bartenders from Vancouver are looking to spread the good word of diversity and inclusivity through their cocktail Instagram, Bitter Queens. With the art of drag as their muse, the two are serving up some imaginative cocktail ideas that capture your attention and help acquaint you with the spectrum of artists that make up the drag community.
Hospitality colleagues and friends, Olivia Povarchook (Juke Fried Chicken) and Tiago de Souza Jensen (St. Lawrence), originally met while working together at Vij's and got to know each other quickly, but it wasn't until 2018 that they really bonded.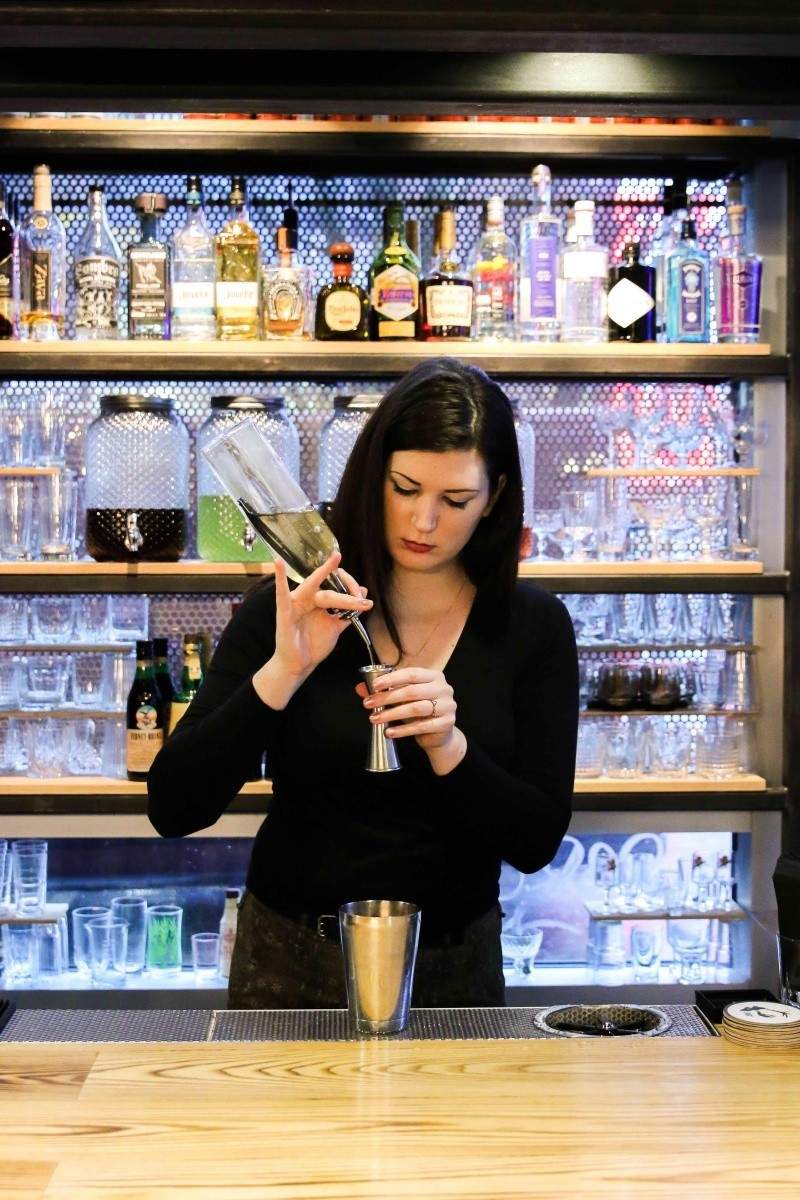 "Olivia and I became really good friends last year [while she was having a bit of a rough time]. One of the things we would do was spend time relaxing and watching a lot of Drag Race together," says Souza Jensen, who identifies as queer.
"It just opened up a world that has never been exposed to . It's fashion, it's politics, it's a protest, it's an amazing culture," adds Povarchook.
It was then that the idea to start concocting drag-inspired cocktails was born. The two cocktail-loving industry professionals launched Bitter Queens in late 2018 as a creative outlet for themselves and also as a way to highlight their passion for exploring and celebrating the drag community. The Instagram account is full of vibrant, drag performer-inspired cocktail creations that run the gamut from talented Canadian drag artists like Vancouver's Jane Smoker or Calgary's Grease Jones all the way up to RuPaul's Drag Race queens, like Brook Lynne Hytes and recently crowned All Stars winners, Monet x Change and Trinity The Tuck.
"We usually meet up once or twice a week depending on how our schedules match up and we'll test out anywhere from three to ten cocktails in a session," says Povarchook. "Sometimes, an inspiration comes and we'll just write and write and keep bouncing ideas off of each other."
Both Povarchook and Souza Jensen say they love looking for inspiration in all types of drag performers--celebrity or local, gay or non-binary. The pool they can draw from is both diverse and unique. It's also growing exponentially with the drag as an art form currently in the international limelight.
The drinks they feature can be anything from a stiff combination of locally-made Odd Society Mongrel Unaged Spirit and Sons of Vancouver Blue Curaçao with some Scrappy's Orleans Bitters (the "Grease Jones") to bright and floral Anne Xiety (lemon balm-infused Lot 40 Rye, chamomile honey syrup, lavender bitters and ginger beer).
The "Grease Jones, The "Rose Butch" and the "Anne Xiety"
"Sometimes, just a certain look from a performer will inspire something really beautiful. We can really immerse ourselves in that particular esthetic and go from there. Other times, it can be the concept of a person's overall drag and performance-style," she explains.
While Bitter Queens is a young account and is still expanding its fan base, the cocktail recipes they share are well-received and their followers are never shy to chime in with more suggestions of drag performers to feature. With plenty of talent to draw from, it begs the question: what is the end goal for Bitter Queens?
"I think it's open-ended," says Souza Jensen. "We definitely have some goals, but for us it's fun and also therapeutic. The creative process has been so good for us and great engaging with drag culture in a unique way as well."