When it comes to wedding cakes, the majority of what we see is the final product—a beautiful, elegant dessert to indulge in before you get your dance on—but what really goes into cake making during wedding season? The Wedding Fair took place recently in Edmonton and Calgary, full of frenzied brides and grooms to be and their entourages. Wedding fairs like these are full of all types of sweet creations and the companies behind them who want to help make a couple's wedding memorable in a myriad of delicious and stunning ways.
The end result becomes an essential part of the special day, but for a cake maker, getting to that multi-tiered wedding cake or dazzling set-up of confections and bite-size cakes is never an easy task.
Lynnette MacDonald has been creating custom desserts for over 20 years. She and her custom cake and dessert company, Swirl Custom Cakes and Desserts, are among the most sought-after cake designers in the country. They boast some of the most unique flavours and physics-defying designs you'll ever come across, and they have a multitude of accolades to show for it. It's obvious to anyone that's worked with Swirl that MacDonald's passion and vivaciousness are emanated in her creations.
Swirl Custom Cakes and Desserts' array of creations aren't just limited to cakes and cupcakes.
"We get to be entrusted with people's special events and help them create a vision and a memory," MacDonald says. "I remember when I was a little kid and birthday cake season came around and I was like, 'I've got to dream up something and have someone create it for me.' To be a part of that in people's lives now is pretty cool and to be trusted with that is awesome."
Chef Alison LaFrance of Whippt Desserts and Catering echos MacDonald's passion.
"I love having the ability to customize and create a variety of unique desserts and cakes to suit the clients' theme or colour scheme," LaFrance says. "Every event and set up is different. I absolutely love it when clients give me full creative freedom and trust that I will create the cake of their dreams."
Alison LaFrance, owner of Whippt Desserts and Catering
Despite the glitz and glamour of the final product, a lot of gritty hard work and diligence go into the process that leads up to the big day. MacDonald believes that a wedding cake is an essential symbol of a couple's union and one of the first traditions they will create. As such, no detail is overlooked in the consultation process.
According to MacDonald, the first step is to do a bit of research. "Get a general idea of what you want," she says. "Go through a couple of pictures. Even if you don't love the entire cake, show me an element of the cake that you like and the reason why. Then I can get an idea of your style, your design, and what feel you're really going for. Then I can create something specific and unique for you."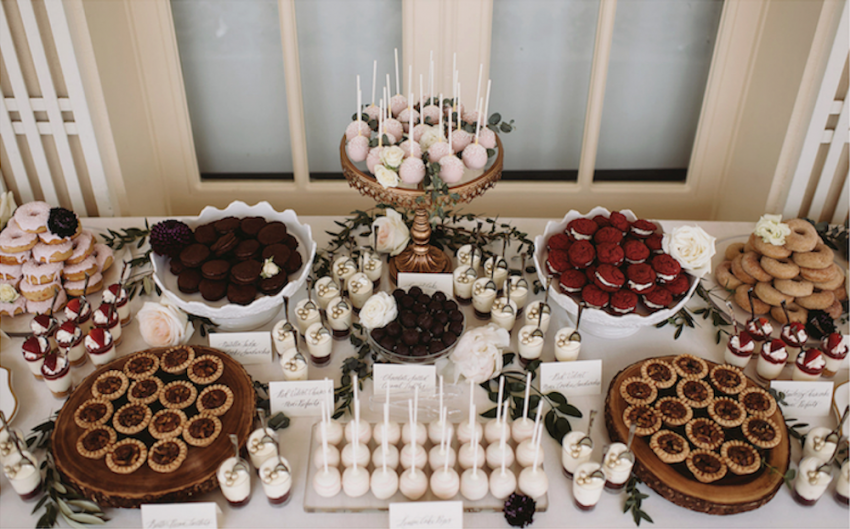 A decadent wedding spread from Whippt
The relationships MacDonald and Swirl create with clients are much like the real-life relationships they bake for: not all pairs are perfect and not all combinations are compatible.
"Vetting the couple, making sure that we're a good fit for them and that they're a good fit for us is a big part of it. If I think it's not going to be a good fit, I'll refer them on," she explains. "Finding that client that you know that you're going to be able to fulfil their needs and wishes is important."
Creating something that lives up to the monumental occasion is paramount. As such, it's important for potential clients to realize that a production of such high quality comes with a cost. The two chefs say that is often where the biggest disconnect occurs.
"Most people don't realize the actual amount of time that goes into making a custom cake and the fact that it's reflected in the dollar value," MacDonald says about the common misconceptions custom cake newcomers have.
"When you go into Safeway or Costco and you see a slab cake for $20, you don't realize that it's not fresh ingredients. It's not locally sourced; it's not made from scratch," she continues. "We have vanilla that is imported from Tahiti because they make the best vanilla. If your wedding is on Saturday, we make your cake on Friday."
The hard work and sheer amount of time dedicated to each creation is not exclusive to Swirl. LaFrance faces a similar hurdle at Whippt, but believes the end product always makes the struggle worthwhile.
"What most people don't realize is the cost and amount of labour that goes into everything we do. People assume, 'it's just cake' but they don't realize that the final price includes so much more than just the ingredients," she explains. "There are utilities to pay for as well as countless hours spent replying to emails and phone calls, social media and marketing, networking, supply and grocery shopping, packaging materials, delivery vehicle maintenance, gas, insurance, staff... the list goes on and on."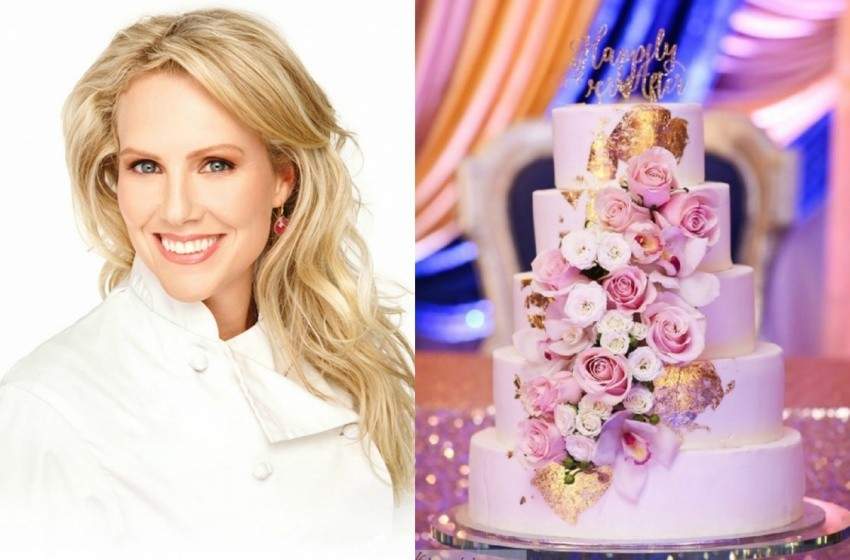 Swirl's Lynnette MacDonald and one of her many luxurious wedding cakes that draw rave reviews.
But in the end, it's all worthwhile. If it weren't, Swirl and Whippt wouldn't require customers to place requests and start planning six to ten months in advance. The two companies are in incredibly high demand. Although both chefs expressed that whatever obstacle they encounter during the planning phase is largely overshadowed by the opportunity to use their technical and creative skillsets to bring joy into a couple's lives, they do feel that a bit of objective exposure would go a long way.
"It's unfortunate that the Food Network and all the cake challenge shows on TV almost never show the price," LaFrance explains. "So people truly have no sense of how much these creations would actually cost."
"One of the toughest parts is when a bride comes to us and really doesn't have any idea about what she wants as far as style, design, and flavour," MacDonald adds. "But that's also one of the coolest parts about it too. We help her realize what her vision is."